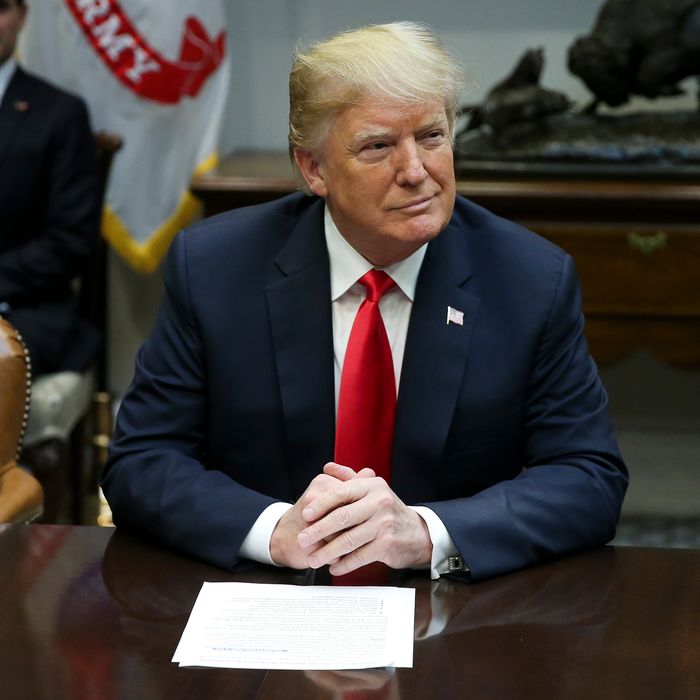 Who wants to read Comey's texts?
Photo: Pool/Getty Images
While President Trump declassifying documents "at the request of a number of committees of Congress, and for reasons of transparency," may sound like routine presidential behavior, the directive announced by White House press secretary Sarah Huckabee Sanders on Monday afternoon was actually a dramatic escalation of his attempts to undermine Special Counsel Robert Mueller.
In a statement, Sanders said Trump had decided to direct the Office of the Director of National Intelligence and the Justice Department to declassify certain Russia probe documents, including parts of the Carter Page FISA warrant application, all FBI reports on interviews with senior Justice Department official Bruce Ohr, who was in contact with former British spy Christopher Steele, as well as unredacted text messages from Trump enemies Ohr, former FBI director James Comey, former acting FBI director Andrew McCabe, former FBI lawyer Lisa Page, and former FBI special agent Peter Strzok.
As president, Trump has the power to declassify any information he thinks is in the public interest. But this is the first time a president has released information about an ongoing investigation into members of his campaign and administration over the objections of intelligence officials.
The materials won't immediately be made public. In a classic Trumpian move, the administration made the announcement before giving the Justice Department specific instructions about what it's supposed to release, according to the Washington Post. The department responded with a statement saying it will review the information to ensure it doesn't release anything that would put "national security interests" at risk.
"When the President issues such an order, it triggers a declassification review process that is conducted by various agencies within the intelligence community, in conjunction with the White House Counsel, to seek to ensure the safety of America's national security interests," the statement said. "The Department and the Federal Bureau of Investigation are already working with the Director of National Intelligence to comply with the President's order."
For months Trump's allies in Congress have worked to supply documentation to back up the president's insistence that the Russia probe is a "witch hunt," while the Justice Department has fought to withhold information that might damage the ongoing probe. Representative Matt Gaetz, one of the leaders in this fight, offered a peek at the narrative Republicans will push.
"These documents will reveal to the American people some of the systemic corruption and bias that took place at the highest levels of the DOJ and FBI, including using the tools of our intelligence community for par­tisan political ends," said Gaetz.
Representative Mark Meadows praised the decision in a tweet:
But Representative Adam Schiff, the top Democrat on the House Intelligence Committee, said Trump's move has nothing to do with uncovering the truth about the Russia investigation.
"President Trump, in a clear abuse of power, has decided to intervene in a pending law enforcement investigation by ordering the selective release of materials he believes are helpful to his defense team and thinks will advance a false narrative," Schiff said.
Trump finally using his declassification power, which Republicans in Congress have been calling on him to do for months, could be a sign that he is feeling boxed in by recent developments in the Russia probe. Last week former Trump campaign manager Paul Manafort struck a deal to work with Mueller, and on Monday the special counsel asked a federal judge to move forward with former Trump national security adviser Michael Flynn's sentencing, indicating that ten months after he took a plea deal, his cooperation is no longer needed. Trump is running out of maneuvers to counter Mueller, at least until after the midterms, when he can try to fire his way out of trouble.