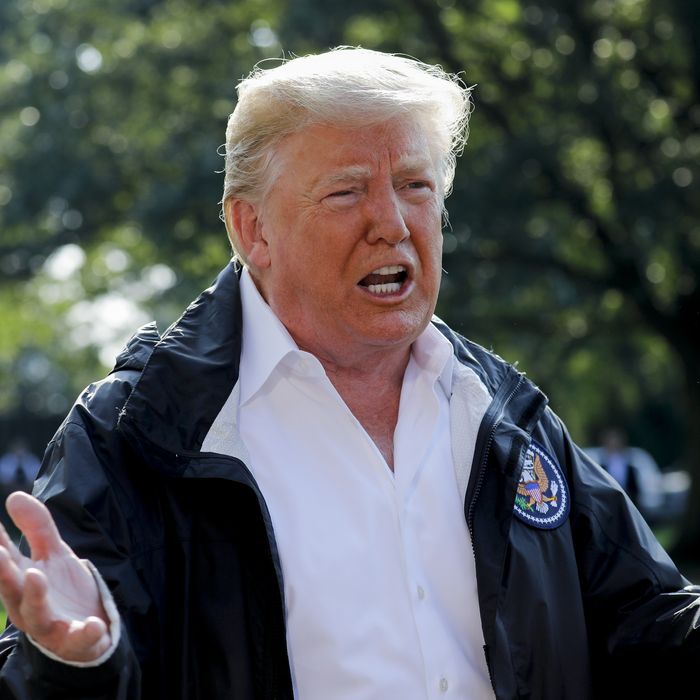 Enjoy!
Photo: Yuri Gripas/Bloomberg via Getty Images
Hurricanes seem to bring out the worst in President Trump, even when his behavior falls far short of spreading false conspiracy theories about the death toll from Hurricane Maria, or hurling paper towels into the crowd at a relief center in Puerto Rico.
Trump visited North Carolina on Wednesday, as the death toll from Hurricane Florence climbed to at least 37. During a morning briefing on the damage, Trump asked a state official, "How is Lake Norman doing?"
When the official said it was doing fine, Trump replied, "I love that area. I can't tell you why, but I love that area." (It's probably because there is a Trump National Golf Club in the area.)
The president remained weirdly upbeat as he visited with survivors in hard-hit New Bern.
"Is this your boat?" Trump asked an older man as he looked at a yacht that had washed ashore and crashed into the deck of his home. When the owner said no, the president answered, "At least you got a nice boat out of the deal." Then he mulled the legality of who gets to keep the boat.
Later, Trump helped distribute box lunches consisting of hot dogs, chips, and fruit, to people who had waited over an hour to collect the meal. "Got it? Have a good time," Trump said as he handed one man a meal, prompting an MSNBC reporter to exclaim off-camera, "I think he just said, 'Have a good time!'"
Telling a storm victim to "have a good time" could be dismissed as Trump misspeaking as he exhausted his limited repertoire of empathic statements, but incredibly, he's made the flub before.
During his visit to Houston a little over a year ago to meet with victims of Hurricane Harvey, Trump said, "Have a good time, everybody," as he was leaving an emergency shelter.
Though it drew negative coverage a year ago, Trump seems fond of the remark, which might be one of the awkwardest we've ever seen, from the standpoint of talking.