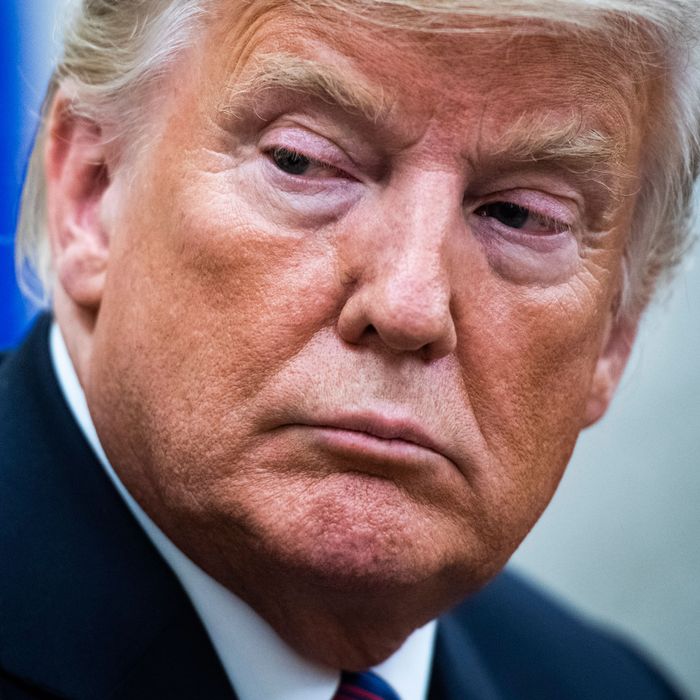 Adidas lover.
Photo: Jabin Botsford/The Washington Post/Getty Images
President Trump issued his most direct response Wednesday to Nike's new ad campaign featuring former NFL quaterback Colin Kaepernick. In a tweet, Trump wrote that the company is getting "absolutely killed with anger and boycotts." He added: "I wonder if they had any idea that it would be this way?"
Trump, who also squeezed in a jab at the NFL and football players who protest systemic racism, is right that Nike has inspired angry customers to launch boycotts, burn their shoes, and cut the logos off of their clothes. And he's right to suggest that Nike's stock suffered on Tuesday, when it dropped 3.2 percent. But today, it's ticking back upward. And it's clear that while many investors might not be pleased with Nike's move, the ones who matter most aren't.
Robinhood, a no-fee brokerage platform that serves younger investors, saw its users snapping up Nike stock 300 percent more often than they were selling on Tuesday. Business Insider reports:
Nike is currently the 52nd most-popular stock on the brokerage, and has seen its holdings skyrocket thanks to the campaign. Twenty-two thousand investors currently hold the stock on the app, Robinhood's website shows, up 18% from less than a week ago, according to Business Insider's tracking of the data.
If Nike's plan with embracing Kaepernick was to win the support of millennials, the early returns look good.
Trump's criticism of Nike comes a day after he seemed to pass on an opportunity to rip the company. In an interview with the Daily Caller Tuesday, Trump said Nike has the right to make its own business decisions and mentioned that the company pays him "a lot of rent" for Niketown in Manhattan. In fact, as many reported after Trump's comments, Niketown closed in March. Seems he finally learned that Wednesday morning and felt free to launch his attack.