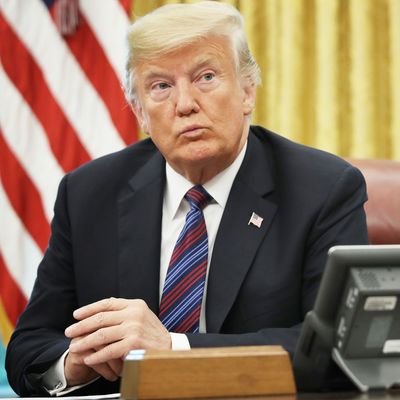 President Trump is the victim of a recurrent journalistic crime.
Photo: Win McNamee/Getty Images
After Bob Woodward's new book quoted a variety of high-ranking officials describing the president as an imbecile, the Trump administration sprang into what has become a practiced response for such an episode. The officials dutifully produced statements insisting they did not and would not say the things they were quoted as saying, accusing the reporters of making things up. And Trump, along with his spokespeople, highlighted their denials and energetically claimed the account had been debunked.
This has  happened repeatedly. In the summer of  2017, Rex Tillerson reportedly called Trump "a fucking moron."  Tillerson eventually issued a quasi-denial, saying, "I've never questioned his mental fitness. I have no reason to question his mental fitness."
Later in 2017, five sources reported that National Security Adviser H..R. McMaster described  Trump to his dining companions as an "idiot," a "dope," and compared his mental capacity to that of a  kindergartner. Trump spokesperson Michael Anton insisted the report was a fabrication: "Actual participants in the dinner deny that General McMaster made any of the comments attributed to him by anonymous sources. Those false comments represent the diametric opposite of General McMaster's actual views."
In April  2018, NBC reported that chief of staff John kelly  had called Trump an "idiot," prompting Kelly to dismiss the report as "total BS" and "another pathetic attempt to smear people close to President Trump and distract from the administration's many successes."
And of course, Michael Wolff's book, Fire and Fury, contained multiple reports of Trump officials questioning the president's intelligence. All of them were, naturally, lies according to the administration. Tom Barrack never said Trump is "not only crazy — he's stupid." ("It's clear to anyone who knows me that those aren't my words and inconsistent with anything I've ever said," he told the New York Times.) National Economic Council director Gary Cohn most certainly did not call his boss "dumb as shit," which the White House officially described as a "ridiculous quote."
The White House believes there is an epidemic of journalists fabricating quotes from Trump's closest associates questioning his intelligence. Somehow a wide array of reporters and sources have conspired for over a year to concoct eerily similar lies about the very stable genius in the Oval Office.