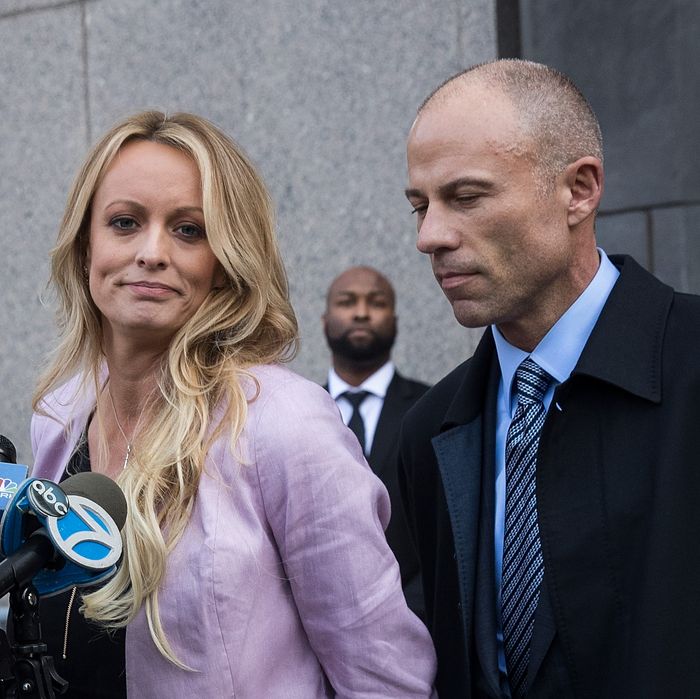 Stormy Daniels and Michael Avenatti still want a deposition from Trump.
Photo: Drew Angerer/Getty Images
Last month, Michael Cohen pleaded guilty to violating campaign finance laws involving the hush payment to Stormy Daniels, among other felonies. Trump's former fixer said President Trump himself had directed him to commit the crime in the lead-up to the 2016 election, which worsened Trump's legal troubles in a variety of ways. Over the weekend, Trump's legal team tried to resolve at least one of those matters by releasing Daniels from what has already proven to be a wildly unsuccessful non-disclosure agreement.
On Friday, a lawyer for Essential Consultants, the company Cohen set up to pay Daniels, sought to void the agreement in a legal filing, and to recoup the $130,000 payment. (Trump reimbursed Cohen for the $130,000, and it's unclear who would get the money if Daniels returned it.)
"Today, Essential Consultants LLC and Michael Cohen have effectively put an end to the lawsuits filed against them by Stephanie Clifford, aka Stormy Daniels," Brent Blakely, Cohen's lawyer, told CNN. "The rescission of the Confidential Settlement Agreement will result in Ms. Clifford returning to Essential Consultants the $130,000 she received in consideration, as required by California law."
On Saturday, Trump's attorney Charles Harder said in a separate court filing that the president would not seek to enforce the agreement, and would not contest Daniels's "assertion that the Settlement Agreement was never formed, or in the alternative, should be rescinded." Harder called on Daniels to "immediately dismiss" Trump from her lawsuit.
Trump's legal team had initially tried to force Daniels into an arbitration that could have required her to pay the president more than $20 million for breaking her silence over their alleged 2006 affair, which Trump has denied. Daniels sued Trump in an effort to void her NDA, arguing that the agreement was invalid because Trump never signed it, or possibly because its purpose was illegal.
Daniels's case had been put on hold pending the outcome of the federal investigation into Cohen in New York; following his guilty plea, Daniels's attorney Michael Avenatti said they would move forward with efforts to make Trump give a deposition in the case. Daniels is also suing Trump for defamation for suggesting she was lying about being threatened to keep quiet about the affair.
Daniels already described her alleged relationship with Trump in a 60 Minutes interview and offered to return the $130,000. Avenatti dismissed Trump's latest moves as an effort to avoid giving a deposition under oath, and said they would keep pursuing the case until they have "full disclosure and accountability."
Daniels and Avenatti are scheduled to appear on The View on Wednesday, and last week they said they had a "big announcement." Daniels had also teased that she isn't done causing trouble for the president.