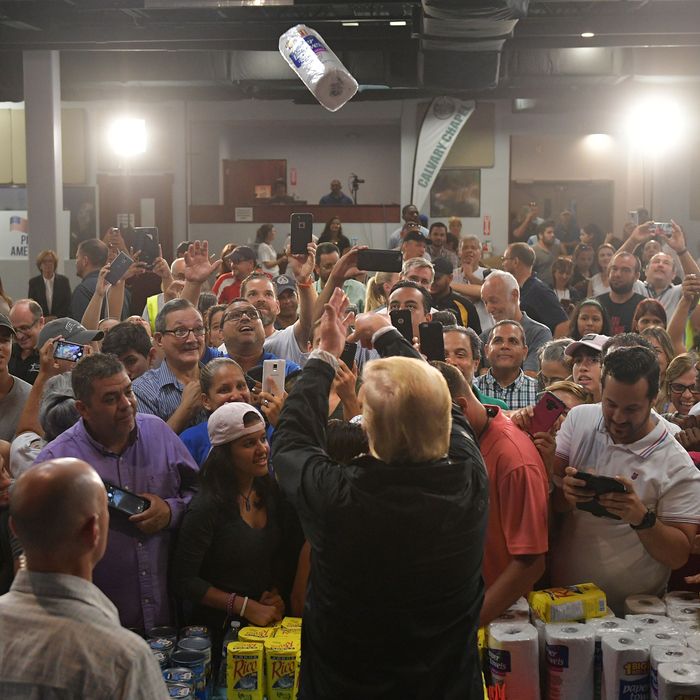 Photo: Mandel Ngan/AFP/Getty Images
Earlier this week, Donald Trump declared his administration's response to Hurricane Maria an "incredible, unsung success."
This took aback many reporters and pundits. After all, that storm's official death toll sits at nearly 3,000. And the the federal government's relief effort was riddled with demonstrable failures: Despite receiving advance warning of the hurricane's likely landfall in Puerto Rico, the administration neglected to deploy satellite phones, generators, and reserves of food, fuel, and water in advance of the storm. President Trump took a four-day golf vacation in its immediate aftermath. FEMA proceeded to award a $156 million contract to a company that promised to provide 30 million meals to Puerto Rico; only 50,000 were ever delivered. While Puerto Ricans were still dying as a result of the hurricane — due to shortages of electricity and medical care — Trump informed the island's inhabitants that they should be grateful that his efforts had spared them from suffering a "real catastrophe like Katrina."
But on Thursday, Trump clarified his rationale for considering the hurricane response a triumph of disaster management: Hurricane Maria killed (at most) 18 Puerto Ricans — all those other deaths were fabricated by the Democratic Party to make Donald Trump look bad.
"3000 people did not die in the two hurricanes that hit Puerto Rico," the president tweeted. "When I left the Island, AFTER the storm had hit, they had anywhere from 6 to 18 deaths. As time went by it did not go up by much. Then, a long time later, they started to report really large numbers, like 3000."
"This was done by the Democrats in order to make me look as bad as possible when I was successfully raising Billions of Dollars to help rebuild Puerto Rico" Trump continued. "If a person died for any reason, like old age, just add them onto the list. Bad politics. I love Puerto Rico!"
This is not accurate. But Trump's confusion is understandable — or rather, it would be understandable if he were some random American retiree and not the president of the United States. It is true that Hurricane Maria's official death toll sat in the double digits for nearly a year after the storm. And it is also true that 3,000 U.S. citizens did not die "in" the hurricane — in the sense of being killed by storm surge or high winds. But that isn't how anyone measures a hurricane's death toll (including Donald Trump, who, during his visit to Puerto Rico, cited a death toll from Katrina that included those killed by the conditions that storm left in its wake).
Under the Centers for Disease Control and Prevention's guidelines, a hurricane's death toll comprises not only the number of lives lost to the storm's immediate impact (as a result of flooding, flying debris, etc.), but also those lost as a result of shortages in material goods and medical services induced by the natural disaster. And, for weeks after Hurricane Maria, most of Puerto Rico lacked electricity, including its hospitals. Respirators stopped running. Dialysis clinics operated on generators and for limited hours. Medical supplies were scarce. Meanwhile large stretches of the territory had only limited access to food and potable water. Temperatures were high. Puerto Rico's population is disproportionately elderly, and its elderly population is disproportionately impoverished.
By the time Trump visited Puerto Rico last year, it was already obvious that these conditions had killed far more Americans than official statistics accounted for. The government's initial, official death toll was a product of bureaucratic red tape, not scientific research: Puerto Rican law stipulated that the Forensic Science Institute in San Juan had to confirm each disaster-related death, which required transporting bodies to San Juan or dispatching medical examiners to inspect dead bodies in rural municipalities. For this reason, no one seriously concerned by the question how many people had lost their lives to Maria looked to the initial government estimate for guidance.
The task of identifying those killed by the storm's indirect effects is inherently difficult (like their fellow-citizens in the mainland United States, plenty of Puerto Ricans were suffering preventable deaths due to insufficient access to medical care long before Maria made landfall). But subsequent studies — including one commissioned by the Puerto Rican government, itself — have produced an estimated death toll of between 2,975 and 4,581.
The president's tweets are monstrous in moral terms, evincing his (characteristic) disregard for the suffering of other human beings, and (equally characteristic) obsession with protecting his ego by any means necessary. But Trump's remarks are also disastrous in political terms: The American media had done the president a great service by allowing Puerto Rico's catastrophe to get lost in the news cycle's ever-accelerating churn. Now, Trump has invited every newsroom in America to scrutinize exactly how many U.S. citizens his administration failed to save last year.