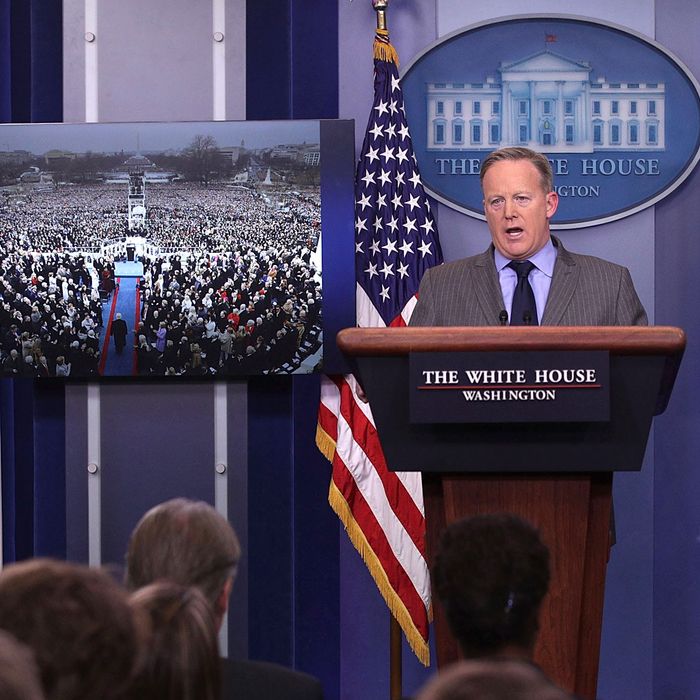 One of the first "fake news" scandals of the Trump administration.
Photo: Alex Wong/Getty Images
On January 21, 2017, former White House Press Secretary Sean Spicer stood before the media and declared that Donald Trump's inauguration crowd was the biggest ever. It was a lie, of course, and a new report from The Guardian suggests that Spicer and Trump went to great lengths to substantiate it, leading a National Park Service photographer to crop photos so that the inauguration day crowd looked bigger.
According to The Guardian, which obtained a trove of Interior Department documents through a Freedom of Information request, a government photographer "cropped out empty space 'where the crowd ended' for a new set of pictures requested by Trump on the first morning of his presidency."
The alterations came after personal interventions from Trump, who called acting NPS director Michael Reynolds the day after his inauguration, and Spicer, who "called NPS officials repeatedly that day in pursuit of the more flattering photographs." After speaking with Trump, Reynolds called an NPS communications official who "got the impression that President Trump wanted to see pictures that appeared to depict more spectators in the crowd," she told the interior department's inspector general.
She reached out to the photographer who covered the inauguration and he edited some photos by "cropping out the sky and cropping out the bottom where the crowd ended." He told investigators, he did that to "show that there had been more of a crowd."
Here's an unaltered look at the crowd from both Trump's and Obama's inaugurations: