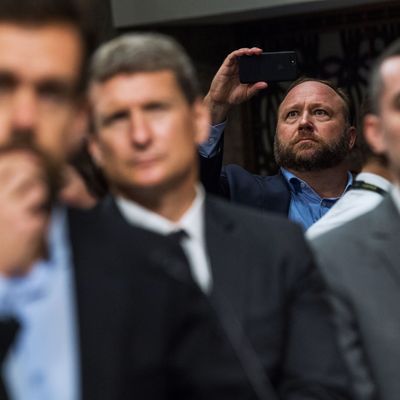 Photo: Tom Williams/CQ-Roll Call,Inc.
In August, Twitter gave users a week free of Alex Jones, banning the Infowars host for inciting violence. Today, Twitter announced that it is banning Jones, and Infowars, for good. The ban also applies to Twitter-owned streaming service Periscope.
During the temporary suspension era, Twitter's Jack Dorsey gave an interview saying that suspending has been shown to be successful in forcing users to reconsider their behavior and act better in the future. "I feel any suspension, whether it be a permanent or a temporary one, makes someone think about their actions and their behaviors," Dorsey told NBC's Lester Holt. Clearly, this wasn't the case with Jones. Which, well, um, what's a more eloquent way to say "duh."
From BuzzFeed News:
The incident that inspired Twitter to action appears to have been a series of tweets containing a nine-minute Periscope video of Jones confronting CNN reporter Oliver Darcy. In the video, Jones and his camera men confront Darcy while Jones lambastes him as "the equivalent of like the Hitler Youth" and accuses him of "smiling like a possum that crawled out of the rear end of a dead cow."



Earlier this summer, a number of platforms began removing content from Jones and Infowars. The list included Apple, Facebook, YouTube, and Spotify. Pinterest, YouPorn, and MailChimp also followed suit. At that point, Twitter had doubled down, saying it would not be banning Jones.
In other Alex Jones news this week, he got into a bit of a tiff with Senator Marco Rubio in a hallway outside ongoing social-media hearings in Washington. Jones called Rubio a "frat bro" and patted Rubio on the shoulder, prompting Rubio to ask him not to do that again or else. Rubio also pulled a full-on Mariah, claiming not to know who Jones was or know anything about Infowars. "I just don't know who you are, man. I don't read weird websites," Rubio said. None of this has anything to do with the Twitter suspension news but, hey, it's good content.