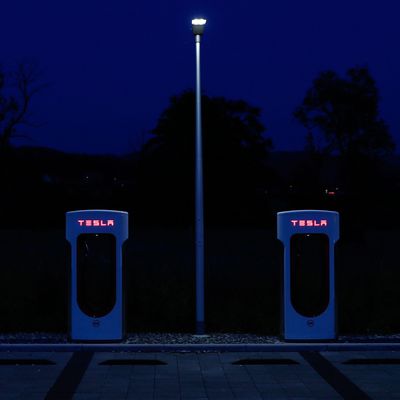 Two more executives are leaving Tesla, as the auto manufacturer continues to shed upper-level talent and its stock price tumbles.
Photo: Stefan Wermuth/Bloomberg via Getty Images
On Thursday night, Elon Musk appeared on Joe Rogan's podcast, musing about AI, whether all of life is a simulation, and sharing a blunt. On Friday morning, two more execs, chief of accounting Dave Morton and head of HR Gaby Toledano, announced they were leaving the company. Tesla's stock price, already trending downward for the week, fell by as much as 10 percent Friday morning.
Morton, who had been at Tesla for only one month, announced he was stepping down due to "the level of public attention placed on the company, as well as the pace within the company, have exceeded my expectations," he said in a statement. "I want to be clear that I believe strongly in Tesla, its mission, and its future prospects, and I have no disagreements with Tesla's leadership or its financial reporting." Morton's first day was August 6. On August 7, Elon Musk abruptly tweeted that he planned to take the company private at a stock price of $420, which has led to a flurry of lawsuits from stockholders and an investigation by the SEC.
Toledano, meanwhile, told Bloomberg that she had decided to not return to the company after a leave of absence in August. No further reason was given, but it's a somewhat normal cycle for executives at Tesla to take a leave of absence before leaving; senior vice-president of engineering Doug Field took a leave of absence in May before confirming he was leaving the company in July.
Tesla is something of a meat grinder for executives, shedding at least 48 of them in 2018 alone, according to the Washington Post. The departures include Jim Keller, head of Tesla's self-driving Autopilot hardware unit; Sarah O'Brien, vice-president of communications; and another chief accounting officer, Eric Branderiz, who left the company after only six months on the job in March.
The departures come right at a time when many financial analysts expect the auto manufacturer to need to figure out a way to raise more capital to keep the lights on in its factory in Fremont. But at least Elon seems to be enjoying himself.