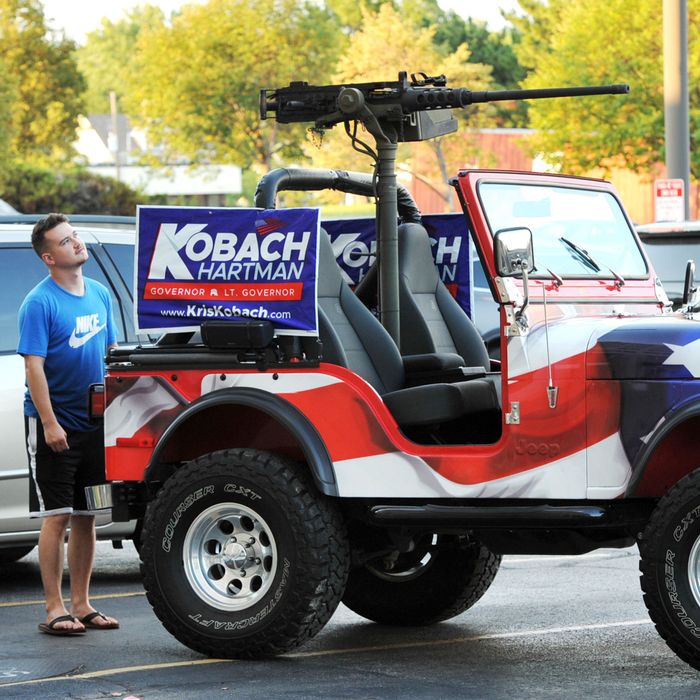 Kris Kobach's gubernatorial campaign in deep-red Kansas is not running very smoothly.
Photo: Steve Pope/Getty Images
The revolt of Kansas moderate Republicans against their party's extremist gubernatorial candidate, Secretary of State Kris Kobach, continues to spread. It now encompasses two former Republican U.S. senators from the state. The first endorsed Kobach's Democratic opponent, Laura Kelly, last week as part of a group of GOP defectors, as the Kansas City Star reports:
Democratic candidate for governor Laura Kelly targeted her pitch to moderate Republicans Thursday, saying she has the support of more than two dozen Republicans who have held prominent elected office.




Among them are Sheila Frahm, a former U.S. senator and lieutenant governor in Kansas, and former Kansas Senate President Dick Bond. Frahm held the Senate seat vacated by Bob Dole for only a matter of months before losing it to Sam Brownback in 1996.
That's not too surprising, since Frahm was an early victim of the right-wing takeover of the Kansas GOP led by Sam Brownback, whose disastrous fiscal policies as governor Kobach wants to bring back. But a bigger name has now joined the Kelly bandwagon, as the Hill reports:
Former Sen. Nancy Kassebaum (R-Kan.) is endorsing Democratic nominee Laura Kelly over Republican Kris Kobach in this November's gubernatorial election. 




"I'm a Republican, but that doesn't mean you walk lock step always with the party," Kassebaum, who represented Kansas in the U.S. Senate from 1978 to 1997, told The Kansas City Star on Tuesday. 
Kassebaum, the first woman ever to win a full term in the Senate without a husband who had previously served in Congress, was elected three times before retiring in 1996. She is also a living link to an older tradition of moderate Republicanism in her state, as the daughter of governor and 1936 presidential nominee Alf Landon.
As with other Republicans who earlier refused to back Kobach, Frahm and Kassebaum didn't take the easy ways out of ignoring the race or endorsing independent candidate Greg Orman. By jumping all the way into the donkey party camp, they undermined Orman, whose ability to split the anti-Kobach vote is the best asset the immigrant-bashing and vote-suppressing Republican nominee has. Polls show a close race between Kobach and Kelly. But the steadily increasing ranks of Republicans supporting Kelly could make it easier for GOP voters to defect in this very red state.