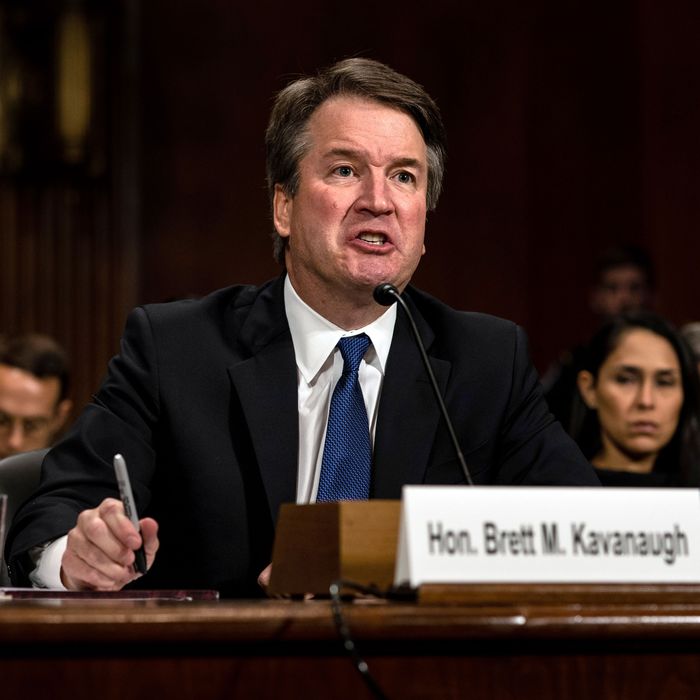 Judge Brett M. Kavanaugh testifying in front of the Senate Judiciary committee regarding sexual-assault allegations.
Photo: Erin Schaff - Pool/Getty Images
I think Brett Kavanaugh is probably lying about having sexually assaulted Christine Blasey Ford, and many other things, and has decided from the beginning to say what he has to in order to fulfill his career ambition. There is, however, at least some, small chance that he is telling the truth when he professes his innocence. And that small chance gives me some sympathetic human reaction to his emotional testimonial. If he is somehow innocent, as he claims, he has been subject to a horrifying and humiliating ordeal.
That, however, does not justify confirming Kavanaugh to a lifelong position on the Supreme Court. He has, for one thing, all but abandoned the posture of impartiality demanded of a judge. A ranting Kavanaugh launched angry, evidence-free charges against Senate Democrats. "The behavior of several of the Democratic members of this committee at my hearing a few weeks ago was an embarrassment. But at least it was just a good old-fashioned attempt at Borking," he said, using a partisan term invented by Republicans to complain about ideological scrutiny of an extreme judicial nominee. "This whole two-week effort has been a calculated and orchestrated political hit, fueled by pent-up anger over President Trump in the 2016 election."
Why they took this revenge against Kavanaugh, rather than the first justice who was appointed after the 2016 elections, when Democrats' anger over both the election and the treatment of Merrick Garland ran hotter, he did not say. Kavanaugh does not seem able to imagine even the possibility that Democrats actually believe the women accusing him of sexual assault. He is consumed with paranoid, partisan rage.
The method Republicans have used to defend Kavanaugh has consisted of suppressing most of the evidence that could be brought to bear in the hearing, and then complaining about the lack of evidence. "Unless something new comes forward, you have just an emotional accusation and an emotional denial without corroboration," said Senator Lindsey Graham. Conservative columnist Kimberly Strassel argued, "The standard here isn't where you 'look' or 'sound' 'credible.' It is whether you provide evidence."
The FBI could investigate the charges – which might not settle the question, but would at least advance the inquiry, and use the threat of perjury to force any witnesses to give straight answers. The Senate could subpoena Kavanaugh's friend, Mark Judge, an eyewitness to the alleged attack on Ford, and compel him to testify. They have refused repeated pleas to do either.
Kavanaugh himself has dodged and weaved on this. In a Fox News interview, he changed the subject when asked about an FBI investigation. He tried to deflect when asked by Senate Democrats, saying he would do whatever the committee wants (knowing full well they do not want the FBI to investigate.) When asked what he wants, Kavanaugh responded with several seconds of damning silence.
Kavanaugh deserves due process. So does Christine Blasey Ford. Only one of those people is standing in the way of it.
Why do I believe Kavanaugh is lying? The charges are credible, and his accusers are willing to put themselves at risk, with no apparent gain to bring them to the public. Kavanaugh has said too many things that strain credulity for all them to be plausibly true. He almost certainly lied about having had access to files stolen by Senate Republicans back when he was handling judicial nominations in the Bush administration. His explanation that the "Renate Alumni" was not a sexual reference is difficult to square with a fellow Renate Alumnus's poem ( "You need a date / and it's getting late / so don't hesitate / to call Renate") portraying her as a cheap date. His insistence "boof" and "devil's triangle" from his yearbook were references to flatulence and a drinking game drew incredulous responses from people his age who have heard these terms. His claim that the "Beach Week Ralph Club" was a reference to a weak stomach seems highly unlikely.
The accretion of curious details ultimately overwhelms the small possibility that he is a man wronged. The conviction he summoned is the righteous belief of an adult who feels he should not be denied the career reward due to him by the errors of his youth, and who decided from the outset to close the door to that period in his life. Perhaps he believes he has made amends for his cruelty. I see a liar who has the chance to prove his good faith innocence, and has conspicuously refused.