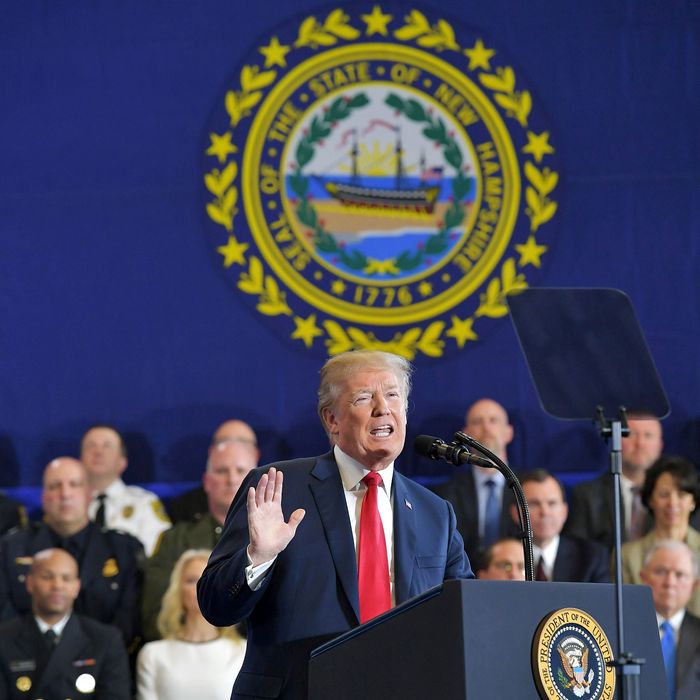 Democrats aren't the only 2020 threat.
Photo: Mandel Ngan/AFP/Getty Images
Republican pros have, in recent weeks, quietly settled on new conventional wisdom: If Donald Trump is not impeached first, he is likely to face a primary challenge — of some sort — in 2020. The matter was regarded as an open question for most of 2018, but a new emergent consensus among the party's consultants and strategists has taken root after Paul Manafort's conviction and Michael Cohen's implication of the president in federal court.
And New Hampshire, which has historically been fertile ground for political insurgencies, is likely to be the place were we see the first clues about who the candidate will be, and what form exactly the challenge will take.
"It is inevitable that Donald Trump will face a primary," said Jennifer Horn, who stepped down as the state's GOP chairwoman after Trump's election, talking to me even before the dual legal blows to the president. "It certainly remains to be seen who, and how strong, how credible, that challenge will be."
The field of potential candidates who might fit the eventual bill is wide, and likely to be popping up in New Hampshire this fall.
Outgoing Ohio governor John Kasich, by far the best-known and likeliest challenger to Trump after losing to him in 2016 and spending the last two years making his displeasure painfully public, is due back in the Granite State right after November's midterms. Retiring Arizona senator Jeff Flake, a former tea-party hero who's become Trump's most prominent Republican critic in Washington, has also been exploring ways to continue his vocal opposition from this past January. He stopped by New Hampshire this spring, urging someone to formally take Trump on with a campaign. Proponents of Nebraska senator Ben Sasse — yet another young conservative whose outspoken frustration with the president has raised his stature significantly in the eyes of Washington's NeverTrump intelligentsia — have quietly, and casually, spoken by phone with local power brokers about the political environment. All the while, in-state operatives have informally kept tabs on an array of other potential candidates, including, wistfully, Mitt Romney — almost certainly soon to be a Utah senator, but with no apparent interest in running for president again — as he quietly vacationed with family at his home in Wolfeboro, on Lake Winnipesaukee, this summer. Back in D.C., meanwhile, Bill Kristol, the Weekly Standard founder and famous neoconservative, has been working to recruit a challenger, setting up meetings with interested donors and political figures, and stealthily running polls and focus groups in New Hampshire and elsewhere.
But what would a primary challenge actually look like, and how much of a threat would it actually be to Trump? Operatives interested in helping such an effort have narrowed it down to two scenarios.
There's option A: an all-out NeverTrump-style protest campaign against the president that would challenge him directly. While that would almost certainly fall far short, it would serve to prove to anti-Trump conservatives that the Republican Party is not yet fully unified behind the president — potentially weakening him, or exposing his weaknesses, enough to ensure a Democrat's election. "It's important for there to be an alternative" candidate to Trump, said veteran GOP operative Stuart Stevens, Romney's chief strategist in 2012 and one of the president's most outspoken critics on the right. "But I can't tell you who that alternative would be." Such a challenge might essentially echo the experience of 1976, when Ronald Reagan took on President Gerald Ford, only to see Jimmy Carter take the White House; of 1980, when Ted Kennedy's challenge of Carter kicked off a year that saw Carter hand the presidency to Reagan; or of 1992, when a relatively weak campaign run by TV pundit Pat Buchanan still spooked President George H.W. Bush, who went on to lose to Bill Clinton.
Or, B, perhaps the likelier option: a wait-and-see campaign that doesn't really go anywhere, unless Trump implodes and the alternative candidate is ready to swoop in and save the GOP's day. To be successful, even this type of candidate would likely already need to be laying quiet, just-in-case groundwork in order to rise above the inevitable free-for-all that would result in Trump's hypothetical implosion — donors ready to donate, organizers ready to organize, activists ready to activate.
Kristol, for one, is counting on a Trump slump as he uses funds from his own political group to test the president's electoral weaknesses and meets with fellow conservatives. "People are too intimidated by the snapshot of the current data, which is probably Trump at his peak strength," Kristol told me, pointing to the strong economy (for now), the absence of Mueller conclusions (for now), and the lack of a Democratic sweep of the midterms (for now). Kristol himself visited New Hampshire shortly after Flake did.
But why New Hampshire — the early-voting state where Trump romped in 2016, and where recent polling shows him in little trouble with fellow Republicans? It's Iowa, after all, where Trump fell short in the first nominating contest of 2016. But Trump's strength among GOP leaders is unquestioned enough there that even a wait-and-see campaign would likely face massive resistance. In New Hampshire, the open primary system lets independents, and even Democrats, vote in GOP primaries, and so offers a much more promising ground for a rebellion.
"I just finished reading a book about the French resistance. It reminds me of that. People are meeting over their garages — their ateliers — trying to figure out who's going to do it," said former New Hampshire attorney general Tom Rath, the longtime GOP operative in the state who helped Kasich in 2016 and remains plugged into the governor's broader orbit.
For now, most of the preparation is just talk rather than concrete moves like hiring staff or organizing support networks, let alone raising money. But, say Republicans of all stripes, the preparation for any kind of challenge likely needs to get real with in a matter of a few months — specifically, before 2019.
"If anyone wants to do this, they need to start talking to people in New Hampshire pretty soon, they need to start getting organized," said Horn. "But there are a number of very strong networks here that were built for people like John Kasich, Marco Rubio, Mitt Romney, in previous cycles that might be accessible to the right candidate."
Such prep just needs to strike a delicate balance, stealthily measuring the environment before going public: it likely can't afford to risk drawing Trump's dangerous ire before that kind of campaign is ready for prime time.
"If you're going to shoot at the king, you have to hit the king. And if you're going to shoot, you have to be sure. So waiting is wise. Look at the midterm elections: Republicans need to see if they're going to get their clock cleaned," and if the nationwide anti-Trump fervor is as significant as many expect, said Ari Fleischer, the George W. Bush White House press secretary who's become a more-often-than-not Trump defender. "Here's what's known that will shake up the environment: midterm elections, government shutdown possibilities and government rancor that creates discontentment — or contentment — and Bob Mueller."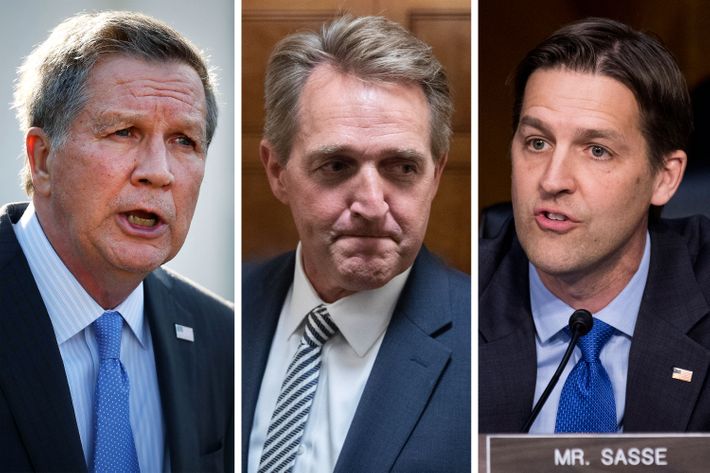 Among operatives looking for a challenger, most of the conversation centers on the Flake-Sasse-Kasich trio, whose members haven't exactly doused the speculation.
Flake, who's used his long exit from the Senate to rhetorically — if not tactically — pummel Trump, said on TV earlier this year that conservatives needed to put up a primary challenger, and when he popped up in New Hampshire that month, he jokingly described himself as "that rarest of species: the American conservative, Americanus NeverTrumpus, subgenus: RINO," short for Republican in Name Only. "There is a scurrilous rumor afoot that we are not only rare but endangered, but I don't believe it," said the Arizonan, telling his crowd he wasn't planning to run himself, but that he hadn't ruled it out. Someone needed to remind Republican voters about conservatism, and a campaign — even a losing one — might be the right way to do it, he explained.
Sasse has been more circumspect. Supporters of the Nebraskan have spoken casually with influential Republicans in New Hampshire, but he's shown no recent interest in visiting or making lasting ties. When he's swung through his neighboring state of Iowa in recent months, local GOP leaders have rolled their eyes and occasionally heaped scorn on him for his shots at Trump — he called candidate Trump a "megalomaniac strongman" and refused to support him in 2016. A former business consultant and college president, Sasse released a book in 2017 about the decline of American adulthood and responsibility (Trump's name isn't mentioned, but the subtext is not exactly subtle), and he's since been a leading critic of Trumpian trade policy. Still, much of the excited chatter about Sasse's political future from NeverTrump corners is less about any overt national ambition and more tied to allies' quiet launch this year of a conservative political nonprofit focusing on the decline of "the core values that underpin our democracy." Now, he's set to release a second pointed book of the Trump era (Them: Why We Hate Each Other — and How to Heal) this fall.
Neither Flake nor Sasse, however, has tried making real inroads with the kinds of activists they'd need on their side to gain some legitimacy among the voters of New Hampshire. I asked Joe McQuaid, the conservative publisher of the New Hampshire Union-Leader, perhaps the most influential paper in the state, if any interesting potential candidates had come calling him, especially given his oft-stated discomfort with Trump. "Not interesting," he shot back. Kristol said donors are hesitant to fund a nuisance candidate who would pester Trump rather than a genuine contender. That hasn't stopped him from drawing up his own private list of possibilities that go beyond the Flake, Sasse, Kasich trio. "We have certain names that we think are credible or plausible — but no one thought that Gene McCarthy was plausible at this point in '66," he said, referring to the last time a sitting president thought to be pursuing reelection didn't wind up with his party's nomination.
That who-knows-what-could-happen attitude has seen a slight renaissance among Trump detractors in recent weeks. The link to a NH Journal survey showing 40 percent of New Hampshire's Republicans standing in favor of a primary featured prominently in local operatives' texts and emails with each other last month, as did a new University of New Hampshire poll showing that just over half of likely Republican voters currently plan to vote for Trump, compared to over four-in-ten who are leaning toward someone else or are unsure. The frenzied news coverage that followed a development as benign as Kasich's response to a recent Trump tweet got strategists chatting among themselves about how a Trump challenger would likely generate massive amounts of free media every time he opened his mouth. And the close result in Ohio's special House election last month — a state where Kasich beat Trump in 2016 — reignited another round of speculation among NeverTrumpers about how 2020's delegate math would differ from the last go-round. Trump's 2016 primary win, after all, was largely powered by his ability to rack up delegates while the other candidates split the Establishment's support. If he were just facing a single opponent, would his path be so easy? (Yes, probably, they still think. Easier.)
Kasich is likely first in line. When the governor returns to New Hampshire in November, it'll be for the same public First Amendment–themed dinner that, in 2004, was widely seen as the kick-off for John McCain's 2008 effort. Now, when Kasich meets with his tighter-than-ever political team, including political adviser John Weaver and chief of staff Beth Hansen, either in Columbus or on their regular conference calls, he's weighing whether to step aside from electoral politics after leaving office next year, to run for president as an independent, or to challenge Trump in a primary. But people familiar with the conversations tell New York that Kasich, who's run unsuccessfully twice before, is unlikely to run unless he thinks he can win, and he knows the odds are nearly impossibly long for an independent candidate. Many of Kasich's allies, however, believe that Trump could easily undergo a political or legal implosion by 2020, and either bow out of office or run as a deeply weakened incumbent. "The party has shrunk, and as that happens Trump is more popular within that distilled number," said Weaver. "But we'll see what happens in the midterms, and with the Mueller investigation."
Still, GOP operatives eager to see a strong challenge are hoping Kasich gets far more aggressive in the coming months, worrying that even against a weakened Trump, he needs to lay more groundwork — raise more money, gain more allies, hire more staff. Even if the president's political standing is shot by that point, after all, Trump has been raising funds for his reelection for months. A notoriously shaky fundraiser, Kasich still has a political nonprofit, a super-PAC, and his zombie presidential campaign account from '16 at his disposal, which a small group of donors including Walmart board chairman Greg Penner and former Cleveland Cavaliers owner Gordon Gund have kept afloat to fund the governor's travel and electoral work, according to Federal Election Commission filings. In recent months, however, Kasich has tried branching out, privately surveying corporate leaders and receptive political figures. He met with former New Hampshire Senator John E. Sununu in Columbus last month, and he recently spoke with Los Angeles billionaire Rick Caruso, a top supporter of his previous bid. Michael Bloomberg hosted a book party for him last year, and his friend Arnold Schwarzenegger has made his interest in a Kasich 2020 campaign clear. Nonetheless, his most noteworthy recent steps toward 2020 have still come in public, with his Trump criticism in frequent television appearances.
Trump, for his part, loves trashing Kasich, and Kasich sees obvious opportunity in fighting back. When the president tweeted about the governor after a too-close-for-comfort special congressional election in Ohio last month, calling him "very unpopular," Kasich responded with a GIF of a laughing Vladimir Putin. "I think Donald would find it fun if John Kasich ran," said Newsmax exec Christopher Ruddy, a longtime Trump friend and confidante. "He made mincemeat of John in the last race, and he'd do it again." That view is close to the consensus, even among Trump's critics. Trump, after all, has an approval rating in the high-80s as far as his own party is concerned, according to Gallup. An April University of New Hampshire poll showed two-thirds of the state's Republicans backing Trump over Kasich in a hypothetical primary matchup.
None of which means Trump is home-free: even the president's staunchest allies expect some sort of a challenge — they bring up Kasich and Flake more than Sasse — but they regard the prospect as more of a short-term annoyance than a serious concern. "We're not blind. But it's tough to know what is [their] message right now," said Kellyanne Conway, the senior White House adviser who was Trump's last campaign manager. "Senator Flake has been a fairly reliable vote for the Trump agenda, and Governor Kasich has not always been helpful, but the president carried his state by 9-plus points, has visited several times." A challenge from Trump's right would hardly be credible, Conway insisted, and what would a moderate primary insurgency even look like? "The grumbling is always about style, it's not substance," she said of Trump's remaining GOP detractors. "'I wish he would tweet less and do this more. Why did he use that word, and not this word?' It's the grammar police."
Trump's allies acknowledge that a primary fight is the kind of personal challenge on which he might usually fixate, but they say most of the time Trump mentions Kasich, Flake, or Sasse these days, it's with passing annoyance rather than worry or anger. He's got other fish to fry, starting with his looming investigations and trying to hunt down the anonymous author of the New York Times op-ed about the administration's secret fifth column. The White House, the reelection campaign, the Trump-aligned super-PACs, and the Republican National Committee have all opted against ordering up regular polling of a prospective primary field or setting a regimented opposition research plan.
That's partly because they still haven't felt significant pressure coming from potential rivals. It's also because Team Trump has scrambled to shut the door on potential trouble whenever it pops up. In January, the RNC hugged Todd Ricketts — who had, in 2016, helped fund an anti-Trump super-PAC — tight, signing him on as its finance chair. In February, Trump named a reelection campaign manager to get his operation seriously up-and-running. Shortly after Flake visited New Hampshire the next month, Trump then stopped through the state himself, while his daughter Ivanka touched down in Iowa. Then, in April, Trump nixed Vice-President Mike Pence's hire of Jon Lerner, a GOP pollster, upon learning of his own NeverTrump past. Finally, in May, the RNC axed its debate committee, signaling the party likely won't hold any sanctioned primary debates in 2020, even if a challenger does emerge.
Still, Trump-allied party leaders have skeptically eyed high-profile Republicans making a name for themselves these days: some Trump loyalists, for example, have grown wary of United Nations Ambassador Nikki Haley, who's widely thought to be eyeing a presidential run down the line, though not, her allies insist, in 2020. They've monitored Romney — who's on Kristol's list — even though he has expressed zero interest in stepping back into presidential politics. And they've watched closely as Pence plays a growing midterms role with his day-to-day campaigning, fundraising, and endorsing — including with multiple Iowa and New Hampshire trips — but also as he goes out of his way to insist he has no 2020 plans of his own. (After the Times reported on his potential ambitions last August, Pence made a show of responding, tweeting, "Whatever fake news may come our way, my entire team will continue to focus all our efforts to advance the president's agenda and see him re-elected in 2020. Any suggestion otherwise is both laughable and absurd.")
Others, still, have maintained ties to influential figures in New Hampshire, just in case things change dramatically. The Romney 2012, Kasich 2016, and Rubio 2016 campaign networks there remain largely intact, and many of the operatives and lawmakers involved in those operations have been careful not to align themselves too closely with Trump, in case a primary does arise down the line. Rubio, meanwhile, last month endorsed for reelection a Hampstead-based state senator who'd co-chaired his campaign effort in the state. Rand Paul this month endorsed one of his former backers there for Congress. And filings from the New Hampshire secretary of State's office reviewed by New York reveal that both Kasich's campaign committee and Pence's super-PAC donated thousands of dollars to Governor Chris Sununu's reelection effort this spring — a good way to keep themselves on the most powerful local Republican's good side.
And yet, the waiting game continues as Trump marches toward the midterms, toward a Mueller conclusion, toward 2020. Back in Washington, the Democratic National Committee and the left's largest opposition research group, American Bridge, have already compiled hundreds of hours of footage and thousands of pages of research on Kasich, Flake, Sasse, Pence, Haley, and others.
It may feel prudent to them to wait for the external conditions to align just right, warned Kevin Madden, a former Bush and Romney aide, but "when we were plotting 2008 or 2012, we were putting together the building blocks" at this point in the election cycle, he said. Waiting time is now almost over. "We will probably be about three hours into 2018 midterm coverage on Election Night before every single political conversation turns to 2020."