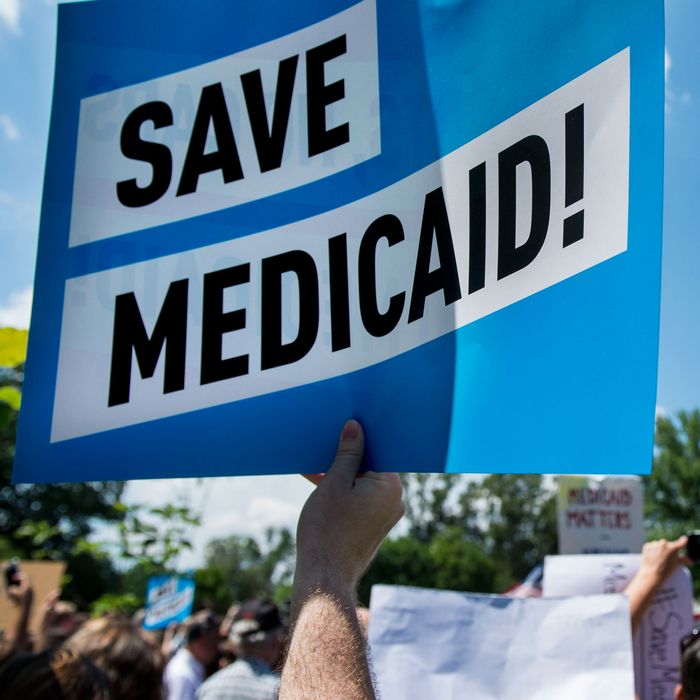 People feel strongly about this.
Photo: Bill Clark/CQ-Roll Call,Inc.
Six years ago, John Roberts and four liberal justices upheld the Affordable Care Act as constitutional, in a dramatic Supreme Court ruling that saved the law from one of its many brushes with death. But, in its infinite wisdom, the court also ruled that states were not legally obligated to expand Medicaid, the portion of the law that expanded coverage for poor Americans to those who make up to 138 percent of federal poverty-level income — about $16,000 a year for a single person and $33,000 for a family of four.
Still, there was huge incentive for states to cooperate. As set out by the ACA, the federal government would cover the entire cost of Medicaid expansion for the first three years of the law's existence, with states shouldering an increasing but still miniscule portion of the burden thereafter — only 10 percent starting in 2020.
And yet, plenty of states turned down this sweetheart deal. The ones that opted out tended to have something in common beyond their hardheadedness: Republican governors and state legislatures who wanted no part of cooperating with a law that was championed by a president they disdained. (To be fair, Republicans' natural revulsion to government-assisted health care likely also played a role in their defiance.)
In the meantime, Medicaid expansion proved to be the biggest success story of the Affordable Care Act. It has covered at least 15 million people, whose financial health care burden has been greatly reduced. A growing body of evidence shows that both access to health care and the quality of that care improved measurably in places that expanded the program, while the damaging financial repercussions its detractors feared — or claimed to fear — failed to materialize.
But most of the holdout states — 17, to be exact, with a population of more than 100 million people— still haven't budged.
Over the last year, voters in multiple such states have banded together to change this sad state of affairs. Last November, after a successful petition drive, voters overwhelmingly voted to expand Medicaid in Maine, the one Northeast state that hadn't yet gotten on board. (Paul LePage, the state's proto-Trumpist governor, is still resisting implementing the program, but he's fighting a losing battle.)
It was the first time Medicaid expansion had been achieved through a popular referendum, and it proved an inspiration for voters elsewhere — including in some unlikely places.
Below, a rundown of the four Republican-dominated states where Medicaid is on the ballot in November:
Utah
Back in April, Utah's Republican government attempted to expand Medicaid in the state, but with a big catch. The bill signed by Governor Gary Herbert would make the program eligible for people making up to 100 percent of the federal poverty level — far short of the Obamacare guidelines. Like a few other red states, Utah also passed work requirement for those seeking to gain benefits. (Previously, the state had granted Medicaid eligibility to about 6,000 Utahns who are homeless or struggle with substance-abuse or mental health problems.)
Because the plan falls outside the strictures set forth by the original law, it needs to be approved by the Trump administration, which has not yet weighed in. The administration has declined to approve a similar move by Arkansas, which wanted to roll back its previously full-bore expansion. Even if the administration does give the green light, the twisting of the law means it would be vulnerable to court challenges.
In any case, a lot of Utahns don't want to settle for half-baked measures: they want the real thing, and they want it now. The activist group Utah Decides Healthcare gathered 147,280 contributed signatures to get the issue on the ballot this November. That's about the number — roughly 150,000 — who would become newly eligible for Medicaid if the referendum passes.
A Utah Policy poll released in June showed that 63 percent of Utah residents approve of the bill.
Idaho
In July, Idaho's Secretary of State announced that activists had gathered the requisite 56,192 signatures to force a referendum, which could expand coverage for up to 62,000 people, according to the measure's backers.
Deep-red Idaho's existing Medicaid program is among the strictest in the country. Over the past several years, the state's legislature has toyed with the idea of expanding it in a much more limited way than Obamacare calls for, but such proposals have gone nowhere.
Lame-duck Governor Butch Otter and most of the state legislature opposes Obamacare, but Republican Brad Little, who is the favorite to succeed outgoing Otter, has said he will respect the results of the referendum.
Recent polling on the issue has been all but non-existent, but two older surveys indicate that Medicaid supporters have reason to be optimistic. A 2015 poll showed that 61 percent of Idahoans favored expansion. And, after the state legislature declined to expand it in 2016, a poll showed that 64 percent of residents disagreed with the decision.
Nebraska
Nebraska's hard-right governor, Pete Ricketts, is an ardent foe of Medicaid expansion, repeatedly helping to block a legislative path to health care for about 90,000 Nebraskans over the last several years. But, as in Idaho and Utah, activists gathered far more signatures than needed to put Medicaid expansion on the ballot — in late August, 104,477 were deemed valid by the Secretary of State's office, more than 20,000 over the legal threshold. Unlike in those two states, though, opponents of the law put up a major legal fight.
A Nebraska state senator, joined by a former state senator, filed suit to keep the question off the ballot, charging that the proposal included more than one subject and failed to disclose one of the initiative's sponsors, in violation of state law.
Last week, a judge tossed that lawsuit out. The case may yet be appealed, but it would need to be expedited and decided favorably toward the plaintiffs by September 14 for the Medicaid question not to appear — seemingly a longshot, given the spurious nature of the challenge.
There has been no public polling of the question, but given the public-opinion trends in Idaho and Utah, Medicaid supporters have grounds for confidence.
Montana
Montana's legislature already expanded Medicaid to about 96,000 people in 2015, but the law is set to expire next year. Voters will get to decide whether to make it permanent, in large part by raising taxes on tobacco products. Organizers gathered 40,000 signatures, 15,000 more than were needed to put the question on the ballot.
Beyond the referendums, the midterm elections themselves are of vital importance to Medicaid's future. Over the last four years, Pennsylvania, Alaska, Louisiana, Virginia have all expanded Medicaid following the election of Democratic (and in the case of Alaska, Independent) governors. Of particular interest is Florida which, along with Texas, is one of the two major states that have refused Medicaid expansion, and where progressive Democrat Andrew Gillum has enthusiastically endorsed expansion. Though the deep-red state legislature is unlikely to go along with that idea anytime soon, a Gillum win would nevertheless breathe new life into the idea. A similar dynamic exists in Georgia, where Democratic candidate Stacey Abrams has called Medicaid expansion a "day one priority."
And with Democrats poised for gains in statehouses across the country , Medicaid expansion may just get a little closer to becoming a reality everywhere.
A previous version of this story mistakenly stated that the Obama administration set out the Affordable Care Act's Medicaid funding structure after the 2012 Supreme Court ruling; in fact, it was in the original text of the law.