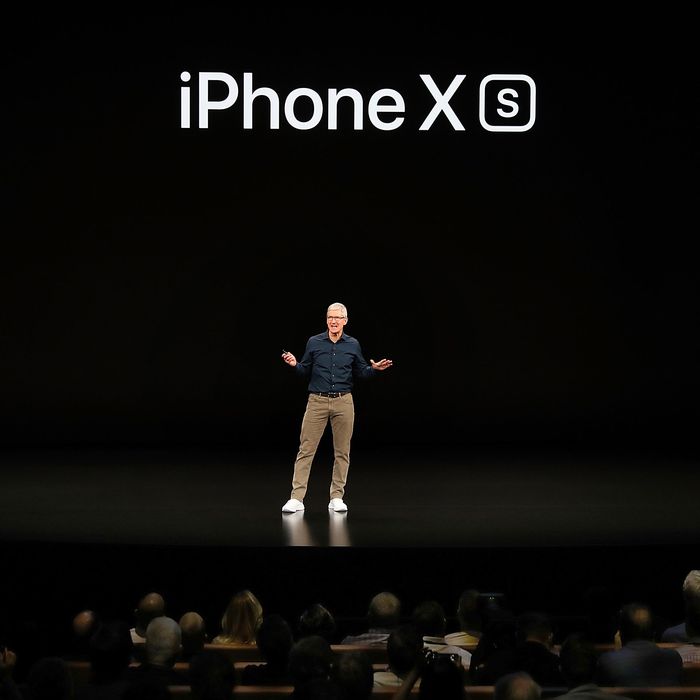 Apple CEO Tim Cook at the unveiling of the newest generation of iPhones and an updated Apple Watch.
Photo: Justin Sullivan/Getty Images
I was not all that jazzed about this year's iPhones after Apple's presentation on Wednesday, but I was somewhat at a loss as to why. Most years, even if some of Apple's glossy smarm can be grating, my rat brain still usually wants that shiny new phone it's showing off. This year, not so much. Was it just that most of the improvements were incremental at best? Am I just getting old and tired? Was it an off year for Apple?
But Wall Street Journal reporter Christopher Mims explained it pretty well, I think:
Or as Popular Mechanics' editor Andrew Moseman put it: "The iPhone swallowed all the gadgets and then it became an appliance."
For years, editors and writers at every media outlet have oriented themselves around the rollout of new iPhones. News and rumors about the iPhone bring in traffic and eyeballs unlike any other gadget — it is, after all, the most commonly owned phone in the United States. Both tech and non-tech outlets across the spectrum planned out coverage, trying to really squeeze as much juice as possible out of Apple's latest flagship phone.
But most media outlets don't plan out coverage about the newest model of Honda Civic or Audi A6. There aren't liveblogs dedicated to announcements about the new side-loader washing machines from Whirlpool this year. Nobody breathlessly reports rumors about the latest LG TV sets.
It's not that cars and washing machines and TVs aren't important — they represent trillions of dollars of consumer spending. But for the average consumer, you only care about cars or washing machines or TVs when it is time to get a new one. As the smartphone upgrade cycles elongate — and everything seems to indicate that it will only continue to slow down — I think the days of Apple's fall iPhone event being a gravity well all news organizations orbit around are likely over.
Even Apple seems to recognize this. Its event on Wednesday was well under two hours — no musical performances by U2 or One Republic to be found. I have no idea what to expect from Apple in 2019, but wouldn't be surprised if next fall's event is similarly short and sweet. There are still major innovations down the line for smartphones: time-of-flight rear cameras show promise for augmented reality, phone carriers are beginning to roll out much faster 5G networks, and Apple is uniquely well-positioned to create that constellation of smart wearables that futurists have been predicting for over a decade now. But a newer, slightly faster smartphone? That really isn't news anymore.