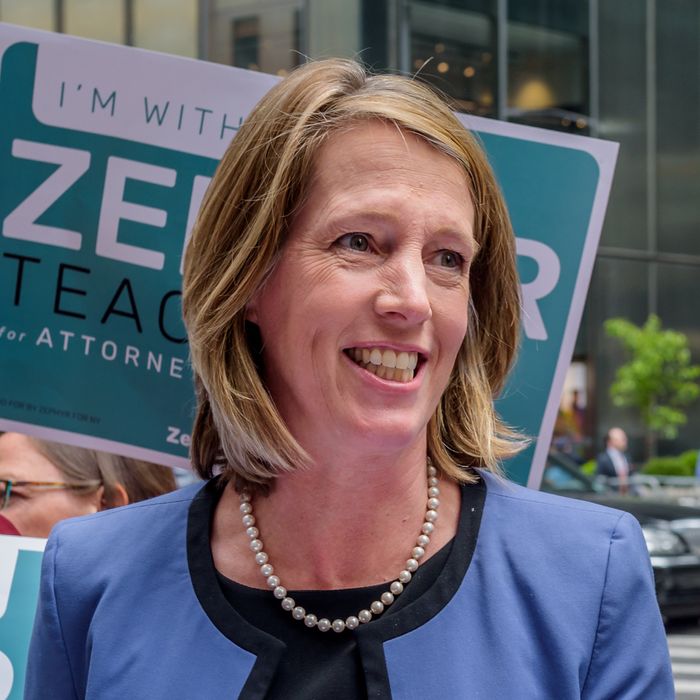 Teachout has predicted that pregnant candidates will soon be more common.
Photo: Pacific Press/LightRocket via Getty Images
The 2018 midterms have already produced many campaign ad firsts, showing candidates breastfeeding, getting tattoos, and firing a gun at Obamacare repeal. Zephyr Teachout, who's running for attorney general of New York, offered her own innovation on Monday, releasing an ad featuring her getting an ultrasound.
"What does his or her future look like?" she asks, as we see images of baby Teachout, who's due in October. "Do we save our democracy? Do we flip Congress? Does Robert Mueller indict Trump? I don't want to wait and see."
As the camera pulls back, revealing Teachout lying on an exam table, she notes that she's already sued President Trump and literally wrote the book on corruption. "I'm Zephyr Teachout, and you've never seen an attorney general like me," she says.
Teachout, who mounted an unsuccessful primary challenge against Governor Andrew Cuomo in 2014, had planned to continue working as a law professor at Fordham University until the birth of her first child, but then former attorney general Eric Schneiderman resigned in May amid allegations of physical abuse from several women.
Teachout told Time magazine that being pregnant does not change her qualifications for the job, and noted that many women work in more physically demanding jobs while pregnant. "Women are working in McDonald's pregnant," she said. "Fast food workers who don't have contracts, who don't get a lot of time off."
Pregnant candidates are a rarity (Debbie Walsh, director of the Center for American Women in Politics, could think of only two others who ran for statewide office in the '90s), but Teachout predicted it will soon be more common. "We're on the verge of a big change here. If women are going to be running in their 30s and 40s, they're going to be running pregnant," she said. "You can't change that."
A Siena College poll released Monday showed a tight race among three of the four Democratic candidates for attorney general. Though Teachout has been endorsed by the New York Times and was treated like the frontrunner during a recent debate, she came in third with 18 percent of the vote. The poll found 25 percent of likely Democratic voters preferred Representative Sean Patrick Maloney, and 24 percent would pick Letitia James, New York City's public advocate.
There are a large number of undecided voters, and candidates have to contend with an unusual primary date; Election Day was moved to Thursday, September 13 due to Rosh Hashanah and the anniversary of 9/11. Steven Greenberg, a pollster at Siena College, said the race is "going down to the wire with Maloney, James, and Teachout all within striking distance of each other."