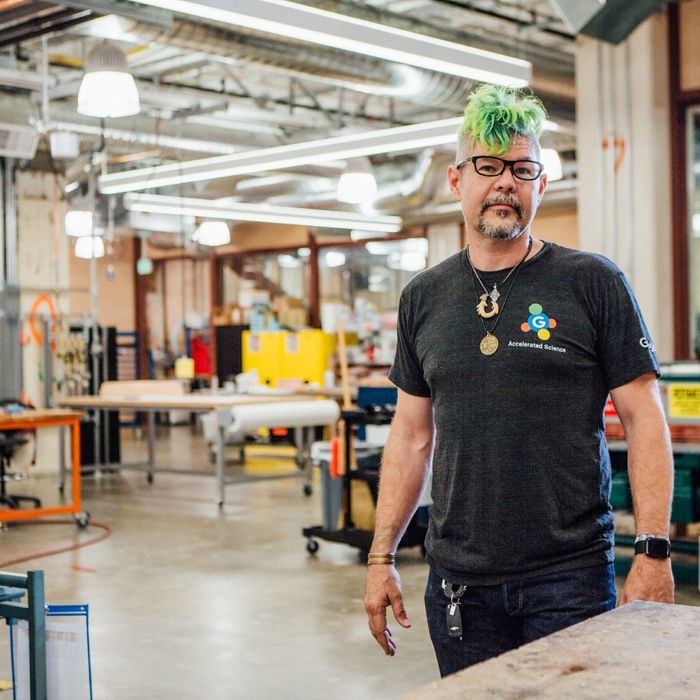 Former "director of mad science" at Alphabet's X research laboratory Richard DeVaul, who resigned from the company yesterday in the wake of an exposé about sexual harassment in the New York
Times
.
Photo: Alphabet
Alphabet executive Richard DeVaul, who was accused of sexually harassing a female job applicant in a New York Times exposé, has resigned from Alphabet, Google's holding company. DeVaul, the "director of mad science" at Alphabet's moonshot research laboratory X, was one of three top Alphabet executives named in a Times report on Alphabet's culture of sexual harassment.
Hardware engineer Star Simpson told the Times that in 2013, she had interviewed for a position at Google in which she would have reported directly to DeVaul. During the interview, DeVaul told Simpson that he and his wife were polyamorous, and invited her to Burning Man. Simpson says, DeVaul then asked her to take her shirt off and allow him to give her a back rub. She refused, eventually allowing him to give her a neck rub. She was subsequently not offered the position.
The news of DeVaul's resignation came just one day before a planned "Women's Walk," where hundreds of Google employees around the globe planned to walk out on the job in anger over the revelations in the Times' article.
DeVaul will leave with no exit package — a marked difference from the treatment received by Android inventor Andy Rubin, who was accused of coercing an employee to perform oral sex on him in a hotel room while employed by Google. Rubin was quietly forced out of the company in 2014 when his behavior came to light internally, but was still given a $90 million severance and publicly praised by Google's co-founder Larry Page upon his departure. (Rubin has disputed some, but not all, of the allegations in the the Times' article.)
DeVaul's resignation follows the familiar, depressing pattern that has held in many industries in the wake of the #MeToo movement: men are ousted from their positions not because their predatory behavior was discovered, but because it became public, and therefore an open liability. DeVaul's behavior at Burning Man, after all, was known to Google HR, which told Simpson that her allegations were "more likely than not" true, and that action had been taken. What action the HR rep was referring to remains unclear.
"As CEO, it's been personally important to me that we take a much harder line on inappropriate behavior," wrote Google CEO Sundar Pichai in an internal memo. "We have taken many steps to do so, and know our work is still not done." Firing employees as soon as credible allegations of sexual harassment come to light — and not just in the pages of the New York Times and after your company faces a massive walkout — would be a good next step.