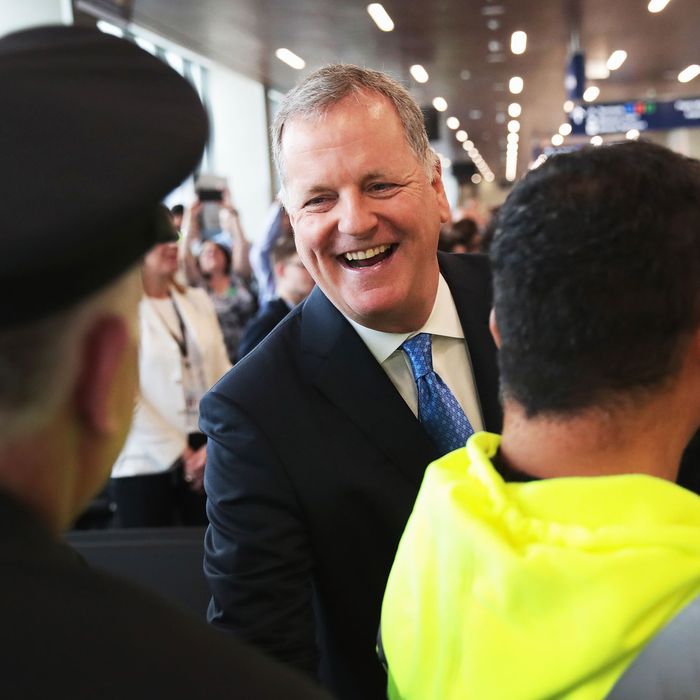 American Airlines CEO Doug Parker.
Photo: Scott Olson/Getty Images
In April 2017, as airlines were swinging back to solid profitability following a rough decade and a half, American Airlines did something very unusual: It voluntarily gave substantial raises to its pilots and flight attendants, two years before their union contracts were set to expire.
The pay raises cost the airline about $350 million a year over two years. For a company producing pre-tax annual profits around $3 billion, that's not a trivial amount.
Wall Street was displeased.
"This is frustrating," Citibank analyst Kevin Crissey wrote in a note to investors. "Labor is being paid first again. Shareholders get leftovers."
You could argue it's a good thing for corporations to serve a wide group of stakeholders, and therefore that this raise was the right thing to do even if it meant less profit for shareholders. A number of columnists made that argument and dunked on Crissey in the process. But American executives had a different rationale for the raise.
"We think precisely this kind of investment in our people is going to make the difference in our service," American CEO Doug Parker said on a conference call for investors just after the announcement. "And while this won't happen overnight, we also think of the kind of investment that will continue to drive revenue out-performance for American and as that happens, all of you will be the beneficiaries of those returns."
Lots of executives at lots of companies like to talk about "culture as a competitive advantage." What makes Parker unusual is how he's put his money where his mouth is: paying employees more as part of a broader effort to improve the customer-service culture at American, even over objections from Wall Street.
His hope is that, along with other product improvements, such as new aircraft, those investments in personnel will lead to better service and to happier customers, who are willing to pay higher fares, so shareholders enjoy higher profits.
This is a happy to story to tell: Companies that treat their employees and their customers well are more profitable in the end. If this story is true everywhere, we don't have to worry about whether a singular focus on shareholder profits is ethical: To maximize profits, a company had better be nice to all its stakeholders anyway.
Unfortunately, those miserly Wall Street analysts had a point. Not only has paying more not made American more profitable, it hasn't even improved American's customer satisfaction relative to its competitors.
It's not that a "nice company" strategy can never work. It's that American hasn't truly implemented one.
Higher pay was only one of several things American needed to do to be nicer. It's not clear whether the airline has the rest of the necessary steps in it.
American "has room to grow" in customer perceptions in areas like courtesy, friendliness, and responsiveness, says Michael Taylor, who leads the travel industry practice at the market research firm J.D. Power.
The marketing company's widely discussed annual customer satisfaction rankings for airlines tend to place American a bit below average.
"They're not the worst," says Taylor.
Southwest, JetBlue, and Alaska rate especially well on these sorts of "human" factors. Partly, this is culture as a competitive advantage in action: Southwest especially is a favorite example of business school professors, for the way it's built a fun corporate culture where frontline employees and therefore customers maintain a positive attitude.
But these airlines also have the advantage of relatively simple business models, with fewer aircraft types and fewer classes of service, which helps them deliver a consistent customer experience.
American's business model bears the most similarity to its two large, legacy airline competitors: Delta and United. These three airlines operate more aircraft types covering more complex global route networks, and they're more dependent on more demanding business travelers. They face a harder task than other airlines when trying to satisfy customers.
And among the three, there's a clear customer satisfaction hierarchy: Delta rates best, American is in the middle, and United — famous for the Kentucky doctor who got his face slammed into an armrest in the process of being forcibly removed from an oversold flight at Chicago O'Hare last year — scores last.
Partly, Delta does better in the surveys because it has an actual advantage on execution. In the first seven months of this year (the most recent data available), Delta and its branded code-share partners have reported on average 82 percent on-time performance, compared to 78 percent at United and 77 percent at American.
In the first half of the year, American was nearly twice as likely to mishandle a passenger's bags as Delta was, and 50 percent more likely than United.
But it's also culture: Delta has something United and American don't.
"At Delta, flight attendants are more enthusiastic about doing their jobs than at American," says Gary Leff, who writes the View From the Wing blog about the travel industry and rewards programs.
For two years running, Delta has made it onto Fortune magazine's "Best Places to Work" list, the only airline to do so in over a decade. Delta leverages employee satisfaction with pay and benefits — American isn't the only airline where compensation has risen sharply with the industry's improving financial fortunes in recent years — to reinforce a culture where employees feel they are on what Leff describes as "a mission to do something bigger than themselves."
American might someday make this jump, too. But it's not yet showing up in the data.
Asked what metrics American looks at to see if it's gaining an advantage in culture and customer service, airline spokesperson Matt Miller pointed to American's improvement in the J.D. Power survey. American's customer satisfaction rating has been going up: scored out of 1,000, the airline went from a rating of 693 in 2016 (the first year the merged American and U.S. Airways received a joint score) to 729 in 2018, a gain of 36 points.
American also says internal surveys, asking customers if they would recommend American to others, have shown improving results from 2015 through 2017.
But is any of this a relative improvement? The average rating for all airlines in the J.D. Power survey rose the same 36 points American's did from 2016 to 2018. Delta added 42 points for a score of 767; United added 33 to reach 708. So American's customer satisfaction in 2018 ended up relatively where it had been in 2016: somewhat ahead of United, somewhat behind Delta, and somewhat below the industry average.
Miller also cited American's strong unit revenue growth — that is, the growth in passenger revenue per available seat mile, a revenue measure that adjusts with the size of an airline's operation — as evidence that American is succeeding in commanding higher fares from customers, a sign of satisfaction.
American posted impressive numbers in this area in 2016 and 2017, at a time when United in particular was struggling. But American lagged behind Delta and United on this metric in the first two quarters of 2018 and has given guidance that it expects to do so again in the third.
American's push for an improved culture may be failing to generate a competitive edge because the airline has sent mixed signals to both employees and customers about how much it values them.
Besides giving them a raise, another thing American has done to flight attendants without negotiating a new union contract is impose an attendance discipline system that seeks to penalize them for calling in sick during "critical periods" like the week around July 4, even if they actually are sick. (The flight attendants' union filed a grievance.)
On the other hand, the unscheduled pay increase for pilots does seem to have paid off.
After American created a real mess for itself last fall by mis-programming its scheduling system to allow unlimited numbers of pilots to take days off near the Christmas holidays, goodwill over the raise helped company and pilots' union work productively together to staff hundreds of pilotless flights and avoid cancellations.
Still, it came at a cost. American initially offered to pay the pilots 150 percent of their usual rate to switch to the pilotless holiday flights. According to the Chicago Business Journal, the union managed to bid that up to 200 percent.
As for customer experience, American likes to brag about its young fleet of aircraft — its average plane is just 10 years old, compared to 17 years at Delta. Analysts will remind you that American bought those new planes at great expense, taking on much debt in the process. As a consumer, I'm more focused on the fact that American has been putting an awful lot of seats on them, and retrofitting its old planes to match.
Last April, on the same investor call where American touted its employee raises, airline president Robert Isom mentioned "density issues with our narrow-body fleet that we will be addressing in the coming years." Doing this, he said, would "have benefits in terms of overall revenue production and will also help us from a unit cost perspective."
Addressing those "density issues" has meant reconfiguring many of the airline's Boeing 737 jets to have 172 seats instead of 160. That helps "from a unit cost perspective" because the airline can move more passengers on a single flight. It also means less legroom and, on the 737-MAX, comically tiny bathrooms.
But maybe the most negative signal that American sent to customers during the last two years was its rollout of Basic Economy fares.
This fare class itself isn't unique to American — all three of the big legacy carriers have rolled out a stripped-down coach offering that is intended to compete with airlines like Spirit and Frontier.
These ultra-low-cost airlines combine very low fares with a totally miserable customer experience. American and the other legacy carriers want to be able to compete with them on price — but they want to offer the lowest price only to customers who are so price-sensitive that they would otherwise fly Spirit, so they impose a number of degrading conditions like boarding last and not being able to choose your own seat assignment.
In designing its Basic Economy fare, American copied United, which bars these lowest-fare customers from bringing a full-size carry-on bag aboard. The idea was that such a draconian baggage rule would lead more customers to, however grudgingly, buy up to a Main Cabin fare with normal passenger rights instead of taking the cheap Basic Economy deal.
Unfortunately for American, a lot of customers chose a third option: flying someone else.
As of September, American has started to allow carry-on bags for Basic Economy passengers, copying the rule Delta had all along. If American really aspires to overtake Delta in the J.D. Power ratings, it probably should have gone that way to begin with.
Since the pay-increase announcement last April 26, American Airlines's stock is down 21 percent.
Of course, the biggest business challenge at American over the last year and a half has been one completely outside management's control: a sharp rise in the price of jet fuel. But that's a challenge faced by all airlines, and yet Delta's stock is flat over the same period.
Last April, in defending his choice to hand out pay hikes, Parker asked investors to give him time to deliver on cultural improvements that would improve profits. And despite a 5 percent drop in the stock price on the day he announced the raises in April 2017, American's stock performance largely tracked Delta's for the following year.
It was only after the deterioration of unit revenue growth this year — the sign American was falling behind its legacy peers when its culture investments should have had it moving past them — that investors really turned sour on the airline.
The surprise winner among legacy airlines on Wall Street lately is United, up 22 percent over that same period.
"What I'm being asked now by investors is whether American has now simply stepped into the shoes that United once occupied," Jamie Baker of JPMorgan told Parker on this summer's American Airlines investor call. "You're going to have one chronic out-performer, let's call that Delta. You have the silver medalist, let's call it United. And then inevitably American brings up the rear."
How did United claw its way to the middle? Maybe it was by knowing who it is, and knowing that's not the nice airline.
Okay, that's overstating matters. Every customer-facing company says it intends to be nice, and United is no exception. It's currently putting frontline employees through a culture training program called "core4," in which they're trained to use flexibility to apply United's four core service principles — the airline should be safe, caring, dependable, and efficient, in that order — which definitely sounds like a nice-airline initiative.
But here's the key matter from Wall Street's perspective: Unlike American, United has been executing a business strategy that can improve profits even if the airline fails to develop a core competency in compassion.
Over the last year, United has focused on expanding its mid-continent hub operations at Chicago, Denver, and Houston, flying to as wide a variety of small markets as possible. By building up these hubs, United adds customers it can fly without competition from the ultra-low-cost carriers, meaning it can collect premium fares even if it does not present an especially good brand image.
Like American's push to pay for cultural improvement, United's plan to expand domestically met initial skepticism on Wall Street. Analysts tend to like when airlines say they are being "disciplined" about growth, instead of expanding in ways that could push down fares or leave more empty seats on planes.
But as United's expansion has led to good revenue growth, analysts have changed their tune. United is still third among the majors for customer satisfaction, but at least they're making someone happy.
"There is a clear vision, even if not an entirely passenger-friendly vision, at United," says Leff. "It's less clear what the vision at American is."
This summer, when The Wall Street Journal invited airline CEOs to be interviewed about the passenger experience while sitting in economy-class seats, American's Parker and Delta's Ed Bastian both squeezed into coach on Boeing 777s from their respective fleets.
Both Parker and Bastian are six-foot-three, and they both looked pretty snug in the Journal's photos. But Bastian had a little more room to work with, since Delta has only nine seats across in coach on the 777. American, like United, has ten.
"We believe we get more revenue by having a better product," Bastian told the Journal.
He also told the Journal that he flies coach on most domestic flights, so he can experience what customers do, and he's imposed a rule that all employees at the director level must travel economy on flights under three hours.
As for American? According to the Journal, CEO Parker flies coach "typically when first-class and extra-legroom seats are already booked," which is about a third of the time.
United declined to participate in that Journal piece at all, which seems like a reasonable thing to do if you're going to have ten seats across in coach in your 777. But then, United has a strategy besides nice.
I'm not saying American should give up on nice. Whatever nice thing Delta is doing that has it outranking American and United in the J.D. Power survey seems to be paying off — in 2017, its operating profit margin was about 50 percent higher than American's and United's.
Nice, when executed properly, is one of the most powerful tools in the corporate tool kit. Even United wants to be nice.
But if American really wants to be like Delta, it should act more like Delta. Or, if it insists on acting like United, then it should do what United has done — come up with a strategic plan where being nice would be nice, but is not the key to success.