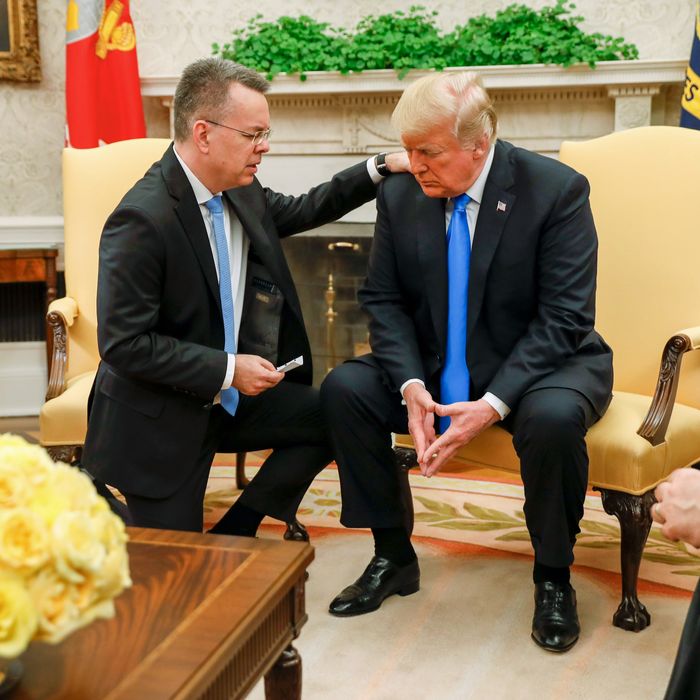 Freed American pastor Andrew Brunson prays for President Donald Trump at the White House on October 13, 2018.
Photo: ROBERTO SCHMIDT/AFP/Getty Images
Andrew Brunson almost certainly did not belong in a Turkish prison. The American pastor, freed on Friday after extensive lobbying from the Trump administration, had lived and worked in Turkey for 23 years without incident. Turkey's charges, which accused Brunson of being a spy with links to Kurdish insurgents and to the Gulenist movement, never benefited from much proof. One of the Turkish government's purported smoking guns? An iPhone photo of a rice dish, maqluba. Government officials say that Gulenists eat maqluba in safe houses. Maybe they do, but not because maqluba is a Gulenist creation. The dish has Palestinian origins, and if eating it makes one a Gulenist, readers of the New York Times Cooking section should beware.
Brunson wasn't a spy. Neither is Serkan Golge, a dual U.S.-Turkish citizen and NASA scientist arrested in similar circumstances. In the aftermath of Turkey's aborted coup, a wide net swept up thousands of Turks for allegedly backing the Gulenists, though there isn't much evidence that Gulenists, a favorite government target, are even responsible for the insurgency. Both Brunson and Golge were arrested. Turkey says Golge spied for the CIA and for the Gulenists; Golge's wife, Kubra, and attorneys say the charges are entirely false. Nevertheless, a Turkish court sentenced Golge to seven and a half years in prison in February, and he remains there still. "When I read the newspapers, I feel frustrated sometimes like they're only trying to save Brunson but not us," Kubra told NBC News in July. She added later, "I feel frustrated, [Brunson's] not the only guy whose life went down. We are also citizens."
There are other Americans still being held in foreign prisons on dubious charges. Human Rights Watch reported on Thursday that Khaled Hassan, an Egyptian-American, has been jailed and tortured by Egyptian authorities. Hassan's torture allegations are detailed and extensive: HRW says it received and reviewed photos of his wounds, and Hassan also says that security officials have raped him twice in prison. A State Department official told the Intercept the same day that the department is "deeply concerned" about Hassan and that American consular officials have visited the American in prison. But there's been no public outcry over Hassan's torture and rape, or over the imprisonment of 16 other Americans in Egyptian prisons.
A key difference distinguishes Brunson from Golge and Hassan. Brunson is a member of the Evangelical Presbyterian Church; Secretary of State Mike Pompeo's Kansas church, Eastminster Presbyterian, is part of the same denomination. And while Golge languished in prison, Brunson's case became the Christian right's cause du jour. Pence and Trump both tweeted about Brunson. Sixty-six U.S. senators sent a letter to Turkey demanding Brunson's release, but there's no such letter for Golge, let alone for Hassan. The U.S. State Department's first Ministerial to Advance Religious Freedom, held in July, hosted Brunson's daughter as a speaker. "I have worked here at State and I know how focused everyone is on Andrew Brunson," Pam Pryor, senior advisor to the department's undersecretary for civilian security, democracy, and human rights, said at the same event. "We get weekly updates and this administration is truly working on ways to make sure that this innocent American and others wrongfully detained are released."
As Pryor pointed out at the time, the Trump administration has overseen the release of other American citizens detained overseas. Joshua Holt, a former Mormon missionary, had been jailed in Venezuela on suspicion of trafficking weapons; Kim Dong-chul, Kim Hak-song, and Kim Sang-duk had been detained by North Korean authorities on charges of espionage and attempting to overthrow the government. Of the three, one, Kim Hak-song, was an ordained evangelical minister, though it's not at all proven that he had proselytized his faith while teaching at Pyongyang University of Science and Technology. (PUST was founded by Christian missionary groups, and is funded by them still, but investigative journalist Suki Kim has reported that PUST's evangelical staff "cooperate with the regime" by not proselytizing.)
It wouldn't be totally accurate to say that the Trump administration has only prioritized the freedom of Christian Americans imprisoned overseas. But the Brunson case still illuminates a concerning pattern within the Trump administration's approach to religious freedom. Though Brunson lived in Turkey for the explicit purpose of pastoring a Christian church, he wasn't arrested on charges related to his vocation. Turkish authorities only ever offered secular justifications for his arrest and on paper, his imprisonment was no more unjust than Golge's and Hassan's, in Egypt. So there does seem to be a disproportionate focus on Brunson, and for discernible reasons. For Trump, the Brunson saga possessed useful political elements. Brunson's freedom, like the confirmations of Brett Kavanaugh and Neil Gorsuch to the U.S. Supreme Court, became a way for Trump to prove to his most reliable supporters that he works on behalf of their interests. Other members of the administration, like Pompeo and Mike Pence, are true believers, and the proof is in the White House's policies.
The Trump administration's definition of religious freedom consistently prioritizes Christianity. That emphasis is visible domestically, as Jeff Sessions aligns the Justice Department firmly with plaintiffs like Jack Phillips, the Colorado cake-baker who has repeatedly demanded religious exemptions from anti-discrimination laws that protect LGBT customers. The same emphasis is visible in the State Department, too. Former Kansas governor Sam Brownback now heads the department's Office for International Religious Freedom, despite the fact that Brownback once tried to block the U.S. government from resettling Syrian refugees in his state and signed a bill banning the practice of Sharia law, legislation critics opposed because it singled out Kansas Muslims as a special security risk. Though Brownback has condemned Myanmar's genocide of the Rohingya people, a Muslim minority, and so did the Ministerial to Advance Religious Freedom, his antagonism toward Islam and LGBT rights in particular undermine any claim the office can make to objectivity.
Similarly, the U.S. Commission on International Religious freedom now tilts firmly to the right. The federal commission is meant to be an independent, bipartisan body, charged with monitoring the status of global religious freedom and with the responsibility of making certain policy recommendations to the president. But five of USCIRF's eight commissioners were appointed either by the Trump administration or by Republican members of Congress, and their ranks include some extreme voices whose views appear entirely at odds with USCIRF's mission to advance religious freedom. Gary Bauer, appointed in June, informed a Values Voter Summit audience in 2010 that "Islamic culture … keeps hundreds of millions of people on the verge of violence and mayhem 24 hours a day." Tony Perkins, appointed in May, said on a 2015 episode of his radio show that "Islam is not just a religion, Islam is an economic system, it is a judicial system, it is a compressive system which is incompatible with the Constitution." The idea that Islam isn't a religion certainly implies that Islam, in Perkins's mind, doesn't merit First Amendment rights. Right Wing Watch noted the same subtext at the time.
So perhaps it's not much of a surprise that the Trump administration prioritized Brunson over Golge. Trump didn't create either USCIRF or the State Department's Office of Religious Freedom, but Republicans have packed both bodies with right-wing voices. In practical terms, this means the U.S. government has robust systems in place to defend the rights of ministers like Andrew Brunson. Scientists like Golge and limousine drivers like Hassan aren't as lucky.