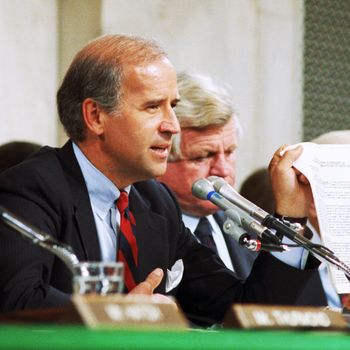 Senate Judiciary Committee chairman Joe Biden holds up an FBI report while questioning Anita Hill in 1991.
Photo: Bettmann Archive/Getty Images
It's no secret that potential 2020 presidential candidate Joe Biden was in and around the U.S. Senate for a long time. But after watching the gerontocracy of the Senate Judiciary Committee operate during the Kavanaugh hearings, it's a bit sobering to realize exactly how long Biden was in the upper chamber. He was elected two years before Pat Leahy, eight years before Chuck Grassley and 20 years before Dianne Feinstein. He was a senator for 36 years, and then presided over the Senate as vice president for eight more years. When he arrived in Washington the Senate's presiding officer was Spiro T. Agnew; his freshman class included Jesse Helms and Sam Nunn. The Judiciary Committee at that point was chaired by the ancient Mississippi segregationist Jim Eastland. Ted Kennedy and Strom Thurmond chaired the committee before Biden got the gavel in 1986 at the relatively tender age of 44.
But there's a bigger problem for Biden in the sudden, intense focus on the Judiciary Committee. The most obvious involves the many parallels between the Clarence Thomas and Brett Kavanaugh hearings. Biden's role as the ringmaster in the former saga is hard to forget, in part because today's Republicans keep quoting him (out of context, he and his defenders say) about the limitations of FBI investigations in cases like this, and in part because the struggle of Kavanaugh's accusers to be heard has brought back memories of his clumsy treatment of Hill, as the Washington Post notes:
After the hearings, as well as years later, Hill and other women's rights advocates expressed dismay that Biden did not call a panel of expert witnesses to inform the committee of 14 men about the pressure women felt to keep such incidents to themselves for so many years — their fear of reprisals, that men in power wouldn't care, that women simply had no choice.




Last December, in an interview with Teen Vogue, Biden expressed regret again for the way lawmakers treated Hill and his role in the hearing.




"I wish I had been able to do more for Anita Hill," he said. "I owe her an apology."
But he hasn't put criticism of his conduct behind him, and it was probably no coincidence that Biden canceled public events in Georgia and South Carolina that would have overlapped with the Kavanaugh and Ford testimony.
Even if memories of Biden's ambivalent role in the Thomas-Hill hearings fade, other aspects of his Judiciary chairmanship could come back to haunt him. As you may recall, during the 2016 presidential contest Hillary Clinton was criticized by fellow Democrats for her husband's signature on a 1994 omnibus crime bill that many blame for contributing significantly to the mass incarceration wave that only now is being reconsidered as a national tragedy. The architect and legislative manager for that bill was Joe Biden, and he hasn't really recanted, as the New York Times observed in 2015:
Despite reservations, Mr. Biden, who has served as the Obama administration's unofficial liaison to the law enforcement community, has not only stood by the 1994 legislation, but has also frequently taken credit for it. As recently as this spring, in an essay on community policing for a book of bipartisan reform proposals put together by the Brennan Center for Justice, Mr. Biden referred to the legislation as the "1994 Biden Crime Bill."
Aside from the very specific grievances many progressives have with Biden over both the Clarence Thomas hearings and the crime bill, these associations reinforce the impression that the 75-year-old political warhorse is part of a bygone era where the Democratic Party was ruled by white male centrists who did a lot of triangulating damage to women and minorities. Biden as the steady side-kick to Barack Obama and liberal ambassador to white-working-class voters is undermined by Biden as Chairman of the Senate Judiciary Committee.
So the end of the Kavanaugh confirmation saga couldn't come too soon for Joe Biden. And he probably wishes he had opted for a Senate career focused on a different committee.