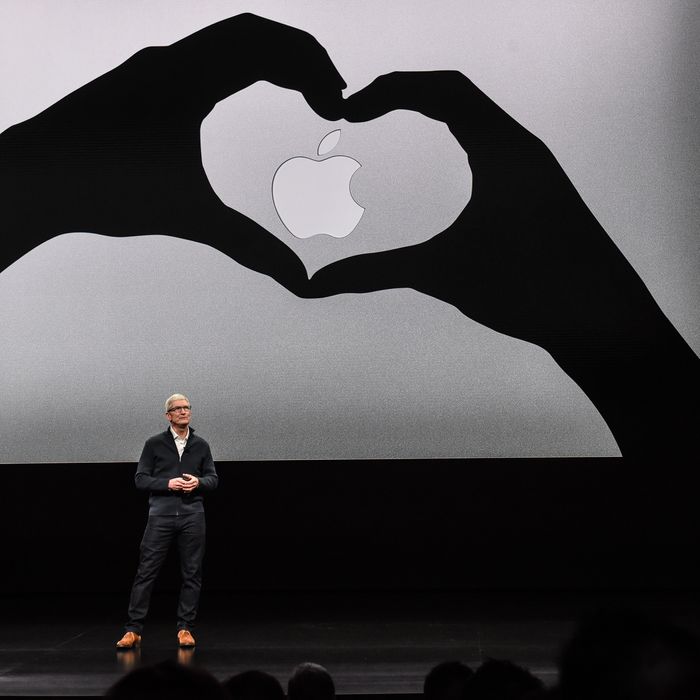 Tim Cook, CEO of Apple, unveils a new MacBook Air during a launch event at the Brooklyn Academy of Music on October 30, 2018, in New York City. Apple also debuted a new Mac Mini and iPad Pro.
Photo: Stephanie Keith/Getty Images
On Tuesday morning, Tim Cook bounded on to the stage in Brooklyn noticeably more chipper than back in September when Apple rolled out the 2018 lineup of iPhones. Maybe it was just that Cook had downed a couple of extra espressos. Or maybe it was that Cook knew that unlike the somewhat underwhelming updates to the iPhone lineup, he had something that was about to get the Apple faithful on their feet.
Apple's laptop and desktop computers have been teetering on a dangerous precipice for years now. Starting with the 2015 MacBook and continuing through the 2016 and 2017 MacBook Pro refreshes, its laptops have managed to turn off both the casual and pro user, by being both too expensive and too underpowered to excite either. Meanwhile its Mac Mini desktop model had languished for four years without an update, leading many creative professionals who love Apple to take a hard look at switching over to PC.
So Apple decided to open the presentation by returning to perhaps its most iconic moment in Apple's laptop announcements when Steve Jobs slid out a MacBook Air from a manila envelope in 2008.
The new MacBook Air, starting at $1,199, has a 13.3-inch Retina screen with markedly thinner bezels, two USB-C ports, and a 3.5 mm headphone jack. Internally, it sports a 1.16 GHz Core i5, 8 GB of RAM, and a 128 GB SSD. There's Touch ID but no Touch Bar for the MacBook Air, a plus in my book, as the Touch Bar has been a largely failed experiment for Apple. (If I had to wager money, I would guess that the Touch Bar is going to slowly fade away from most Apple laptops.)
On the downside, the keyboard is still using the same butterfly switches introduced with the 2015 MacBook, which are prone to expensive failures and, in my opinion, feel like crap to type on; the keys simply don't move enough, meaning you feel like you're slamming your fingertips down on the top of your desk.
A cynic might say that this is just a slight style update to the 2016 MacBook Pro with the still very popular MacBook Air name slapped on top. Regardless, this seems like a solid laptop priced just low enough that I think it'll keep many casual users in the fold who may have started to eye other options, like the $999 Surface Laptop.
More importantly for people who actually use a Mac for work, the Mac Mini (finally) got a significant overhaul. It had been over four years since Apple had last updated its desktop workhorse, a tremendous stretch of time in computing. For Apple faithful who have waited those 1,475 days, they get machines that start at $799 with a 3.0 GHz CPU, 8 GB of RAM, and a 128 GB SSD. It's not knock-your-socks-off base specs, but it's also powerful enough to handle most applications today. More importantly, for working professionals, you can quickly spec the machine up to something pretty impressive if you're willing to pay, and it comes with a full array of ports, including four Thunderbolt ports, an Ethernet port, an HDMI port, and two old-school USB-A ports.
The iPad Pro saw some significant upgrades as well. The most noticeable is that, like the iPhone X, the home button is now gone. It also gets a spec upgrade, an Apple Pencil that attaches magnetically to the iPad and charges itself up, and a UCB-C charger that also means it can easily connect to things like a second monitor. (It'll be interesting to see if Apple follows suit on USB-C chargers on next year's iPhones as well).
To give Apple full credit, it also revealed that all of these machines will use 100 percent recycled aluminum. It's easy to be cynical about Apple on a lot of fronts, but its dedication to using greener materials seems sincere, and the announcement got some of the loudest (and most deserved) applause during the presentation.
But perhaps the most interesting trend of the entire presentation was price. The base MacBook Air went from $999 to $1,199, the base Mac Mini went from $499 to $799, and the iPad Pro went from $649 to $799. Apple may be courting its core audience back, but it also seems confident that they'll pay more to stay in the Apple ecosystem. Judging from how long many have stayed on aging Macs long past their expiration date, Apple is probably right.