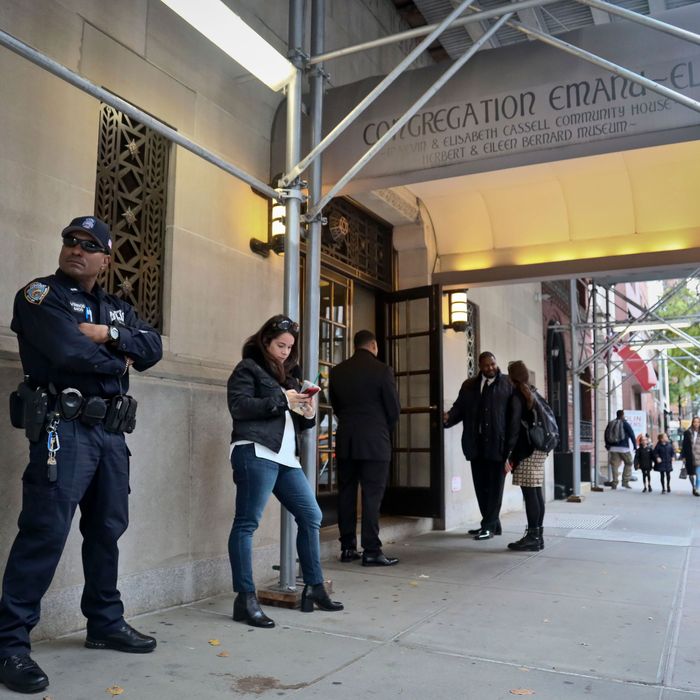 NYPD counterterrorism officer outside Temple Emanu-El in New York.
Photo: Bebeto Matthews/AP/REX/Shutterstock
President Trump responded to the recent massacre at Pittsburgh's Tree of Life Synagogue by saying the congregation should have kept an armed guard on duty. Many liberals, understandably, have been appalled — not only at the victim-blaming, but also at the notion of bringing guns into houses of worship. "That's not the community we want," a Pittsburgh City Council member said on ABC Sunday. "We don't want people having armed guards in every door you walk into."
New York Mayor Bill de Blasio echoed that sentiment while speaking at an Upper East Side synagogue on Sunday. "Houses of worship do not have to have armed guards to be able to practice their religions — that's not America," he said, and pledged that the city will defend local synagogues "with our lives."
But in Manhattan, armed security is already common at indoor gatherings of any size, religious or secular, synagogue services included. In interviews Monday and Tuesday, rabbis were reluctant to discuss the details of their security procedures, but some have long since dealt with their discomfort about having guns around.
"We're open, and a welcoming community, but we're not naive," said Rabbi David Ingber, who oversees Romemu, a nondenominational group associated with the Jewish Renewal movement that meets on the Upper West Side. Ingber said he arranged to have an armed guard at every service after a mentally ill person with a criminal history started attending adult-education classes there. The person didn't intend any harm, Ingber said, but his presence still spooked the others. Ingber compared hiring guards to seeking treatment from a doctor when you get sick, instead of expecting a miraculous healing. "We wish we could live in a world where the assumption is that we don't need to protect ourselves," Ingber said. "But I'm not a pacifist."
Benny Rogosnitzky, a cantor at Park East Synagogue, said his community uses a mix of armed and unarmed guards, both during services and at its attached school on weekdays.
Another rabbi in the Bronx, who asked to have his identity withheld, said his synagogue depends on a group of more than two dozen congregants who have gone through security training. They don't carry weapons, though some are skilled at hand-to-hand combat. But this week, in light of the Pittsburgh events, the congregation is reconsidering.
"I think a space feels, (a), safer, but (b), different, when someone with a weapon is standing at the entrance," the rabbi said. During his travels throughout Europe, where it's common to see guards with hulking guns standing outside synagogues, those guards have always made him feel both secure and uneasy at the same time. He's reluctant to introduce that element at his own synagogue, though he added that security is paramount. "It changes the tenor of what a synagogue should be. That, by the way, is one of the many horrible consequences."
The Bronx synagogue used to keep its doors unlocked on weekdays, the rabbi said, but in recent years, thanks to grants from the Department of Homeland Security, it has installed an electronic key-code system and video surveillance. Other rabbis described using metal detectors and regular security drills.
David Pollock, an administrator at the Jewish Community Relations Council who gives security presentations at synagogues, churches, and mosques all over the city, always tells clergy they don't have to choose between hospitableness and security. If someone makes a point of welcoming every guest — asking their names, and when, for instance, they were bar mitzvahed — it can double as a security measure. But he also extolls the advantages of hiring professional guards. "That way you're buying training, experience, and judgment," he said.
There's never been a major attack on a New York City synagogue, Pollock said, but there have been close calls: In 2009, for instance, four men were caught trying to bomb a pair of synagogues in Riverdale; and then in 2011, two men were arrested on charges that they planned to attack an unspecified Manhattan synagogue.
Tzemah Yoreh, rabbi of The City Congregation, a Jewish humanist group that meets on the Upper West Side, said he won't consider hiring armed guards for services. He trusts the mayor's promise that the NYPD will keep synagogues safe, and he thinks a guard's presence would "detract from the openness of the environment." As of Friday, he said, his congregation has definitely felt the same way. But now he's not so sure.
Pollock has never seen empirical evidence that local synagogues are more likely than churches or mosques to have armed guards — but he wouldn't be surprised. "I think that Jews have a tendency to be more paranoid than other identifiable groups," he said. "But that's probably because we have reasons to be — historical reasons."