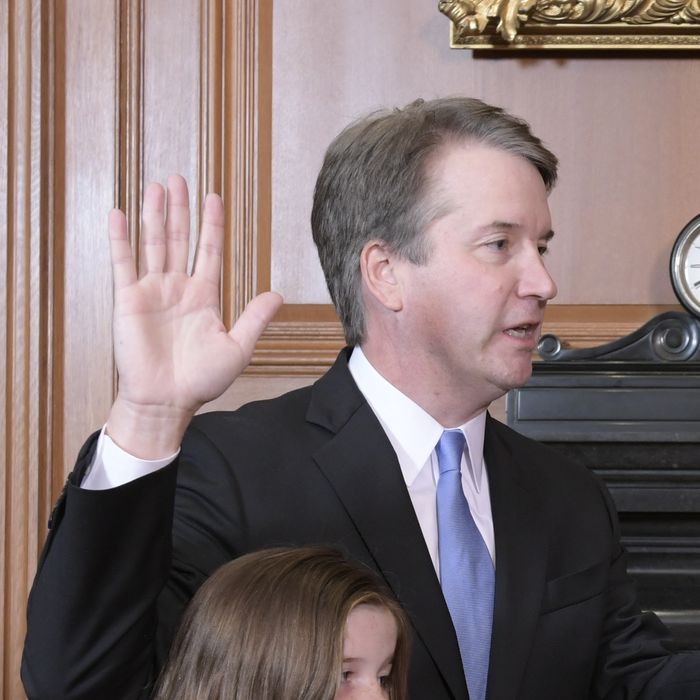 Photo: Handout/U.S. Supreme Court
Brett Kavanaugh was sworn in as America's 114th Supreme Court justice in a private ceremony at the Court on Saturday night, hours after a 50-to-48 Senate vote to confirm him. Chief Justice John Roberts administered the constitutional oath, and retired Justice Anthony Kennedy administered the judicial oath, according to a Supreme Court statement, "so that [Kavanaugh] can begin to participate in the work of the court immediately." Protests against Kavanaugh — who will now serve a lifetime appointment after overcoming credible allegations of sexual assault, which he denied — continued outside the Capitol and Supreme Court during the ceremony.
President Trump, who along with GOP leaders ridiculed and dismissed the protests against Kavanaugh, told reporters aboard Air Force One on Saturday that the 53-year-old judge would "go down as a totally brilliant Supreme Court justice for many years," citing Kavanaugh's "temperament, his incredible past, [and] his outstanding years on the court."
Kavanaugh replaces Justice Kennedy, who was nominated to the Court by President Reagan in 1987, but had been the key swing vote on the Court ever since — and conservatives are counting on Kavanaugh tipping the balance of power in a decisive, long-term way, particularly when it comes to numerous signature issues for the American right. On Saturday, SCOTUSblog's Amy Howe previewed what might happen next:
Right now the court's docket is packed with cases that present interesting legal issues but are not the kind of high-profile disputes that we have seen in recent years. That could change quickly, however: During the next few months, the justices could decide whether to take up appeals involving hot-button issues like crosses on public land, partisan gerrymandering, and discrimination against LGBTQ employees. And even if they don't take up issues like abortion, affirmative action, same-sex marriage and the death penalty – in which Kennedy played a key role — this term, such cases are looming on the horizon and could demonstrate whether, as many expect and Republicans hope, Kavanaugh will to move the Court to the right.
Kavanaugh's confirmation was the one-month countdown to this year's midterm elections, and both Republicans and Democrats are hoping that the bruising fight over his nomination will continue to energize their base voters and translate into higher turnout.