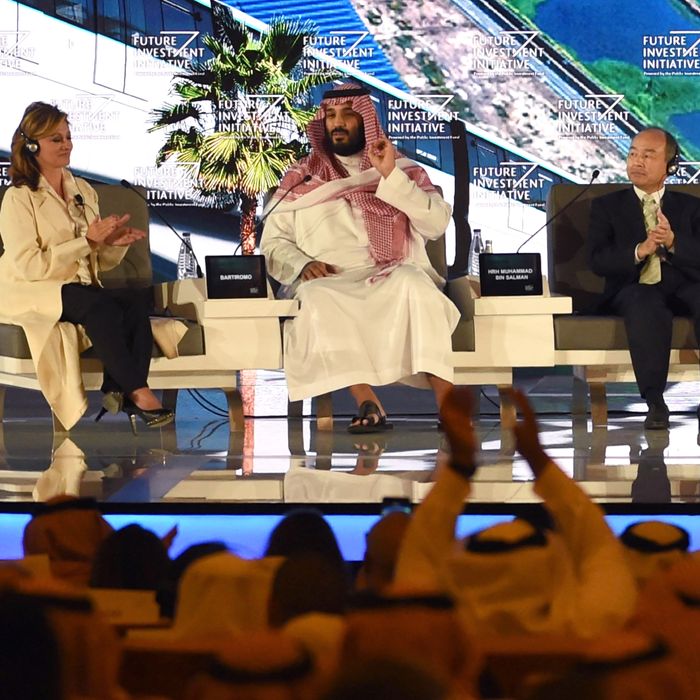 From the left, journalist Maria Bartiromo, Crown Prince Mohammed bin Salman, SoftBank CEO Masayoshi Son, and Blackstone Group CEO Stephen Shwarzman attend the Future Investment Initiative conference in Riyadh, on October 24, 2017.
Photo: FAYEZ NURELDINE/AFP/Getty Images
With Saudi Arabia reportedly poised to offer up an implausible explanation for the death of dissident journalist Jamal Khashoggi at the Saudi consulate in Istanbul earlier this month, President Donald Trump appears prepared to accept whatever the Saudis tell him. As long as there's no incontrovertible evidence that Saudi Crown Prince Mohammed bin Salman explicitly ordered Khashoggi killed, Trump would rather let his friend in Riyadh get away with literal murder than punish him by cutting off his supply of American-made weaponry. After all, to do so might jeopardize the renewal of U.S. manufacturing, for which Trump considers himself primarily responsible.
At the same time, Trump's former friends and peers in the upper echelons of corporate America aren't waiting for proof beyond a shadow of a doubt before registering their disapproval. A slew of top American executives, along with the president of the World Bank, have pulled out of this month's second annual Future Investment Initiative conference in Riyadh: a gathering of bigwigs nicknamed "Davos in the desert." JPMorgan Chase CEO Jamie Dimon, Ford executive chairman Bill Ford, Uber CEO Dara Khosrowshahi, and most recently Google Cloud chief executive Diane Greene are among those who have canceled their travel plans.
Major media partners, including the New York Times and CNN, have pulled their sponsorships of the conference. In other fallout, British billionaire Richard Branson is suspending talks with the Saudi government over a $1 billion investment deal as well as his involvement in two Red Sea tourism projects.
Some business leaders have kept the Future Investment Initiative on their calendars, however, as have IMF Managing Director Christine Lagarde and Treasury Secretary Steven Mnuchin — though Mnuchin now says he will decide by Friday whether to attend the event. The French finance minister's attendance is also still up in the air. Others, including the CEOs of some major European financial institutions, have yet to say whether they are still going or not. Organizers of the conference say it is still on.
(One sector that hasn't faltered in its willingness to do business with the Saudis is the defense industry, where major government contractors are reportedly worried about Congress forcing the Trump administration to impose sanctions on Riyadh and scuttle some of those sweet weapons deals.)
The international business community has emerged in recent days as one of several major sources of pressure on the Saudi government, of which Crown Prince Mohammed (also known as MBS) is the de facto leader. The Saudis have warned that they will retaliate against any economic sanctions, but there's not so much they can do to retaliate against a 9 percent drop in the Riyadh stock market. Spooking foreign investors would be a huge setback to MBS's effort to modernize the kingdom's economy, so the walkout by big-company CEOs is a meaningful punishment.
Of course, it is also an act of hypocrisy, as Khashoggi's disappearance hardly represents some radical departure from standard procedure for the Saudi regime. The reasons Ford, JPMorgan, Google, and others have for pulling out of this summit existed before last week and will likely continue to exist as long as Saudi Arabia remains Saudi. Any company that invests there is helping enrich its rulers and sustain its corrupt and undemocratic system of government in some small way — and there is little chance that we will see many of these companies cease doing business in or with Saudi Arabia entirely.
Indeed, Crown Prince Mohammad's plan for dragging Saudi Arabia partly into the 21st century appeals to these same companies because they stand to profit tremendously from it. MBS dreams of building a robust, tech-heavy private sector in his country as a way to wean its population off of state patronage, and has aggressively lobbied American and European companies in technology, manufacturing, finance, and other sectors to help him achieve that goal by investing in Saudi Arabia. Indeed, this is the very rationale for "Davos in the desert."
So if CEOs are backing away from Saudi Arabia now, it's not because they have suddenly discovered that it is a murderous dictatorship; it's because their relationship to that dictatorship has become visible. Attendance at this conference would represent a public show of support for a regime that just got caught in an outrageous abuse of human rights and diplomatic privilege. Overlooking the sins of tyrants in order to make money in the countries they rule is business as usual for corporate America, but explicitly endorsing MBS at a moment like this puts companies' reputations on the line. In backing out of the investment conference, Dimon, Ford, and the other CEOs are not simply obeying a moral impulse to "do the right thing"; they are aiming to head off bottom-line risks.
Probably the least of these risks is the prospect of a boycott or some other negative consumer reaction, which is unlikely to materialize in a form large enough to dent these huge companies' bottom lines. Millennial consumers expect corporate CEOs to take stances on issues of social and political import, but don't necessarily back these expectations up with concerted action. In this case, the threat is coming from the other direction, with the Bahraini foreign minister joining calls for a boycott of Uber in Persian Gulf countries in response to CEO Dara Khosrowshahi's decision to abandon the conference.
A greater concern is the possibility of a revolt among activist investors, who may be rightly concerned about what might happen to their money in a country whose government is capable of such brazenness. Shareholders have a lot of power in the corporation and really could force these companies to cut or scale back their investments in Saudi Arabia, even if that means forgoing opportunities for profit. Ironically, in this regard the CEOs might actually be taking a stand against Riyadh today in hopes of salvaging their business ties there tomorrow.
Another potential source of pain for these companies are their current and prospective employees. The tech sector, in particular, has seen a rising tide of employee activism this year, with staff at companies like Google, Amazon, and Salesforce asking why their talents are being devoted to helping China monitor its citizens' internet activity or to make it easier for the military, law enforcement, or immigration authorities to track, arrest, or kill people. Leveraging the megaphone of the internet and the power they wield in the current labor market, these employees are pushing for change, in some cases successfully, by threatening their employers with the Hobson's choice of a cancelled contract or an exodus of talent.
Normally, these companies might simply cut loose employees who balk at the moral implications of their work and replace them with some who don't, but the labor market is tight and the market for highly skilled workers like software engineers and data scientists is even tighter. A worker in one of these high-demand roles who finds their current job morally untenable can quit and find another employer today. In this environment, companies have a lot to lose if they develop reputations as places where talented people don't want to work, whether because of a toxic corporate culture, a gropey CEO, or an ethically dubious business partnership.
Trump, of course, has no such concerns. The president's supporters find his lack of regard for what other people think quite charming, and anyone who might quit the federal workforce in protest of his administration has either already done so or committed to hanging on and fighting the erosion of normalcy from within. Defense contractors are likewise much more worried about losing lucrative contracts than taking heat for doing business with dictators: Anyone who works for or invests in Raytheon or Lockheed Martin surely has no illusions or qualms about what these companies do.
For corporate leaders in tech and finance, however, the threat of public outrage leading to investor or employee rebellions is real. Saudi Arabia is not well-liked among the American public, and being associated with it right now is a particularly acute reputational risk. Thanks to this quirk of the free market, we find ourselves in a historical moment where Uber, Google, and JPMorgan are marginally more reliable champions of human rights than the United States government.