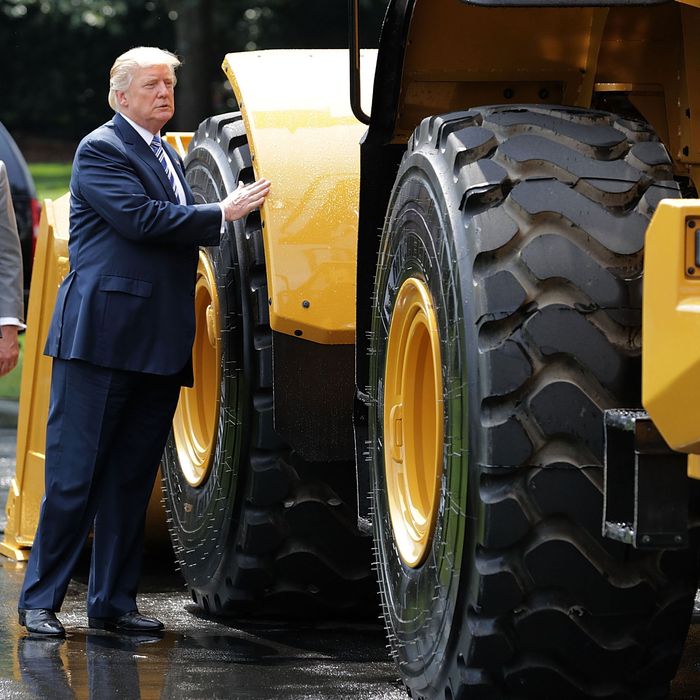 "I can tell you more about Caterpillar tractors than the people that work there."
Photo: Chip Somodevilla/Getty Images
Caterpillar, the manufacturer of heavy construction equipment, has often seemed to be Donald Trump's favorite stock.
"What a great company," Trump told Caterpillar's CEO at a White House roundtable last February. "I love Caterpillar. I've been driving them for a long time."
"I can tell you more about Caterpillar tractors than the people that work there," he claimed at a campaign stop in West Virginia in 2016.
During the campaign, Trump warned that Caterpillar was getting outcompeted by the Japanese firm Komatsu due to weak trade policies, and he promised that would change during his presidency.
This wasn't quite fair — Caterpillar was posting strong financial results in 2016 — but the company has continued to prosper during the Trump era, posting even higher profits and enjoying a soaring stock price. The company's share price nearly doubled during Trump's first year in office.
But the "soaring stock price" part ended this month, with the stock down over 20 percent since the start of October.
The weird part is, the stock is tanking while Caterpillar continues to post strong financial results. The company announced this morning that it made $1.7 billion in profits in the third quarter, up from $1.1 billion a year earlier. This beat Wall Street analyst expectations. And investors thanked Caterpillar's executive team for the announcement by sending the stock down more than 7 percent.
Why? Because Caterpillar failed to raise its guidance for future profits in the way investors had been expecting. Caterpillar is doing great, but the stock market had already priced in the idea that it would do even greater, which it's not prepared to promise.
Caterpillar's third-quarter-earnings announcement describes the usual headwinds a manufacturing company might face during a strong economic period, plus some unusual ones driven by quirky Trump policies.
The revenue numbers at Caterpillar look great. The company reports growing sales and strong price realization, which is to say they're having success charging higher prices to customers who really want heavy equipment right now.
The problems are on the expense side. "Freight costs were unfavorable primarily due to supply chain inefficiencies as the industry continues to respond to strong global demand," says Caterpillar. That is: Lots of people want to ship big, heavy things right now, and Caterpillar is having to pay more for the limited shipping space. This is normal: When the economy is strong, it's easier for companies to charge more, but their suppliers can also charge more.
The president's trade policies are also imposing costs on Caterpillar, but not huge ones. The company says the president's metal tariffs have added $40 million to their costs in the quarter. That's about 2.5 percent of their quarterly profit: not trivial, but also not game-changing.
The bigger Trump-related risks for Caterpillar lie in the future. The president has pursued an unintentional strong-dollar policy, and a stronger dollar will make it harder for Caterpillar to sell its products into foreign markets. And the president's trade escalations with China may also weaken demand for Caterpillar machines abroad, both by weakening the Chinese economy and by leading to the imposition of tariffs that would apply to Caterpillar products.
Caterpillar provides a nice illustration of the economic conditions of the Trump era. The economy is good, people want to buy bulldozers and excavators, and companies like Caterpillar are making a lot of money. But they're not going to make quite as much money as they could if the president would stop screwing with the global trading system.