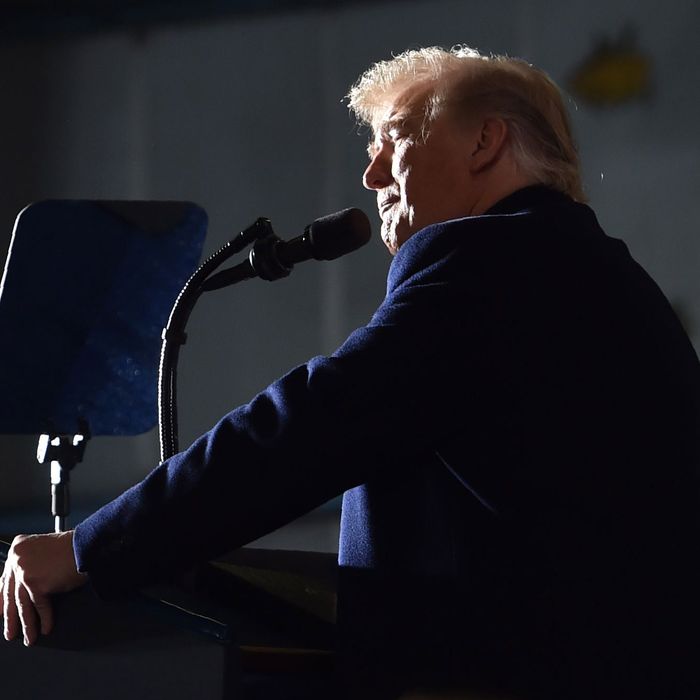 The logician-in-chief.
Photo: Nicholas Kamm/AFP/Getty Images
President Trump told millions of Americans that the Democratic Party was trying to "infest" the United States with caravans of violent illegal immigrants, in a plot to steal elections through mass voter fraud; that Democratic donor George Soros paid fake protesters to ruin a Republican Supreme Court justice's life; that mainstream news outlets like CNN made up stories and sources for the sole purpose of damaging the president, and dividing the public, and were, therefore, the "enemy of the American people"; and that Hillary Clinton committed unforgivable crimes against our country and deserved to be in prison.
Then, a man who drove around in a van plastered with pro-Trump bumper stickers (allegedly) tried to murder George Soros, Hillary Clinton, CNN employees, and much of the Democratic Party's elected leadership with explosives. Subsequent reporting on Cesar Sayoc's social-media use revealed that, before 2016, he primarily "posted photos of decadent meals, gym workouts, scantily clad women and sports games" — but over the course of that election year, "his anodyne posts gave way to a feed overflowing with pro-Donald Trump images, news stories about Muslims and the Islamic State, far-fetched conspiracy theories and clips from Fox News broadcasts."
The day Sayoc was arrested, Trump called for George Soros's imprisonment at a rally.
Less than 24 hours later, a man who believed that Jews were trying to "infest" the U.S. with caravans of violent illegal immigrants (allegedly) murdered 11 people in a Pittsburgh synagogue. The shooter was apparently concerned about a caravan of Central American migrants that was headed to the U.S. — migrants whom he considered to be "hostile invaders."
Two days after that shooting, Trump referred to the migrant caravan as "an invasion." And — even though the migrants are unlikely to reach the U.S. for months, if ever — the president announced that he was sending 5,200 U.S. troops to the border to meet them, in an apparent attempt to use paranoid fear as a get-out-the-vote tool.
All this has led some media outlets to suggest that the president's demagogic lies might be putting American lives in danger. The president, for his part, believes that such speculation is grotesque, absurd, and can only be explained by the "Fake News" media's liberal bias:
In his first network television interview since those stories of domestic terrorism came to dominate headlines side by side, the president said that journalists did not seek to implicate former President Barack Obama in a racially motivated shooting at an African-American church in Charleston that left nine parishioners dead in June 2015.
"Bernie Sanders had a fan who shot a very good friend of ours, Steve Scalise, and other people … I was in the headline of the Washington Post, my name associated with this crazy bomber, 'Trump bomber' or something. But I was in the headline when they got him. They didn't say 'bomber found,' they talked about Trump in the headline," referring to coverage of the arrest of Cesar Sayoc in Florida.
"Now, they didn't do that with Bernie Sanders when he had, they didn't do that with the Democrats when other people came out," Trump said. "They didn't do that with President Obama, with the church, the horrible situation with the church. They didn't do that. They put my name in the headlines."
It's hard to quibble with reasoning this airtight. After all, it's not as though one can draw any clear distinction between Bernie Sanders citing CBO data about the likely consequences of the GOP health-care bill, and Donald Trump accusing his political opponents of orchestrating a fictional invasion of the United States.
Further, it's indisputably true that the media never associated Sanders with the man who shot Steve Scalise — let alone, in a headline.
But the president's most persuasive point is that the media never suggested that Barack Obama bore even a little responsibility for a white supremacist's decision to murder nine African-Americans at Emmanuel A.M.E. Church in Charleston, South Carolina. How could one possibly believe, on the one hand, that Trump's rhetoric played a role in inspiring a Trump supporter to mail bombs to specific individuals whom he had baselessly accused of treason — and, on the other, that the first black president bears no blame for a white supremacist trying to murder random black people? There's just no way to justify taking divergent positions of these two nearly identical developments.
In fact, Trump's argument (that only liberal bias can explain why the media didn't blame Obama for Dylann Roof's crime) is so bulletproof, even moderate Republicans like Nikki Haley are making it.
All this goes to show that America has two equally legitimate and honest political parties, and all objective news reporting should implicitly endorse that premise by giving equal space to each side's perspective.