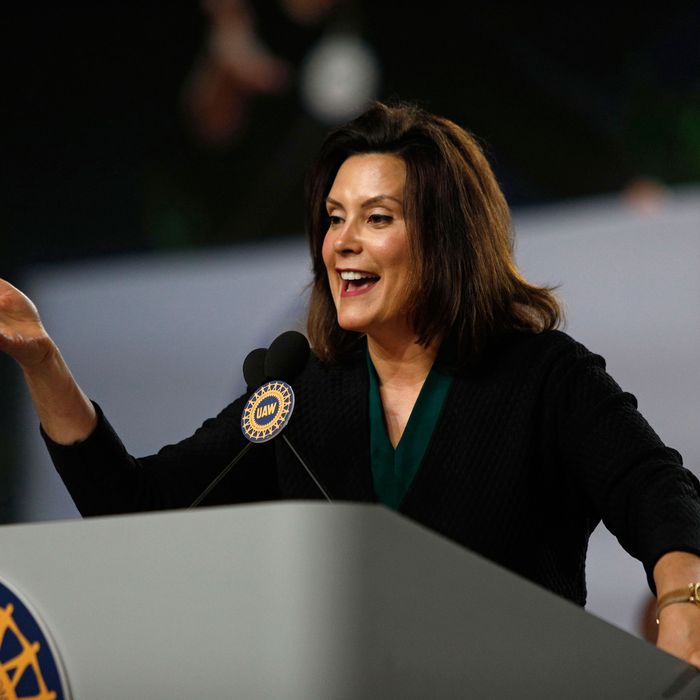 Michigan's Gretchen Whitmer is one of six midwestern Democratic candidates who could take away Republican gubernatorial seats in November.
Photo: Bill Pugliano/Getty Images
For all kinds of good and obvious reasons, the political world is focused on congressional races in this midterm election, as Democrats fight to restrict Donald Trump's power and break up a Republican trifecta in Washington. But state elections matter, too. And in the very Rust Belt areas that gave Trump his crucial Electoral Vote margin in 2016, Democrats are poised to make major gains in gubernatorial races, reversing a red wave that captured statehouses across the region in 2010 and 2014. As Reid Wilson notes, the turnaround is dramatic:
Trump won Michigan and Wisconsin in 2016, two of the "blue wall" states that had voted Democratic in every presidential election since 1992. He cruised to victory in Iowa and Ohio, swing states Barack Obama won twice. And he came within 45,000 votes of winning Minnesota, a state that last voted Republican when Richard Nixon was on the ballot.




His wins added to a rightward drift that has happened in the Midwest in recent years. Republicans control both chambers of the state legislature in all five of those states, and the party owns most of the U.S. House seats in Michigan, Wisconsin, Iowa, Indiana and Ohio.




[F]ive weeks before Election Day, public polls show Democrats surging in races up and down the ballot in those Midwestern states, and even in less competitive states like conservative Kansas and liberal Illinois.
Democrats could pick up six net governorships in the Midwest in November. They are strongly favored in Michigan, where outgoing two-term Republican governorRick Snyder is very unpopular, and Democratic former state legislative leader Gretchen Whitmer has maintained about a ten-point lead over Attorney General Bill Schuette. They have an even bigger lead in Illinois, where Democrat J.B. Pritzker is outspending the deep-pocketed Republican incumbent Bruce Rauner. In Wisconsin, the steady survivor of many challenges Scott Walker may have finally run out of luck; he's trailing Democrat Tony Evers by a steadily growing margin. And Democrats have been recently pulling even with initially favored Republicans in Ohio (where Richard Cordray has caught and maybe passed Mike DeWine in recent polling), Iowa (self-financed Fred Hubbell now leads steadily fading incumbent Kim Reynolds), and even Kansas (Democratic legislator Laura Kelly is dead even with Kris Kobach as a divided Republican Party splinters even further).
In Minnesota, Republican hopes of reclaiming the governorship declined when former Governor Tim Pawlenty lost his primary; his vanquisher, Jeff Johnson, is now well behind Democrat Tim Walz.
As Wilson observed, these gubernatorial races anchor tickets in states with a lot of other high-profile races going on. Michigan, Minnesota, Ohio, and Wisconsin all rank high on lists of battlegrounds where control of state legislatures (and future redistricting) are on the table. There are significant Senate races in Michigan, Minnesota, Ohio, and Wisconsin. And there are competitive House races in nearly every midwestern state, including (according to the Cook Political Report) two in Iowa; four in Illinois; two in Kansas; two in Michigan; four in Minnesota; one in Missouri; two in Ohio; and one in Wisconsin.
Looking forward, trends in these heartland states could also tell us a lot about the shape of the 2020 presidential contest. Aside from Michigan and Wisconsin, where Trump famously won by an eyelash in 2016, he won large victories in Ohio (by eight points) and Iowa (nearly ten points). If those states are turning against Trump's party so quickly, his path to reelection could be treacherous indeed.