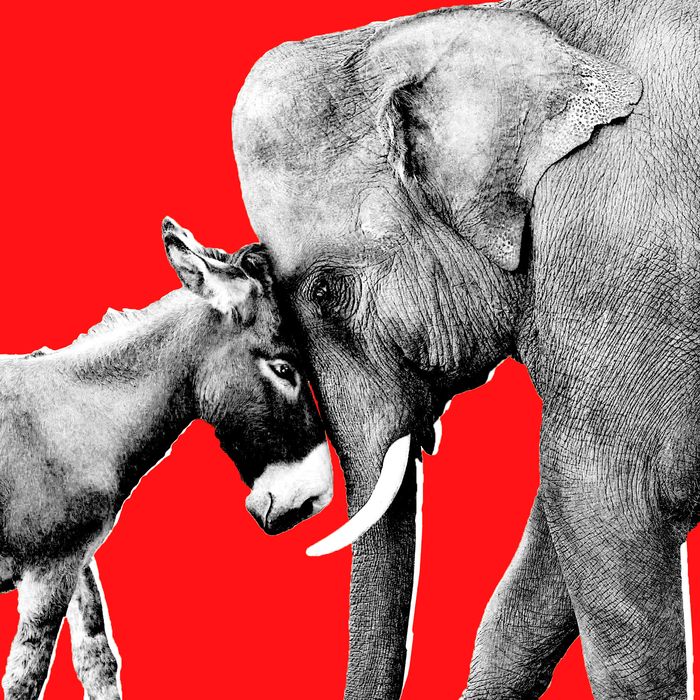 The intensity of the midterm battle remains very high.
Photo: John Lund/Corbis via Getty Images
While polling in individual congressional races is all over the place, the big picture 15 days before Election Day (and after early voting has already begun in 28 states), is stable if still somewhat hazy. The polls continue to indicate a strong (if hardly certain) likelihood of a Democratic takeover of the U.S. House. The Senate, with its insanely pro-Republican landscape, remains an uphill slog for Democrats with time running out and a couple of negative trends manifesting themselves.
The key national indicator, the generic congressional ballot (which typically asks respondents which party they would prefer to control the U.S. House of Representatives), has been solidly on the borderline between a sure Democratic House takeover and just significant Democratic gains. Democrats lead by 7.7 percent in the RealClearPolitics polling averages; it has varied from 6.6 percent to 9 percent over the last two months. At FiveThirtyEight, which adjusted poll findings for partisan balance and also weights the results for poll quality, the Democratic "generic" lead is currently at 8.6 percent, and has ranged from 7.7 percent to 9.1 percent over the last two months. This period has featured a gradual "switchover" from looser "adults" or "registered voter" samples to "likely voters." In recent midterms that has invariably improved the GOP's numbers. Not so much this year, as John Harwood reports:
[In] the new NBC News/Wall Street Journal poll just two weeks before Election Day… Republicans narrowed their double-digit September deficit for control of Congress to seven percentage points among all registered voters.




But among the smaller group considered likely voters, the Democratic advantage grows to nine points, 50 percent to 41 percent.




"It's something I've never seen before," said Bill McInturff, the veteran Republican pollster who conducts the NBC/WSJ survey with Democratic counterpart Peter Hart. "The likely voter model tips toward the Democrats."
There are likely-voter models based strictly on past voting behavior that aren't showing this sort of result, but in this particular election, they probably aren't going to be very accurate.
There is no way to know with great specificity how large a generic ballot lead Democrats would need to pick up the 23 net seats needed to flip the House, for two reasons: first, like any other polls, the generic ballot polls are subject to modest margins-of-error (during the last two "wave" midterm elections in 2006 and 2010, the winning party significantly undershot its generic ballot advantage) and second, the way votes are distributed in individual districts makes the outcome highly variable. The most commonly cited target for Democrats on the generic ballot is seven points. Emory University's Alan Abramowitz thinks a 4 percent edge might be large enough, but the Brennan Center for Justice estimated that Republican gerrymandering meant Democrats might need an 11-point national advantage to get the job done.
Another much-cited indicator, the president's job approval rating, has been relatively stable as well once it returned to the low-40s after a swoon into the 30s last autumn. There's been a buzz about a recent rise in Trump's popularity since the Kavanaugh saga, much of it based on eyebrow-raising numbers in individual polls (e.g., 47 percent in the latest NBC/Wall Street Journal survey). The polling averages for Trump are at 44.2 percent at RealClearPolitics and 42.7 percent at FiveThirtyEight. The average House midterm losses for presidents with approval ratings below 50 percent has been 37 seats. Yes, Democrats only lost 13 seats in 2014 when Obama's approval rating was at 44 percent, but thanks to their 2010 disaster (when Democrats lost 63 seats while Obama's approval rating was at 45 percent), they were far less exposed than Republicans are this year.
A large battery of individual House polls conducted by the New York Times in conjunction with Siena College has reinforced the impression that Democrats are doing best in suburban swing districts while Republicans are holding their own in strongly pro-Trump districts with large white working-class (and in some cases, Latino) populations. In the former category, Democrat Sharice Davids was leading incumbent Kevin Yoder in suburban Kansas City, Kansas, 51/43; Katie Porter was leading incumbent Republican Mimi Walters in Orange County, California, 48/43; and Jennifer Wexton was leading incumbent Republican Barbara Comstock in Northern Virginia, 48/41. But at the same time Republican Pete Stauber had a big (49/34) lead over Joe Radinovich in a Democratic-held open seat in Minnesota's Iron Range; and Republican incumbent Will Hurd led Gina Ortiz Jones 53/38 in a majority-Latino district in Texas's Rio Grande Valley.
The Cook Political Report's House specialist David Wasserman summed up the overall trend:
That reflects a growing consensus that while Democrats are still favored to flip the House (FiveThirtyEight gives them a 6 in 7 chance of reaching that paramount goal), the odds of a huge 45-vote switch are lower than at some points in the cycle. But the much larger number of Republican districts under assault (by Cook's calculation, there are competitive races in 66 Republican-held districts and only five Democratic-held districts), and the many indicators of high turnout, keep a stronger-than-expected Democratic "wave" on the table.
The Senate is another matter altogether, with Democrats, not Republicans, defending far more turf (26 of 35 seats at stake) and many key races taking place in states that are redder than average. Late polling is beginning to dim hopes of a Democratic Senate breakthrough in Tennessee (Republican Marsha Blackburn now leads centrist Democrat Phil Bredeson by 6.5 percent in the RealClearPolitics polling averages), and in Texas Ted Cruz leads Democratic fundraising sensation Beto O'Rourke by seven points in the RCP averages. Two other Republican-held Senate seats where Democrats long held leads also seem to be trending red: in Arizona Republican Martha McSally has pulled even with Kyrsten Sinema, as has incumbent Republican Dean Heller in his race against Democrat Jacky Rosen in Nevada. And although Democratic incumbents in states Trump carried in 2016 are on average over-performing impressively, North Dakota's Heidi Heitkamp has trailed Kevin Cramer in every recent public poll — some by big margins — and Florida's Bill Nelson, Missouri's Claire McCaskill, and Montana's Jon Tester aren't out of the woods yet.
All in all, the odds of Democrats picking up the two net seats they would need to flip the Senate have declined in recent weeks. FiveThirtyEight gives Republicans a 7 in 9 chance of maintaining control, and Charlie Cook says "a Republican net gain of a seat or two seems most likely."
In the final 15 days of this intense cycle, poll findings will become complicated in many states by early voting indicators, which may mean one party is doing better than expected, or (as happened in some crucial states in 2016) one party is simply "banking" votes they would have won in any event, exposing an Election Day deficit. It's unlikely that the final results will be as shocking as those two years ago, but there's a possibility it could all go into overtime, with a runoff in Mississippi and late mail ballots from California and Washington determining control of Congress. If you have bad nerves and care a lot about politics, you might want to find something distracting to do on November 6, once your vote has been cast.