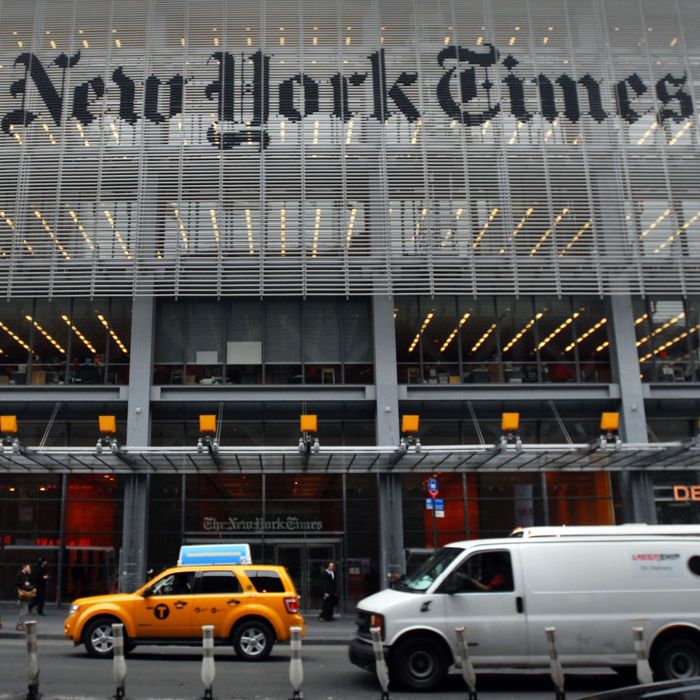 Photo: Neville Elder/Corbis
The presidency of Donald Trump has presented any number of challenges for the New York Times' newsroom, but for the business side of the company, the Trump era has fueled a couple years of remarkable growth. In the week after the 2016 election, 132,000 new subscribers flocked to the paper — a number it might expect over a whole quarter. Since then, the Times has continued posting impressive subscriber growth. Revenue was also up in the first half of 2018, and the company booked a $24 million profit in the second quarter. Its stock sits around $25 a share, the highest it's been in over a decade.
But is the Times simply enjoying a moment of unexpected respite in the eye of the storm? CEO Mark Thompson has called the continued decline of print advertising a "significant headwind" for the Times' hopes for growth, and although the steady rise in digital subscribers' numbers is promising, it may not be enough to shelter the Times from broader trends. In the newspaper industry overall during the last two decades, paid weekday print circulation has fallen from a high of almost 60 million to around 35 million in combined print and digital subscriptions. Thompson sees the expiration date for the print edition as about a decade off, so the paper needs to become fully profitable as a website, and soon. In Q2, the Times booked $68 million in print advertising, about 16 percent of its total revenue.
Can the Times ace the transition to become the Website of Record? Will new models of journalism like the chart-topping podcast The Daily continue to attract new audiences, or will the Times inevitably become just another player in a crowded market for online attention? We asked two news-business authorities to gauge the company's future, compiling separate conversations into argument form.* Steven Brill, the founder of Court TV and co-CEO at NewsGuard Technologies; and Alan Mutter, a continuing lecturer of media economics at U.C. Berkeley's graduate program in journalism, weigh in on the Times' prospects.
Buy
It's an easy analysis: the Times is one of the best brands in the business of information, their paywall works, and they're willing to try new things. Ask people, "What's the best news organization?" and the Times will always be at the top of the list. The world is increasingly complicated, and there is a limited number of institutions that can do the work they do the with the brand equity they have. They have targeted their customers, not their advertisers, as their future source of revenue: their customers are willing to pay for their product.
The Times may have been a little late to the paywall game, but since they've put theirs up, they've created a huge, sustainable revenue source. There are now 2.9 million digital-only subscribers, about 76 percent of their total paying readership. Growth rates are hot, too. The Times welcomed 109,000 digital-only subscribers in the second quarter of 2018, and they've averaged well over 100,000 for each quarter since the election. The paper's focus on the subscriber actually helps their advertising in a sort of roundabout way. The argument against a paywall is that you get less clicks, and thus draw in less ad revenue; but the Times has created a premier audience and is able to charge much higher than — I'd say up to ten times — the going rate for CPMs, or cost-per-impressions. Renewal rates are high, which is a test of what they're doing. (It helps that renewals are automatic, of course.)
The Times is also willing to try new things, which is important in a chaotic online market. Perhaps more importantly, they're okay with saying something didn't work — for example, their video collaboration with Facebook Live in 2016 was of a high quality, but it became clear that it wasn't going to pay for itself, and it was phased out. On the other hand, the Times' podcasts, especially the extremely popular Daily, are some of the best out there. In under two years, the flagship show has found an audience of over 5 million monthly listeners, and is now syndicated to radio by American Public Media. The Times is going to make the advertising work for that, or experiment with charging people separately for that product.
People talk about the Times' record numbers following Trump's election as if online readers will flee from their subscriptions once his presidency is over. But I see the end of the Trump era as presenting more of a challenge for TV. If there were a President Pence, you'd see a drop-off in TV viewership more significant than that in the Times' readership. There are lots of things apart from the Trump Show in the Times, whether it's crises in the business world or their excellent reporting on climate change. These pages on their site will continue to drive growth, because other sources of news will continue to get weaker. – Steven Brill
Sell
I'm skeptical about the Times' growth for several reasons. They still rely heavily on unsustainable print revenue; they're carrying the weight of a legacy newspaper into the digital space; and they may not understand who their real competition is.
We all know that print has collapsed in the last decade or so. In 2000, newspaper ad revenues totaled more than $65 billion; nowadays, it's in the mid-teens. That loss is catastrophic, and I doubt that any new form of revenue, whether by podcast, subscriptions, or video, is going to draw the type of audience that can subsidize that loss and support expensive parts of the business like foreign bureaus. Last year, the Times' print advertising revenue dropped 14 percent, to $320 million. A full-page color ad in the Sunday magazine costs $107,075. That's big, easy money the Times will be forgoing if they intend to retire print in ten years. It will be difficult for $100-a-year digital subscriptions to hold the levee as they go full-digital.
As a giant paper with lots of expensive legacy costs, the Times is running in an online race with great big rocks in their pockets. Owning printing presses and a roster of strong reporters used to be a strength for the paper. But the way to reach audiences now is not to buy boxcars of eyeballs — the mass-media model the Times was built on — but to engage with small audiences. The Times isn't set up for that as much as born-digital sites like BuzzFeed or Vox, which can focus on the young demographics that advertisers desire.
In terms of advertising, I see massive companies like Facebook as their real competition. And without the scale of a massive publisher like Facebook or Google, their advertising options aren't competitive. When you have billions of readers and tons of content and are able to track likes as Facebook does, it's easy to generate a lot of revenue without a lot of labor. The computers in the back room are doing it for you, you don't have to pay reporters. The move from print to digital was trading dollars for dimes, and the move from desktop to mobile is trading dimes for pennies, and unfortunately I'm worried about the news business's ability to hang on in the current attention economy. – Alan Mutter
Buyer's Counterpoint
I think that's a misunderstanding of who the Times' competition is. They can't compete with Facebook for advertising, but they can compete to draw Facebook users willing to pay for their content. Are they the world's most efficient advertiser if I want to sell toasters? No, but with the paywall model, that's what they're trying to move away from.
The journalists they're bringing into the online sphere are a strength, not a weight, and the Times is going to continue to attract the best talent across the world. – S.B.
Seller's Counterpoint
Yes, the Times has record-high digital subscriptions, which is lovely. But at the end of the day, if you compare its current revenue sources to those it had at beginning of the millennium, you'll see less revenue today — about $1.8 billion less.
The Times is still operating as a news company, and they need to think of themselves as a tech company. I actually think the Washington Post has done this well, with a content management system, Arc, that they've sold to publishers around the world. They've said it could be a $100 million business in and of itself. When you go into the Post, you go into a tech company that happens to own a paper. When you go into the Times, you see a newspaper company trying to go digital. – A.M.
*This article has been updated to reflect that this argument was constructed from separate interviews.