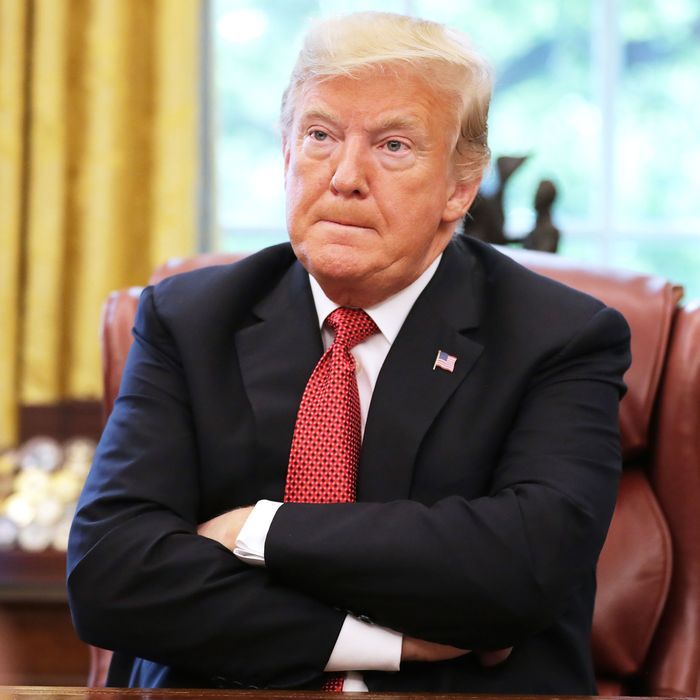 Trump.
Photo: Chip Somodevilla/Getty Images
"The problem with our society," said Donald Trump, "is the victim has absolutely no rights and the criminal has unbelievable rights."
This was a 1989 interview with Larry King, and the future-president was explaining his decision to buy full-page ads in four New York City newspapers. The ads have since become notorious. "Bring back the death penalty," they trumpeted in bold letters. "Bring back our police!" Their implied targets were five children who had confessed to a brutal rape in Central Park.
Three facts matter most in our cultural memory of the Central Park Five case. First, the rape victim — Trisha Meili — was white. Her accused assailants — Raymond Santana, Kevin Richardson, Korey Wise, Yusef Salaam, and Antron McCray — were black or Latino, at a time when huge swaths of both communities had been decimated by crack, poverty, and police violence, but were nevertheless blamed for many of the city's problems.
The third is that all five boys were innocent. Trump bought his ad well before any of them went to trial, but all were convicted in 1990 and sentenced to between six and 13 years in prison. Only after the real rapist confessed in 2002 and DNA evidence affirmed his guilt were their convictions vacated. The boys had been coerced by New York City police officers into lying about their guilt. They, too, were victims.
Trump has rarely been shy about making outlandish, racist, and often violent proclamations. But his views on criminal guilt, innocence, and victimhood are too uniform to be dismissed as impulsive rants. They express a relatively coherent belief that such verdicts hinge not on truth or facts, but whether they advance Trump's interests. Such hypocrisy may not be unique to him. But he is remarkably shameless in deploying official resources to the defense of his own power.
This has not changed with time. Jamal Khashoggi disappeared two weeks ago and, most agree, is probably dead. The Saudi journalist and Washington Post columnist entered the Saudi Arabian consulate in Istanbul on October 2 and never came out. The same day, a handful of government officials, security personnel, and a forensic doctor linked to Saudi crown prince Mohammed bin Salman arrived in the city. Turkish officials allege that Khashoggi — who was outspokenly critical of bin Salman — was murdered and possibly dismembered by the Saudi officials inside the consulate.
"Just spoke with the Crown Prince of Saudi Arabia who totally denied any knowledge of what took place in their Turkish Consulate," Trump tweeted Wednesday. "He … told me that he has already started, and will rapidly expand, a full and complete investigation into this matter."
That Trump is parroting what evidence suggests are outright lies to cover for bin Salman makes some diplomatic sense. The Saudi government's ties to the U.S. are well known, most notably their military alliance and business arrangement facilitating the flow of Saudi oil into American markets. But it is a brazen use of Trump's platform. In defiance of mounting evidence and even members of his own party, the president could be lending official credence to a murder cover-up simply because entertaining bin Salman's guilt might spell the end of a lucrative financial relationship.
So instead of doing so, Trump has distanced himself from Khashoggi, the victim, by reiterating that he is "not a United States citizen." And he has recast bin Salman, the Saudi crown prince, as the real victim. "Here we go again with, you know, you're guilty until proven innocent," he told the Associated Press on Tuesday. "We just went through that with Justice [Brett] Kavanaugh and he was innocent all the way as far as I'm concerned." On Wednesday, as Secretary of State Mike Pompeo was visiting Riyadh to discuss the Khashoggi case, $100 million of previously promised money landed in the U.S., courtesy of the Saudi government.
There are clear parallels between these cases. Both involve credible allegations of wrongdoing against powerful men whose power happens to materially benefit Trump (Kavanaugh was confirmed to the U.S. Supreme Court on October 6 despite allegations he had committed sexual assault as a teen). The president has openly defended both men, while seeking to undermine claims that their alleged victims deserve his concern — and, in the case of Kavanaugh accuser Christine Blasey Ford, ridiculing them outright. And in all three instances, including the Central Park Five, he has weaponized his significant financial and political resources to discredit less powerful groups he already has a history of attacking: journalists, women, and racial minorities.
Yet when asked earlier this month by Ayesha Rascoe and April Ryan — both black women journalists and White House correspondents — about the president's attacks on the Central Park Five and hypocrisy regarding due process and who deserves it, Press Secretary Sarah Huckabee Sanders dodged the question. "I'd have to look back at the specific comments," she said. Trump has reiterated several times over the years that he still believes the boys were guilty, despite the DNA evidence to the contrary.
It remains undeniable that Trump's ideas about guilt and innocence are largely dictated by what benefits him personally. But his willingness to spend money — a reported $85,000 in the case of the Central Park Five ad — and use his political platform as a bully pulpit to advance those ideas sets him apart from many of his American political contemporaries. The main difference is shamelessness. He makes no effort to hide his biases or shroud them in dog whistles. And he achieves this naked power grab by ascribing innocence — and often, by extension, victimhood — to powerful men like himself.
Whether he's defending bin Salman and Kavanaugh or claiming to be facing the "greatest witch hunt in American history," he is the ultimate purveyor of victimhood. The truth only matters if it helps him. Otherwise, it is as disposable as the lives he and his fellow so-called "victims" upend.