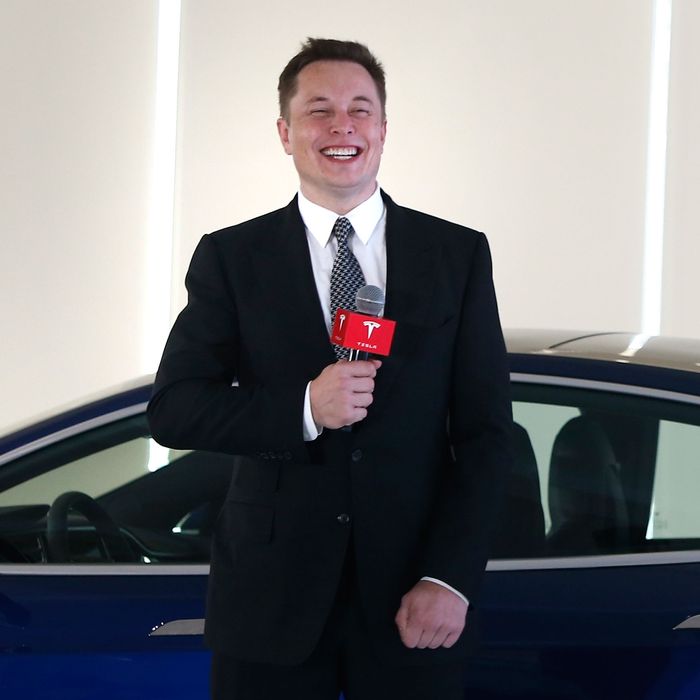 Nothing to see here.
Photo: ChinaFotoPress/VCG via Getty Images
Elon Musk is full of surprises. The surprise this time is he's provided Tesla investors with a very positive surprise.
When Tesla announced late Monday it would announce third-quarter financial results earlier than expected, the company's stock jumped with investors' anticipation that might mean better-than-expected results. And then when the company announced it's finally profitable, the stock rose again. All told, the stock price is up 17 percent since Monday's close, as the good news gradually unfolded.
What strikes me about Tesla's earnings announcement is how normal the story of how the company became profitable is. Tesla was losing money when it was spending heavily on research and development and incurring a lot of up-front costs to build out the capacity to sell a mass-market car, but was not yet actually selling the car en masse.
In the third quarter, Tesla achieved critical mass: It got close to its goal of making 5,000 Model 3 cars a week (actually exceeding it by the end of the quarter), revenue from auto sales nearly doubled from the prior quarter, variable production costs per car fell a little as the production line hit its stride and got more efficient, and fixed costs stayed about the same. Combine all those effects, and losses turned into a profit.
When I say this is normal, I don't mean we'd expect any new auto company to do it. The most standard thing for a new car company to do is fail. But if the company is going to succeed, this is the financial trajectory you'd expect to see: losses while getting up to speed, profits once the production line is at speed.
This doesn't necessarily mean Tesla's valuation is right. Since Tesla finally has earnings, it finally has a price-earnings ratio — it's worth 94 times its expected earnings next year, at a time when traditional automakers like Ford and Toyota are trading at less than 10 times earnings. This reflects an expectation that Tesla won't just make money on each car it sells, but that it will sell a lot more cars in the future than it does today.
And as Tesla invests to grow to a size that matches its valuation, it might enter new periods of unprofitability. Musk described on the company's earnings call his intention to begin manufacturing in China and, later, Europe.
Managing that expansion will be a challenge, as will staying ahead of traditional automakers as more of their all-electric vehicles come to market. But Tesla has cleared one of the bars it needed to: showing it can profitably make a mass-market car at scale.