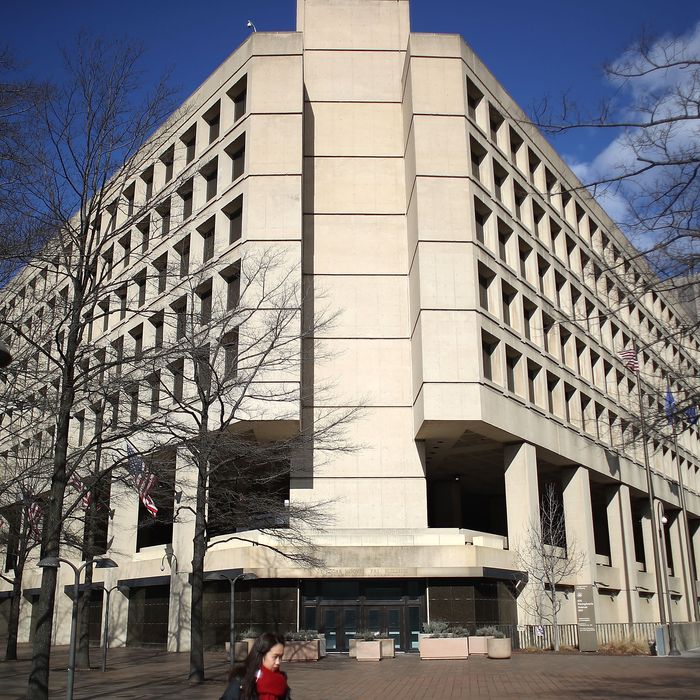 The FBI headquarters is across the street from Trump's D.C. hotel.
Photo: Mark Wilson/Getty Images
Last February, the federal government announced that it would walk away from plans to move the FBI's headquarters out of downtown D.C., despite years of planning. It was a sudden and shocking move that led one Democrat in Congress to ask the inspector general at the General Services Administration (GSA), which manages the government's real estate, to investigate how the FBI arrived at the decision.
In August, the IG issued its report, which included the eyebrow-raising suggestion that President Trump had personally intervened to keep the FBI headquarters in D.C. Trump's involvement set off alarms because the J. Edgar Hoover building sits directly across the street from his ritzy D.C. hotel. And because presidents don't typically micromanage architectural projects. Was Trump sticking his nose where it didn't belong to benefit his company's bottom line?
Congressional Democrats say yes. In a letter to the GSA administrator Thursday, Representative Elijah Cummings, the ranking Democrat on the House oversight committee, said Trump doesn't want the FBI to move out of D.C. because he fears its current headquarters might be snatched up by rival developers. Trump would prefer for his hotel not to have the competition.
Democrats provided evidence of Trump's involvement in the form of emails that reference a White House meeting in January with Trump and GSA officials, CNN reports:
Just one day after the meeting with Trump in the Oval Office, GSA's acting chief of staff, Brennan Hart, sent an email to Joseph Lai, a special assistant to the President, to emphasize the decision had been made not to relocate the FBI headquarters.




Days later, GSA's acting general counsel, Jack St. John, suggested the need to get "something in writing" from the FBI and Justice Department that solidified what had been agreed upon in the meeting with Trump.
Other emails from the GSA reference "a demolition/new construction per the president's instructions" and "what POTUS directed everyone to do."
While the email evidence of Trump's involvement is new, the allegations of impropriety are not. In July, Democratic senator Chris Van Hollen said, "There is no question that the President stands to gain financially by keeping the FBI in its existing building and blocking any competition for the Trump Hotel from being developed there."
Others have suggested that it's not competition Trump is worried about, but the ability to ensure his hotel faces a shiny, new FBI headquarters, rather than a repurposed Brutalist eyesore.
Whatever the explanation for Trump's interest, the least likely is the one offered by the White House, which insists that he simply wants to save the government money. According to the GSA investigation, keeping the FBI in D.C. would cost more.