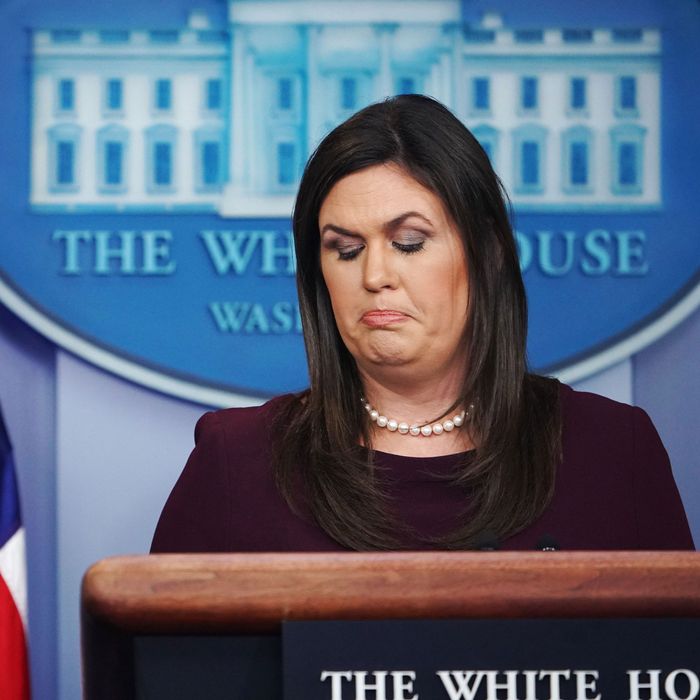 Sarah Huckabee Sanders won't dignify this devastating, detailed, fact-filled 8,000-word reported exposé with a response.
Photo: Mandel Ngan/AFP/Getty Images
Last night, the New York Times published a lengthy exposé devastating the entire foundation of Donald Trump's public persona, by showing that he received tens of millions of dollars in support from his father, and participated in tax fraud to help evade gift taxes. You'd think the Trump administration would prepare a detailed response to the serious and novel accusation that the president is a crook. Instead it has offered up a series of non-denial denials:
Official statement from Sarah Sanders:
Written in Trump's distinctive voice, while signed by his press secretary, this missive makes a series of assertions:
–Fred Trump is dead
–The IRS approved these transactions
–The Times' credibility is at an all-time low because it assaults Trump all the time rather than report the news
–Markets are high, taxes are low, etc., yet the Times can rarely find good things to report about Trump
–The Times should apologize
Some of these claims are true and noted in the story (Fred Trump is indeed dead). Some are false (the IRS in fact challenged some of Trump's fraudulent figures, the Times' circulation has spiked under Trump). None challenge the story's findings in any way.
Tweet by President Trump:
The "time value of money" is a very basic principle that anybody in business should know. It holds that the same nominal amount of money becomes less valuable over time. A person would rather be given a thousand dollars today than be guaranteed a payment of a thousand dollars ten years from now, because inflation erodes its value. Trump's professed unfamiliarity with this elemental business concept does not challenge any of the findings of the story, and indeed perhaps helps explain why his father needed to give him such lavish support.
Trump's statistic on the percentage of stories about him in the Times that are "bad" likewise has no value as refutation.
Comment by Kellyanne Conway:
Even if presidents always get the last laugh, which they don't (ask Richard Nixon), it has no bearing on the story.
Statement by Sarah Sanders:
Sanders offers a blanket claim that the story is false, a false claim that it's "recycled" (without citing the story she says it repeats), and refuses to address any details.
In short, yes, the president is a crook.