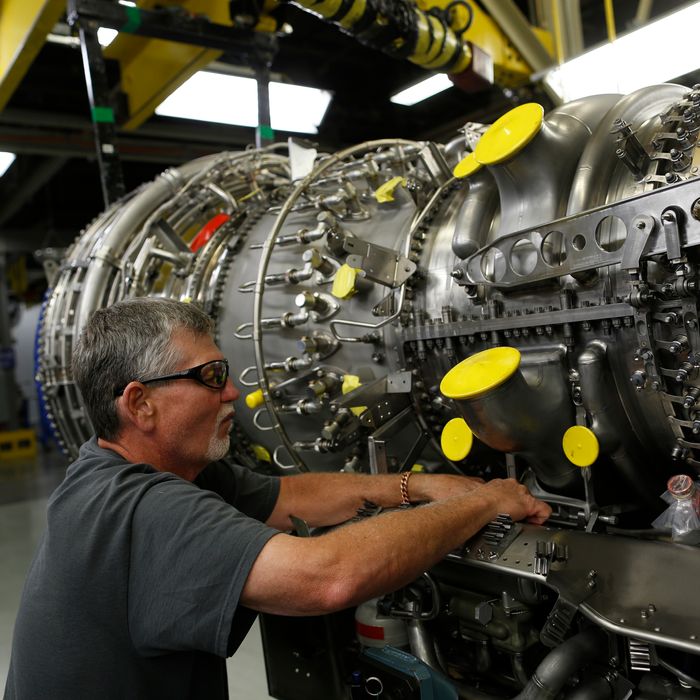 Production assembly mechanic Howard Shanor works to hang a gearbox on a jet engine at a General Electric factory in Cincinnati, Ohio.
Photo: Luke Sharrett/Bloomberg via Getty Images
Tip of the cap to whoever at Bloomberg came up with the angle and headline for this piece: "GE's $500,000,000,000 Market Wipeout Is Like Erasing Facebook." Pegged to the departure of CEO John Flannery, the article notes that in the year 2000, GE was worth $600 billion. Today, it's worth $100 billion — meaning it lost about the net worth of Facebook over the past 18 years.
It's a nice way of phrasing the staggering amount of market valuation GE shed over the past 18 years, due to a combination of bad luck (9/11 had serious repercussions for a company heavily involved in aviation), bad management (remember when GE owned NBC?), and the general headwinds faced by every major manufacturer over the past 20 years.
What the article didn't mention is that GE, even with that paltry $100 billion valuation, employs about 313,000 people per its 2017 10-K report. Facebook, per its own 2017 10-K, employs just 25,105.
This isn't a new insight. The Wall Street Journal did an excellent piece in 2016 noting that the one thing lacking from the new tech boom were jobs. In 2016, the Information gave Facebook the honor of being the company able to generate the most stock value with the fewest number of employees — far, far outdistancing companies like GE, Verizon, or AT&T.
From the point of view of investors, of course, this is why tech stocks remain so tremendously appealing. Apple and Facebook and Alphabet are able to generate tremendous amounts of money while keeping their head count historically low.
The phenomenal rise in the value of tech companies like Facebook, Apple, Alphabet, and others has reaped tremendous rewards for investors. But the majority of Americans don't make most of their money from investments — they make money from wages. And to earn wages, you need a job. And despite losing a whole Facebook in stock-market valuation, GE has continued to provide ten times as many jobs as Facebook.