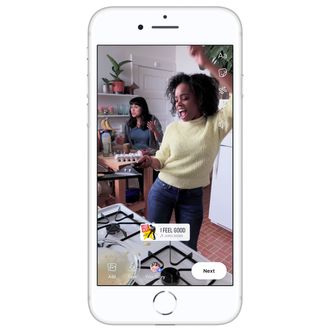 As it struggles to figure out its place in the world, Facebook is a company trying to figure out what's next. Depending on who you ask, the future of Facebook is in video or VR; maybe the future is in Instagram, an app nobody seems to care is owned by Facebook. Maybe the future is in short video clips of people lip-syncing to pop music.
Yesterday, Facebook announced a number of music integrations in order to get users to share what they are listening to. You can add clips of music to Stories now (similar to how you already can on the analogous Instagram tool), and a tool called Lip Sync Live is rolling out to all users. The latter lets you livestream yourself pretending to sing a song.
The other feature that Facebook is adding is the ability to add song clips to your profile. "Songs added to your profile will also visually showcase the artist and track you choose," Facebook writes. "When someone plays a song on your profile, they'll hear a clip of the song and see an accompanying video featuring photos of the artists and album art. They can then choose to add the song to their own profile or visit the artist's Facebook Page."
That's all well and good, but apparently it's not enough. Yesterday, TechCrunch reported that Facebook is working on a new app called Lasso (unclear if that's the official name or a code name) that sure sounds a lot like TikTok. To refresh your memory: TikTok used to be an app called Musical.ly, which let users lip-sync to songs and sound bites. An inelegant way to describe it is like a jukebox mixed with Vine (Facebook recently struck a deal to pay music-licensing fees for user posts).
Anyway, the kids love TikTok, and adults do, too. They love it so much that Facebook is apparently cloning most of the app's key functionality outright, just as it did with porting Snapchat Stories over to Instagram (and WhatsApp and Facebook). In recent years, Facebook's strategy to protect its dominance has been to clone competitors, because Facebook has the one thing they don't, a robust social graph. Why join a new app when you can just do the same thing on Facebook with the friends and followers you already have?
But the difference between Lasso and Facebook's other music initiatives is that it's a stand-alone app. There have been a lot of Facebook spinoff apps that have failed — the Snapchat-like Slingshot might be the most prominent one — but their downfall is often tied to their unnecessariness. They usually just fed back into the main Facebook ecosystem.
The strategic advantage of Instagram, however, is how often it is considered a separate social network barely related to Facebook. Lasso could present a similar situation, one where the Facebook social graph is used to quickly onboard users, and users are then kept mostly separate from the larger Facebook system. Lasso's biggest liability is that it's being made by Facebook. The smartest move would probably be to minimize that fact.