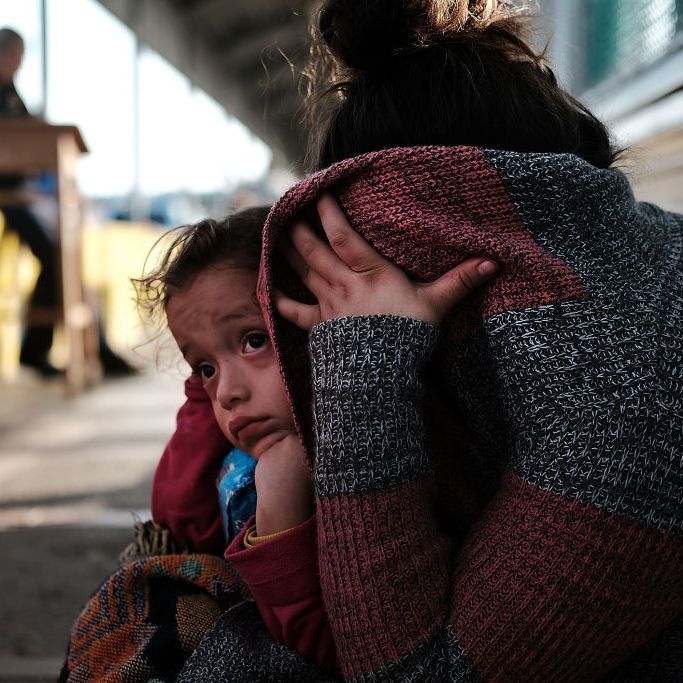 A Honduran child and her mother at the border in Brownsville, Texas.
Photo: Spencer Platt/Getty Images
The Trump administration's family separation policy, which resulted in thousands of children being taken from their parents at the U.S.-Mexico border earlier this year, was needless and cruel. That much was obvious from the moment it was implemented.
But now, more than three months after President Trump ended the brutal policy, we're learning that it was also poorly conceived and terribly executed. That's according to a report from the Department of Homeland Security Inspector General that's set to be released Tuesday and was leaked by the Washington Post.
Among the most appalling findings in the report is that at least 860 children were kept in Border Patrol holding cells past the 72-hour legal limit. One child was locked up for 12 days and another for 25 days. According to the Washington Post, these "chain-link holding pens" lacked showers and beds and were "designed as short-term way stations."
Coordination between agencies was disorganized and poorly thought-out, the IG found. The consequences of this were dire. When children were taken from their parents, the adults were left with little information about their child's whereabouts. And children too young to communicate were separated without any means of identification. It's little wonder that once the policy was reversed, the process of reuniting families was such a challenge.
In addition to the haphazard execution of a monstrous policy, the IG found that DHS lied about the process of reuniting parents and children. The Post reports:
On June 23, three days after the executive order halting the separations, DHS announced it had developed a "central database" with HHS containing location information for separated parents and minors that both departments could access to reunite families. The inspector general found no evidence of such a database, the report said.
In a response to the report, DHS officials said the IG didn't give it credit for cleaning up its own mess, complaining that the report "provides no mention of the Department's significant accomplishments to reunify families."