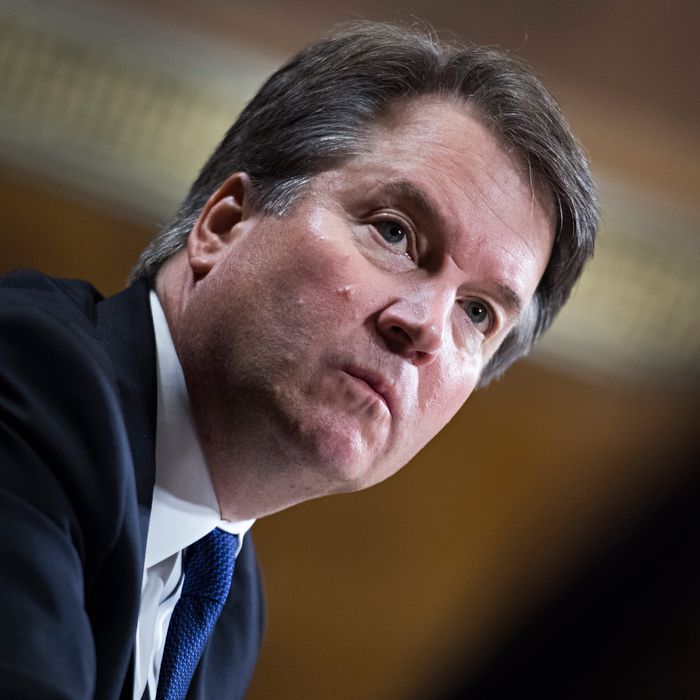 Could judgment day in the Senate for Brett Kavanaugh come very quickly now?
Photo: Tom Williams/Getty Images
As questions and rumors swirl about what the FBI did and did not investigate in its brisk inquiry into some of the allegations against Brett Kavanaugh, Mitch McConnell forged ahead, setting a procedural vote on the Supreme Court confirmation for Friday.
Hours before the report was delivered to the White House on Wednesday night, Senate Republicans filed cloture on Kavanaugh's nomination, paving the way for a final vote as soon as Saturday. "There will be plenty of time for members to review and be briefed on the supplemental material" before Friday's vote, McConnell said to a nearly empty Senate chamber.
The Hill reports that senatorial access to the FBI findings will begin Thursday. Only one copy will be placed on display for secured reading by senators and a certain number of staff. Senate Republicans rejected a request from Democrats for a formal FBI briefing, so it's unclear whether the material will amount to much other than random reports that raise more questions than they answer.
Senate Democrats are not pleased with this procedure, as Dick Durbin noted:
"Get this — one copy! For the United States Senate," he said. "That's what we were told. And we were also that we would be given one hour for the Dems, one hour for the Republicans. Alternating.




"We tried to reserve some time to read it. That is ridiculous," he said. "One copy?!"




"Bizarre, it doesn't make any sense," he added.
It certainly does make sense if the whole idea of the investigation was to provide a cursory look at complicated questions and then move right along to a confirmation on a party-line vote.
The sudden resumption of a frantic pace by Republicans seems to have caught Democrats off guard. Right before the news of the arrival of the report broke, Judiciary Committee Democrats were making a big deal out of disputing a Senate Republican tweet claiming that previous FBI investigations of Kavanaugh contained nothing about his sex life or drinking. It's not clear what that was about, but this mini-brouhaha will likely be overtaken by events.
The new, peremptory tone of Senate Republicans also suggests that they believe they have the votes to confirm Kavanaugh. That would be quite the turnaround from the jitters they were expressing this morning after Susan Collins, Jeff Flake, and Lisa Murkowski each expressed unhappiness over the president's mocking references to Christine Blasey Ford at a Mississippi rally last night.
Or it could all be a bluff. This strange and outrageous confirmation has taken enough twists and turns now that anything's possible.
This post was updated throughout.