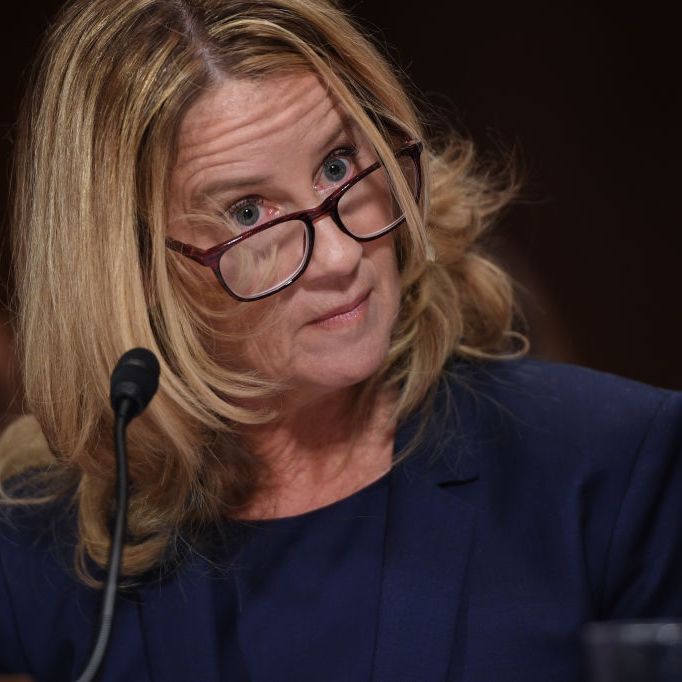 Christine Blasey Ford testifies before the Senate Judiciary Committee.
Photo: Pool/Getty Images
In a letter to the Senate Judiciary Committee, an ex-boyfriend of Dr. Christine Blasey Ford says she once helped a friend "prepare for a potential polygraph exam," leading committee chairman Charles Grassley to question whether the woman who has accused Brett Kavanaugh of a teenage sexual assault was truthful during Senate testimony last week. The friend he identifies, however, denied having been advised by Ford.
The sworn statement, which was obtained by Fox News, was written by an unnamed man who says he dated Ford from 1992 to 1998. He writes that he found her "truthful" during their relationship and says he has no ill will toward her.
In the letter, the ex-boyfriend says Ford once helped ease the nerves of a friend who was preparing for a polygraph. Ford, the letter says, "explained in detail what to expect, how polygraphs worked, and helped [her friend] become familiar and less nervous about the exam."
In his own letter to Ford's lawyers Tuesday night, Grassley wrote that the ex-boyfriend's claim "raises specific concerns about the reliability of her polygraph examination results." He also pointed out the conflict between the ex-boyfriend's letter and Ford's testimony last Thursday.
Monica McLean, the woman referred to in the letter, denied having been advised by Ford, in a statement released by Ford's lawyers. "I have never had Christine Blasey Ford, or anybody else, prepare me, or provide any other type of assistance whatsoever in connection with any polygraph exam I have taken at anytime," wrote McLean.
During the hearing, Arizona prosecutor Rachel Mitchell asked Ford if she'd ever had discussions with anyone, outside of her lawyers, about "how to take a polygraph." Ford said she hadn't.
Mitchell got more specific: "And I don't just mean countermeasures, but I mean just any sort of tips, or anything like that?" Ford again said no.
Then Mitchell asked one more time: "Have you ever given tips or advice to somebody who was looking to take a polygraph test?"
"Never," Ford said.
In addition to the polygraph claim, the ex-boyfriend attempts to cast doubt on Ford's testimony by saying that she never brought up the alleged assault during their relationship. He also says she never seemed afraid of flying while they were together. The letter ends with the ex-boyfriend saying he does "not want to become involved in this process."