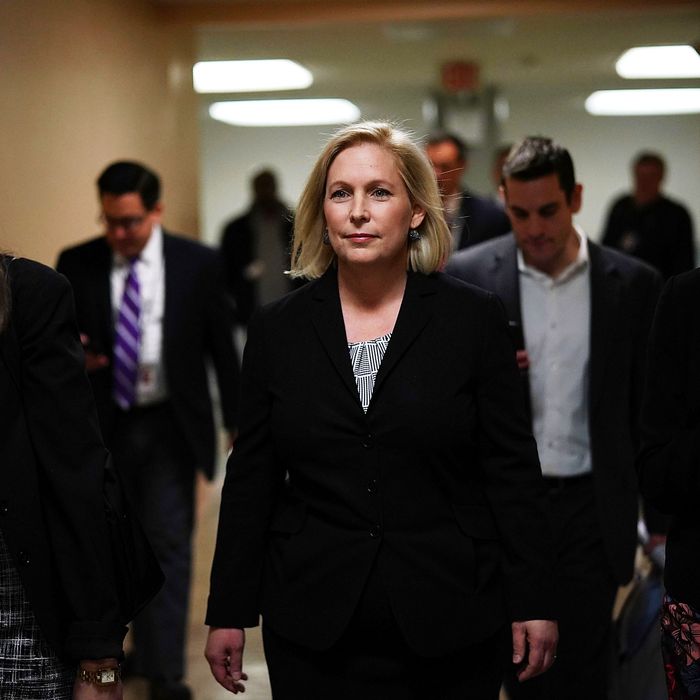 Before the 2020 campaign even forms, one potentially strong candidate seems to be heading for the sidelines.
Photo: Alex Wong/Getty Images
In a surprise move during a debate in Manhattan with her not-very-formidable Republican opponent Chele Farley, New York senator Kirsten Gillibrand took herself off the long list of 2020 Democratic presidential possibilities:
The junior New York senator vowed Thursday that she will not mount a challenge against President Trump in the next general election if she wins her midterm race next month.




"I will serve my six-year term," Gillibrand, 51, said when asked about her presidential prospects during an at times heated debate in Manhattan against her GOP challenger Chele Farley.
Farley had been criticizing Gillibrand for her recent out-of-state travel, presumably associated with presidential ambitions. Indeed, the Republican quickly said she didn't believe the new disclaimer.
Gillibrand actually said she was "ruling out" a 2020 run in May of 2017, saying she was "focused entirely on running for the Senate." But her recent trip to New Hampshire, combined with the money she seemed to be stockpiling, suggested otherwise to the New York Times:
This year, she has invested zero dollars on television and has spent only a fraction of what she did in 2012. Ms. Gillibrand, a Democrat from New York, has instead methodically conserved her campaign cash, building a $10.7 million federal treasury that is among the largest in the country; a war chest that she could use to jump-start a bid for the White House in 2020.
But the "serve my six-year term" formulation seems more definitive than the usual "not thinking about it," so perhaps she means what she is saying. If so, it's the first real withdrawal of a feasible candidate from a large 2020 Democratic field. Unlike some who were merely "mentioned," moreover, Gillibrand had done a lot lately to make her attractive to Democrats wanting a tough-minded but mainstream opponent to Trump.
It's worth noting that at about this same point in the 2008 presidential cycle another U.S. senator pledged to serve out his full Senate term at the cost of a run for the top job. His name was Barack Obama.