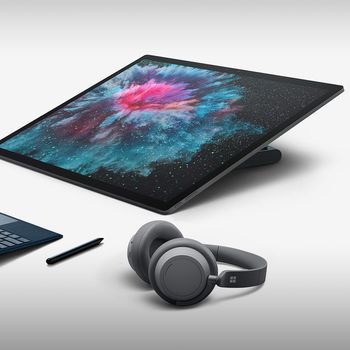 Remember that annoying "What's a computer?" ad Apple ran incessantly last winter? It was aggravating for a lot of reasons — that kid knew what a computer is, damn it! — but it was especially eye-rolling for anybody who has actually tried to use an iPad Pro as a full-time computer. From the funky way iOS handles file storage to the fact that the iPad Pro keyboard doesn't have a trackpad, the iPad Pro is fantastic tablet but a poor laptop — I'd never recommend anyone use it for a full-time work machine.
The Surface Pro, meanwhile, is a good tablet and a great laptop — lightweight, long battery life, and with enough processing power to do most of what you need to do, unless your work involves a lot of high-end graphics processing. (If you're considering making the switch, I would recommend trying out the keyboard once or twice — I like it, but some find it slightly annoying to type on.)
Since 2015, my go-to recommendation for Mac users left cold by Apple's anemic laptop offerings has been the Surface Pro. Microsoft rolled out updates to both its Surface Pro and Surface Laptop line yesterday, and the new Surface Pro 6, at $899, will likely continue to be my go-to recommendation.
If there's anything that I might recommend over a Surface Pro to a dissatisfied MacBook user, though, it would be the clamshell Surface Laptop 2. It can go toe-to-toe with anything being put out by high-end PC manufacturers like HP or Dell. The screen looks beautiful, its battery life is impressive, and it's lightweight and sports an impressive amount of battery life, all for $999. And that keyboard — oh man. The throw, the travel, the sharp clicking joy of tapping away on it. I'm typing this out on a 2015 MacBook Pro, and I'm still dreaming about that Surface Laptop keyboard (made all the more appealing, of course, by Apple's recent keyboard woes.) You can get better specs by shopping around with other PC manufacturers, but I'd argue the fit and finish you get with both the Surface Pro and the Surface Laptop — those small, barely noticeable details that add up to a device that ultimately feels holistic and good to use — make both a bargain. They're the laptops that Apple should be making. (That both the Surface Pro 6 and Surface Laptop 2 come in a very slick matte black is also a nice touch.)
The one letdown: Both the Surface Pro 6 and Surface Laptop 2 continue to use Microsoft's Surface Connect charger and mini DisplayPort instead of making the leap into using USB-C, the way that you're likely charging your phone if you're on Android, and the way you'll charge the majority of your devices in the very near future. There are arguments to be made for the Surface Connect charger — it's magnetic, meaning that it'll yank out easily if you trip over a cord — but the mini DisplayPort should have been killed off a few cycles ago, and seeing it appear here is frustrating.
Microsoft also rolled out an update to the Surface Studio, its easel-like computer meant for graphic design. Starting at $3,499, it's a beautiful but niche product, but it got a much-needed boost to its internal specs, vital for anyone doing intensive graphical work. And it debuted its Surface headphones, noise-canceling cans with Cortana and some smart AI stuff built in that will go on sale for $349. They sounded nice — the ability to turn the noise-cancellation on and off by turning a knob on the left headphone is a smart touch — but I'm not sure I'm giving up my Sennheisers for Surface headphones.
So what does all this add up to? Microsoft knows it's not hip. "Apple stands for cool. Google stands for search. Microsoft stands for empowerment," says Chris Capossela, chief marketing officer at Microsoft. "Empowerment" has been thrown around a lot by Microsoft in recent years, a way of saying that Microsoft products are about getting work done, while its competitors are about goofing off or attracting your attention in order to sell it to advertisers.
"How does our stuff let you do what you want to do and get out? Our business model is not about taking your time," said Yusuf Mehdi, corporate vice-president of Microsoft's Modern Life & Devices Group. "Success for us is when we've been able to give you back time."
This can all seem a little fuzzy, but it does lead to some genuine "Oh, wow" moments in practice. In a hands-on demo, I watched someone with a Surface pen doodle out thoughts in handwriting on a Surface Pro screen, and then quickly turn those handwritten notes into a very professional and put-together PowerPoint. If that doesn't sound all that mind-blowing, you haven't spent hours wrestling with PowerPoint trying to render what you could draw on a napkin in two minutes.
At its best, the Surface lineup — and, more broadly, Microsoft's consumer hardware and software ambitions in the past four years — create a seamless way for you to get work done, and the more I wrestle with my aging MacBook and try to figure out what laptop I'll buy next, it's a vision that I'm finding increasingly compelling. "We're focusing far more on our fans," said Microsoft's Capossela. Microsoft's event, he said, was focused on its "core fanbase." In 2012, the idea that there would be a "core fanbase" of Microsoft's hardware beyond the Xbox would have been laughable. In 2018, I'm mildly surprised to say that I may be one of them.