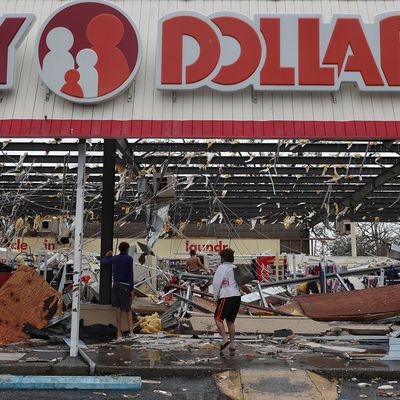 Panama City after Michael.
Photo: Joe Raedle/Getty Images
After making landfall Wednesday afternoon as a Category 4 storm, Hurricane Michael ripped through the Florida panhandle, leaving a scarred path of broken buildings, uprooted trees, and splintered homes in its wake. It was the "worst storm" that part of the state has ever seen, Governor Rick Scott said.
Michael first tore apart the seaside town of Mexico Beach, arriving just before 1 p.m. with winds topping out at 155 miles per hour. An eight-foot storm surge inundated neighborhoods, covering some homes to the rooftop.
"You can't drive a car anywhere, you can't do anything because it's littered with houses, pieces of houses," Patricia Mulligan of Mexico Beach told the Times. She went on to list what she saw on the streets after the storm passed, including "refrigerators, a beanbag chair, a washing machine, a kayak and a dresser."
Before and after images showed the complete disappearance of some coastal buildings.
As the storm moved northward, it tore through Panama City. A hotel housing evacuees was ripped to shreds and a local middle school had its roof peeled off like a tin can. This drone video shows the destruction at the school.
At least one person was killed when a tree crashed into his Greensboro, Florida, home. According to local reports, police received a call around 6 p.m. about a man trapped by a fallen tree. Downed power lines and other debris slowed emergency crews as they tried to respond to the call.
Michael is a "history-making, very devastating storm and one that we're never going to forget," said Michael Graham, the director of the National Hurricane Center in Miami. The storm was the strongest to ever hit the Panhandle and the fourth Category 4 storm to hit the U.S. in the past 15 months. It's left hundreds of thousands of people without power and an untold number of people homeless.
By late Wednesday, the storm had moved toward Georgia. It's expected to weaken to a tropical storm by Thursday morning and move off into the Atlantic Ocean by early Friday.