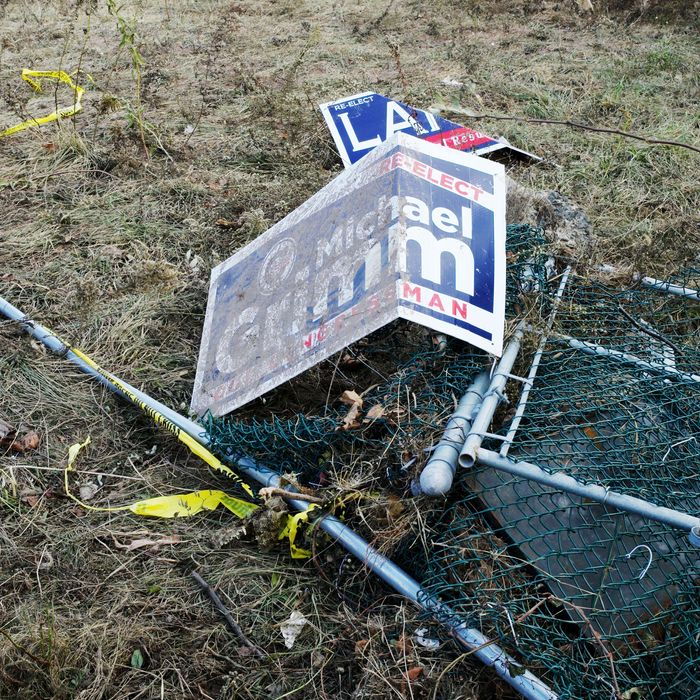 Hurricane Sandy had all sorts of direct and indirect effects on the 2012 elections.
Photo: Andrew Lichtenstein/Corbis via Getty Images
There's a new variable that political practitioners along the Atlantic and Gulf Coasts need to take into account in the usual autumn drive toward elections: crazy weather. We saw this play out dramatically in 2012's election season, with Hurricane Sandy. And it may be happening right now in Florida, as the Miami Herald reports:
Less than a month from election day, Tropical Storm Michael is forecast to hit North Florida on Wednesday as a hurricane. Though the landing spot remained far from certain early Monday as the storm moved north through the Yucatán Channel, the National Hurricane Center's latest track had Michael striking the Florida Panhandle on a path that could take it right over the state Capitol and into the center of the state's elections.




Any landfall in Florida would have political implications, given that hurricanes can make or break a politician's reputation and voting is already underway. But a direct pass over Tallahassee would likely have dramatic consequences for both the race for governor and U.S. Senate, which feature the Democratic mayor of the city and the Republican governor of the state, respectively.
Republicans have been running ads on behalf of their gubernatorial candidate Ron DeSantis attacking Democrat Andrew Gillum for refusing help from a private utility during Hurricane Hermine in 2016, which was the subject of a public dispute between Gillum and Republican governor Rick Scott (now in a tight U.S. Senate race against Bill Nelson). Democrats are demanding those ads be taken down, saying they're false and divisive; Gillum has taken down his own ads, and he and Scott have suspended their campaigns for the moment (as has Bill Nelson).
Typically, weather disasters help the elected officials most involved, as they get an opportunity to stride around affected areas wearing boots and baseball-caps and windbreakers emblazoned with their names and titles, helping people out of jams and generally exuding strength and empathy. But as George W. Bush famously illustrated, botching a disaster can be deadly — especially if the disaster itself is deadly. And as Florida braces itself for both election and peak hurricane season, there's continued speculation that Trump's handling of Hurricane Maria – and his denials of its death toll – could hurt Sunshine State Republicans this year.
Florida's not the only place, obviously, where insane weather and election season have collided. There was a long-running debate during and after 2012 about the impact of Hurricane Sandy, both in terms of its effect on voter turnout and the more subtle perceptions of the Obama administration and the federal government generally. And similar questions are being asked right now in North Carolina, as the New Republic noted recently:
As the Raleigh-based News & Observer reports, thousands of state residents have been displaced by Hurricane Florence and the catastrophic flooding in its wake. For those people, it may now be much harder to meet their voter registration deadline, vote in person, or meet absentee ballot requirements in time for the election. TheNAACP is thus asking the state to extend the voter registration deadline from October 12 to October 17.




This is "the second election cycle in a row in which a hurricane has had the potential to disrupt voting in the state," the News & Observer noted. After Hurricane Matthew displaced thousands of North Carolinians in 2016, Democrats had to file an emergency lawsuit to get the voter registration deadline extended for affected counties.
Republicans lawmakers may not want to acknowledge the potentially catastrophic effects of climate change, or its causes. But as autumn storms (and those the rest of the year, too) become more frequent and intense, it's a good idea for them to keep the political implications in mind.