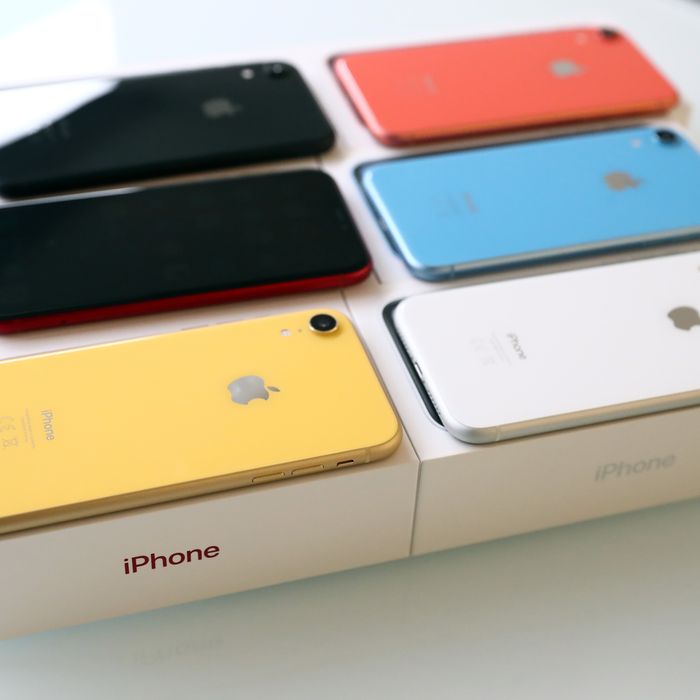 Apple's new iPhone XR, the phone you should buy if you're looking to upgrade this year.
Photo: Anton Novoderezhkin/Anton Novoderezhkin/TASS
Here are the five things you won't get if you buy an iPhone XR instead of an iPhone XS or an iPhone XS Max: 3-D Touch, an extra telephoto lens, stainless-steel sides (the XR uses aluminum instead), an OLED screen (the XR uses a very high-fidelity LCD screen), and ever so slightly thinner bezels around the edge of the screen.
Here's what you will get: an extra $250, longer battery life, and a larger screen. (Or, if you're comparing it to an iPhone XS Max, you get an extra $350 and a screen just slightly smaller.) Everything else is the same: the same super-snappy A12 chip, the same Face ID–scanning tech to unlock your phone and do fun stuff like Animoji, the same all-screen design, and wireless charging, so you can toss your phone on a charging stand when you sit down at your desk. Oh, you can also get it in six different colors. (I'm partial to the red, myself.)
Last year's lineup of iPhones was tricky for would-be buyers. The iPhone 8 and iPhone 8 Plus were great phones, but clearly represented the end point of one branch of iPhone evolution. The iPhone X was a beautiful, enticing phone; I bought one before ultimately returning it, deciding that I wasn't quite ready to pay $1,000 for a smartphone. If you were upgrading last year, you had to make a choice between shelling out more for a phone that represented the future or saving some money for a phone that was the end point of a decade of iPhone design.
This year, the choice is simple: How much do you really care about the camera and the screen?
First off, the screen: I've got an XR and an XS Max in front of me right now, and if I look very, very closely, I can tell that the OLED screen of the XS Max gives me slightly darker blacks and slightly brighter whites than the XR. But I very rarely carry out two phones side by side in my daily life, and when using the XR on its own, there was no point where I suddenly found myself beseeching the gods as to why my Twitter scroll wasn't 3 percent more vibrant in color. That said, if you truly use your phone for photography a lot, or are an A/V fanatic, it may be worth shelling out the extra money — OLED screens do look slightly better. But for me, and I suspect most people, they don't look $250 worth better.
Second, the camera. The XR drops the extra telephoto lens you get on the XS and XS Max. This means two things — you don't get optical zoom, so if you want to zoom in close on something distant, it won't be quite as crisp. And while you can take photos in Portrait mode (meaning the subject stays in focus, while everything behind gets thrown in that slightly blurred bokeh look you associate with high-end photography), it's all being done with machine-learning algorithms, so will only work on people. You won't be able to take a Portrait shot of your dog or brunch. Again, if you're a serious photographer, this might be a deal-breaker. If you're upgrading from the iPhone 6 or 7, the camera is still going to blow you away — it's able to handle a much broader range of light all at once, meaning shots framed with heavy shadows and heavy sunlight manage to look neither blown out or far too dim.
As for the other three things, I've barely noticed. The absence of 3-D Touch has barely registered — you can still long-press on items in the Control Panel to bring up more options, and even third-party apps like Instagram have figured out work-arounds. I put a case on my phone regardless, so stainless-steel versus aluminum doesn't matter much to me at all, but even if I didn't, the aluminum feels fine. And the slightly thicker bezels are, again, the type of thing you'd only notice if you were holding an XR and an XS side by side.
And that extra battery life? It really makes a difference. If I don't charge my iPhone XS Max at work, it was usually limping in the red if I got home past 8 p.m. or so. The XR in front of me has been going for 20 hours without a charge. I've been futzing about with it pretty heavily, and it still has a healthy 37 percent of battery life left. Without an OLED screen to power, the XR battery life is just better. At the end of the day, the best phone screen in the world isn't worth much if your phone is dead.
But what makes this phone exciting is that it's the first time in a couple of generations where the price and the features of the base iPhone so fully line up in the buyer's favor. Yes, the price of the base iPhone has bumped up by $50 (the iPhone 8 cost $700 last year, and the XR costs $750 now). But iPhone XR buyers are drafting off of everyone who bought an iPhone X last year and an iPhone XS or XS Max this year — they get a phone stuffed with new tech, a great camera, and beautiful design, without paying four digits.
If I were an Apple investor, the iPhone XS and XS Max and Apple becoming a company that only sells Veblen goods with their correspondingly high margins would be exciting. But I don't hold Apple stock, I just buy stuff from Apple, and have people ask me on a fairly regular basis which iPhone they should buy. And for the first time in years, I know exactly what phone I would buy — and what phone you should buy: the iPhone XR.