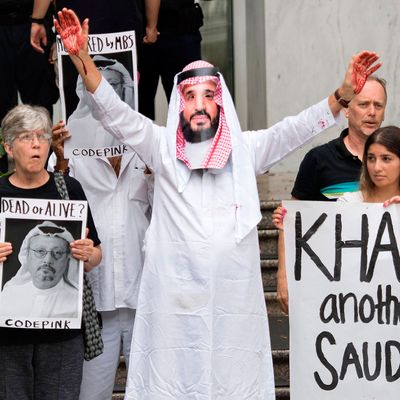 A demonstrator dressed as Crown Prince Mohammed bin Salman protests outside the Saudi Embassy in Washington, DC, on October 8, 2018.
Photo: Jim Watson/AFP/Getty Images
On October 2, Jamal Khashoggi entered the Saudi consulate in Istanbul to retrieve a document related to his upcoming wedding. Two hours later, he was dead and dismembered, according to the Turkish government. Specifically, the Turks claim to have audio and video evidence demonstrating that Saudi operatives tortured and killed the dissident journalist — and then, with the aid of a bone saw and a doctor of forensic medicine, chopped his body into pieces.
Saudi Arabia unapologetically flogs, imprisons — and occasionally, crucifies — people for committing the crime of "homosexual intercourse." It has spent the past several years bombing and deliberately starving the Middle East's poorest nation, thereby leaving Yemen on the verge of the worst famine in a century.
But no one in Washington, D.C., has ever been at a cocktail party with a starving Yemeni child, and so Riyadh's offenses against such children did not threaten the U.S.-Saudi alliance. Many in D.C. do, however, rub shoulders with Washington Post columnists — of which Khashoggi was one — and thus, his apparent murder has forced many American lobbyists, corporate titans, and public officials to feign shock and concern at the revelation that the totalitarian, Islamist government of Saudi Arabia does not respect the human rights of its dissidents.
So, in recent days, the Saudis have scrambled to put together a story that will allow its hired hands in D.C. to save face. On Monday morning, President Trump offered a hand, telling reporters that, after speaking with King Salman about Khashoggi's death, "It sounded to me like maybe these could have been rogue killers — who knows."
The New York Times subsequently reported that the Saudis were, in fact, preparing to pin the murder on an overly entrepreneurial intelligence operative:
One person familiar with the Saudi plans said on Monday that the Saudi government was preparing to describe a scenario that would protect the prince from any blame.




The person spoke on the condition of anonymity because he was not authorized to discuss the plans. But he said the royal court would soon put out a narrative that an official within the kingdom's intelligence services — who happened to be a friend of Prince Mohammed — had carried out the killing.




The person said Prince Mohammed had approved an interrogation or rendition of Mr. Khashoggi back to Saudi Arabia. But, he said, the Saudi intelligence official was tragically incompetent as he eagerly sought to prove himself in secretive operations.



On Monday afternoon, CNN drew a similar picture of the Saudis' impending response, reporting that Riyadh would "acknowledge Jamal Khashoggi's death was the result of an interrogation that went wrong, one that was intended to lead to his abduction from Turkey."
One of CNN's sources told the network that "the report will likely conclude that the operation was carried out without clearance and transparency and that those involved will be held responsible."
In other words: The Saudis' official defense is, reportedly, "We only wanted to torture and kidnap the dissident journalist, but the Crown Prince's friend got a little too enthusiastic, and accidentally killed him. (In a bizarre coincidence, a doctor of forensic science and bone saw just happened to be on the scene at the consulate that day — and, well, one thing led to another.)"
If the Trump administration, K Street, and D.C.'s foreign policy Establishment cares about the reality of the Saudis' actions, this cover story won't fly. But then, if they cared about such realities, the U.S. would have cut off support to the Saudi war in Yemen years ago.