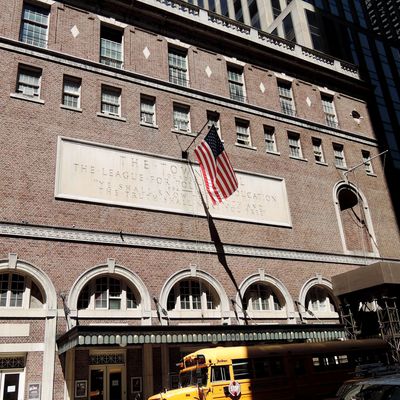 Town Hall in Manhattan.
Photo: Jim.henderson /Wikimedia
The election is on Tuesday, and like every election, it may be the most important election of our lifetimes. Once it's over, you're probably going to need a debrief and a cocktail — either celebratory or therapeutic. So will we.
So come join us as we get our election-related feelings off our chests this Wednesday, November 7, at 8 p.m. at the Town Hall in midtown Manhattan. (Get tickets here!)
I'm really excited to be bringing together two of my employers — Los Angeles public radio station KCRW and New York Magazine's Intelligencer — for a live taping of my KCRW podcast Left, Right & Center, featuring two of your favorite voices from Intelligencer, Washington correspondent Olivia Nuzzi and columnist Jonathan Chait.
First, I'll break down the results of Tuesday's elections with liberal commentator Ana Marie Cox, conservative Rich Lowry, MSNBC election analyst Steve Kornacki, and New York Times political reporter Astead Herndon. We'll look at who won, who lost, and why — with Astead providing insights gleaned from his time on the campaign trail across the country.
Then, Olivia and Jonathan will join Ana, Rich, and me to look ahead — what do the new Congress and an intensifying special counsel investigation hold for President Trump?
Jonathan will update his theory of "mind-boggling collusion" that he wrote about back in June. "How do you even think about the small but real chance that the president of the United States has been influenced or compromised by a hostile foreign power for decades?" he asked then. After this election, we may be about to see much more aggressive thinking about that question from Congress.
And Olivia will bring her insights from inside a Trump White House, where she was recently the recipient of a one-person press conference. She'll tell us how Trump is preparing for a possible Democratic majority — and if Republicans retain control, whether we should expect him to view that as a green light to stifle the Mueller probe.
The new Intelligencer, which we launched earlier in October, is intended as your new home page to stay briefed on the day's key developments in politics, business, and technology. Twitter has become exasperating; we hope to provide a similarly energetic but more curated and less stupid feed of news to keep you informed, but also sane.
On Wednesday, Olivia, Jonathan, all our co-panelists, and I will offer an in-person version of the web experience we strive to provide every day: insightful, informative, civilized yet provocative, and fun! Won't you join us?