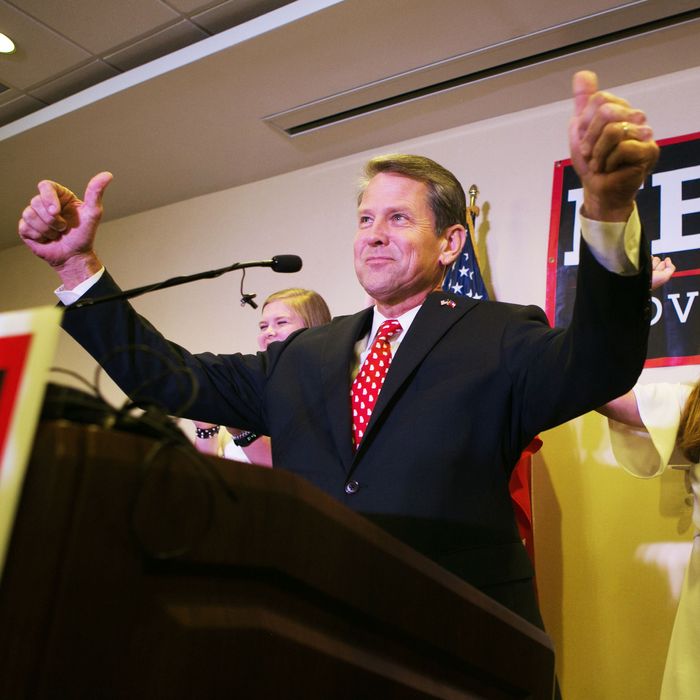 Brian Kemp could have an advantage in a December runoff election against Stacey Abrams
Photo: Jessica McGowan/Getty Images
Georgia's red-hot gubernatorial race between Democrat Stacey Abrams and Republican Brian Kemp has been close all along and could go right down to the wire. As Zak Cheney-Rice notes, Kemp has advantages ranging from his administration of the election laws that determine who actually gets to vote to his exploitation of centuries of white southern fears of African-American political power. But there is one more ace in the hole Kemp may possess: Georgia's majority-vote requirement for general elections. A candidate must get more than 50 percent of the votes to win a general election in Georgia.
Seven southern states (including Georgia) have majority-vote requirements for party nominations. Whatever they mean today, these systems are universally understood as a vestige of the Jim Crow/Solid South era when Democratic primaries were functionally general elections and runoffs served as fail-safe measures to prevent challenges to white conservative hegemony.
Georgia is unique, however, in extending the majority requirement to general elections and providing for a later runoff in races when no candidate achieves it (yes, Louisiana provides for a post-November runoff, but its "general election" is actually an open nonpartisan primary). Actually, until the 1970s the Georgia legislature decided statewide races where no one won a majority. That is how the notorious segregationist Lester Maddox ascended to the governorship in 1966 after narrowly losing the popular vote to Republican Bo Callaway in a contest where many Democratic liberals voted for a write-in candidate. More recently, general election runoffs have happened only occasionally, in very close races in which Libertarians won their usual small but durable vote.
Republicans have dominated these low-turnout runoffs. In 1992, incumbent Democratic senator Wyche Fowler fell just short of a majority against Republican Paul Coverdell in the general election (a Libertarian, bolstered by gay voters unhappy with Fowler's stance on anti-discrimination laws, took 3 percent). Coverdell turned the tables in the runoff, where turnout was down nearly a million votes from the general election.
In 2008, Democrats initially benefited from the majority-vote requirement when incumbent Senator Saxby Chambliss missed a majority by an eyelash in November (with a Libertarian candidate again pulling 3 percent of the vote). Democrat Jim Martin definitely benefited from the mobilization of African-American voters on behalf of Barack Obama. But in an early December runoff, with turnout down from 3.7 million voters to 2.1 million, Chambliss trounced Martin by a 57/43 margin.
The specter of a runoff this year has been raised by polls showing Libertarian gubernatorial candidate Ted Metz with just over 2 percent of the vote, while Kemp and Abrams are statistically tied. If history is a guide to December turnout patterns, it suggests Abrams really needs to win an outright majority on November 6. A runoff would be held on December 4.
On the other hand, Abrams, running to become the nation's first African-American woman to serve as governor, could break the mold even if she falls short of a majority. Her entire campaign, after all, revolves around voter registration and mobilization, and the historic nature of her candidacy could keep supporters fired up even in cold weather with holiday distractions. There is also the very recent precedent in next-door Alabama, where Democrat Doug Jones won a December special election last year, fueled by high turnout from the same historically underrepresented African-American voters Abrams is relying on. It could get interesting if the contest goes into overtime.