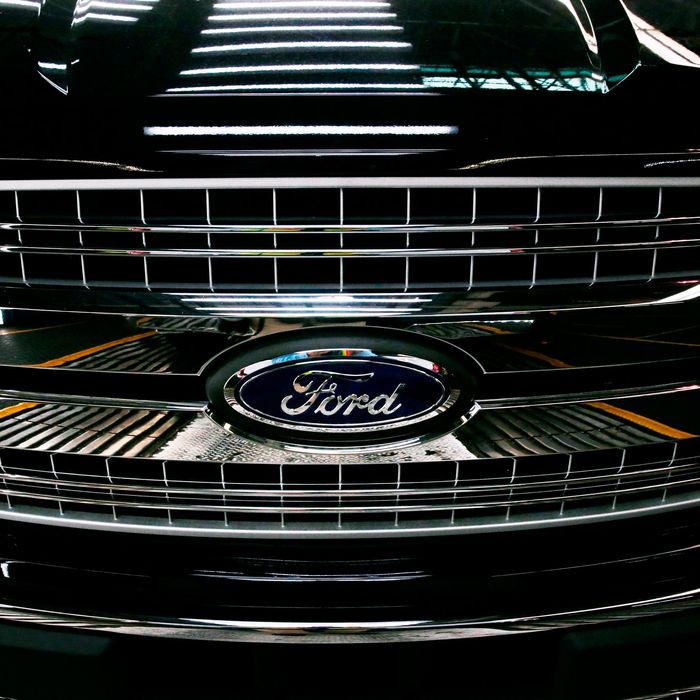 How bumpy is the road ahead?
Photo: Jeff Kowalsky/AFP/Getty Images
Of the vaunted Big Three automakers, the one that pulled through the Great Recession in the best shape — and without filing for bankruptcy — was Ford.
So there's a sad irony to the fact that the Blue Oval may have won the recession only to lose the boom. The stock is at a nine-year low, bobbing around just below $9 per share, having dropped nearly 30 percent in the past year, even as the S&P average rose 15 percent.
The news has been unremittingly bleak of late for the 115-year-old company. Its sales in China are down 30 percent year-to-date — a result of both Beijing's retaliation against the Trump administration's tariffs and a slowing Chinese car market. Domestically, Ford's sales are off 5.6 percent year-to-date.
CEO Jim Hackett said last week the company will be laying off an unspecified number of American workers as part of a restructuring effort as well as to recoup increased steel costs arising from the Trump trade wars. And even those bullish on Ford stock were disappointed by the tepid, ephemeral bounce the company got on October 1 from the unveiling of the U.S.–Mexico–Canada trade agreement, a NAFTA replacement that removed some long-simmering uncertainty for automakers.
Ford brass insist they have big plans, starting with their decision to stop selling sedans in the U.S. next year and its $90 million purchase of Detroit's iconic 105-year-old Michigan Central Station for use as a campus to research and test autonomous vehicle technology.
Can Ford turn itself around? Is the stock a bargain? Or is the road ahead even more dangerous? With the auto industry trying to reinvent itself and its product for a new age while also facing headwinds from trade wars and tariffs, what becomes of one of the nation's most iconic and venerable companies?
BUY!
"I don't think the market is giving Ford credit for the potential from the $7 billion they've allocated for restructuring plans over the next three to five years. There's a big change in mentality at the company, and they are much more progressive-thinking. They no longer view the business as they have to be everything to everyone — they're looking to be a more focused yet more profitable company, which is very evident by their forthcoming exit from the U.S. car market to focus on trucks and SUVs, where they can make money and where they have a better brand reputation.
Also, Ford stock offers a dividend with a 6 percent yield at this point, which should provide some level of support for the stock. The Ford family likes dividends historically, so I don't see it being cut. My math shows that with earnings improving, they can manage the $7 billion in restructuring and still pay it.
Despite fears about NAFTA as we headed into the year, the new trade deal has a pretty minimal cost impact. The Chinese tariffs have more impact because the Lincoln products are shipped out of the U.S. and into China, so that is some of the hits that they're facing. But on the parts side, fewer than 3 percent of parts come from China, so I think it's going to be much more manageable than people realize.
I also don't think people recognize the Big Data opportunity for Ford. Hackett has highlighted that by 2019, 90 percent of their cars will have connectivity and 100 percent in developed markets. They've totally changed their perspective on data in the car, and I think there'll be more to come on that aspect.
Ford is not as bad as a lot of investors perceive. That said, they have a lot of work to do. As they do that work, it's an opportunity for people to make money off the stock. I have a $14 price target one year out, which obviously implies significant upside from these pretty low levels." —Colin Langan, lead auto sector analyst for UBS Group
SELL!
"I would buy Ford only if it went to around $7.50. Even with the lowered earnings expectations for the fourth quarter of 2018, they will miss again and that will get us to under $8. Then, we could possibly see a bounce. All of the indicators are down for Ford for the last two quarters, and we expect that the October 23 earnings report for the third quarter to show they're down again.
Hackett, since he took over, hasn't put out a solid, detailed plan. We see everything moving toward electric vehicles and self-driving vehicles, and Ford is lagging in both of those areas behind their closest competition, GM. Obviously, for investors, that makes it really hard to say, "Yeah, okay, I like what they're doing. I like what their goal is." They're making moves, like the purchase of the train station, but they're not letting anybody know what those moves are for.
I also don't think the move away from sedans is a good idea. I'm personally a Ford family. We drive all Fords, so I look at it practically. I have an F-250 that I need to pull my trailer, but then I need an SUV because I have two kids. My wife drives the SUV, an Explorer, to haul the family, but I don't want to drive my F-250 every day. I also need a car. If you take away the sedans, I can't put a 4-year-old and a baby in a Mustang, you know? Now what do I do? I have to go outside of Ford. Once you start opening that up, if a family has to go to Chevy to get their sedan, the dealer's going to be like, "Why don't you check out the Silverado as well?" It opens the door for all these people that want to be loyal Ford fans but need multiple vehicles.
Everything that's going on with China is not good. China's government has put a ton of focus on electric vehicles, so obviously that's a huge market. The tariffs are going to force China to be more self-reliant. The government is already subsidizing internally to make up for things they were getting from us. The tariffs are not going to help any international sales or companies here. I don't see any bright spot in international for Ford right now." —Mike Windle, retirement planning specialist at C. Curtis Financial Group in Plymouth, Michigan
Buyer's Counterpoint
"I definitely hear the bear case that Ford is clueless on autonomous technology, but I don't think that's accurate. Waymo is probably in the lead, which is Google, followed by GM and then, quite frankly, there's really everyone else. Ford is thinking about autonomous very thoughtfully in terms of how to utilize vehicles effectively and how they're going to deploy it. So I don't think they're as far behind as people say. As a matter of fact, they're probably, if you look relative to the traditional automakers around the world, they're possibly above average." —CL
Seller's Counterpoint
"As far as a $14 target, never say never, but unless they have something that no one knows about yet, except for the UBS guy, I don't see that as even a remote possibility. The economy's doing great, the tax bill passed with cuts that were geared towards corporate America, and a number of other large corporations that have benefited from it. In the meantime, Ford is just on a continuous downward trend, cutting jobs. If you're cutting corners and still losing revenue and losing income, what happens once this bull run ends?" —MW