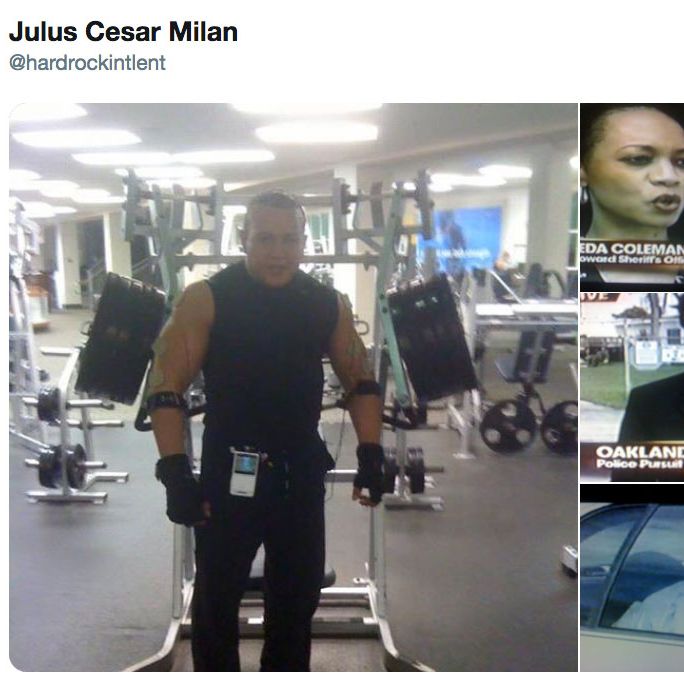 Photo: Screenshot via Twitter
Earlier today, Cesar Sayoc was arrested by law enforcement for allegedly mailing multiple pipe bombs to prominent Democrats and CNN. His van was plastered with pro-Trump images and photos of Democrats with crosshairs overlaid. Almost immediately, his Twitter and Facebook accounts turned up, filled with far-right vitriol (and some selfies, helping to confirm that the Sayoc in the mugshot and the one in pictures on social media were one and the same).
Several posts feature Sayoc at Trump rallies.
A second Twitter account also in Sayoc's name features image macros accusing Florida gubernatorial candidate Andrew Gillum of being in the pocket of George Soros.
His Facebook account has since been deactivated, but one short clip from October 2016 featured Sayoc smiling at the camera, selfie-angled, as Trump speaks behind him, saying, "You take a look at these people, study these people." (In this case, Trump was encouraging the crowd to be skeptical of women accusing Trump of sexual abuse.)
Other posts on Sayoc's page made heavy use of racial slurs to refer to politicians like Barack Obama and Maxine Waters, who both had packages addressed to them. One photo shows Sayoc standing outside the Capitol Building during Trump's inauguration.
Other posts repeated talking points familiar to anyone who has crossed paths with MAGA Twitter. There are posts criticizing NFL players who kneel during the national anthem, posts theorizing that Parkland shooting survivor David Hogg is a Soros lackey (he's not), and posts reiterating the cruel joke/weaponized speculation that Michelle Obama is a man.
Last month, Sayoc referred to Christine Blasey Ford's testimony as a "democrat con job."
It's not difficult to glean from Sayoc's online presence that he was very active on social media, taken by conservative talking points and conspiracy theories, and took Trump literally as well as seriously in attempting to commit violence against the media and liberal politicians. The posts are intense, vitriolic, paranoid — and not uncommon for Trump's fervent online fan base. It's worth considering that the images Sayoc posted were not made by him, but by others who shared his stance. The main thing distinguishing Sayoc is his alleged willingness to act.
On a closing note, it might be worth pointing out that Sayoc was not entirely unknown to Twitter. After commentator Rochelle Ritchie appeared on Fox News earlier this month, Sayoc threatened her on Twitter, posting, "Hug your loved ones real close every time you leave home." She reported the posts, and Twitter judged that they did not violate the platform's rules on abusive behavior.