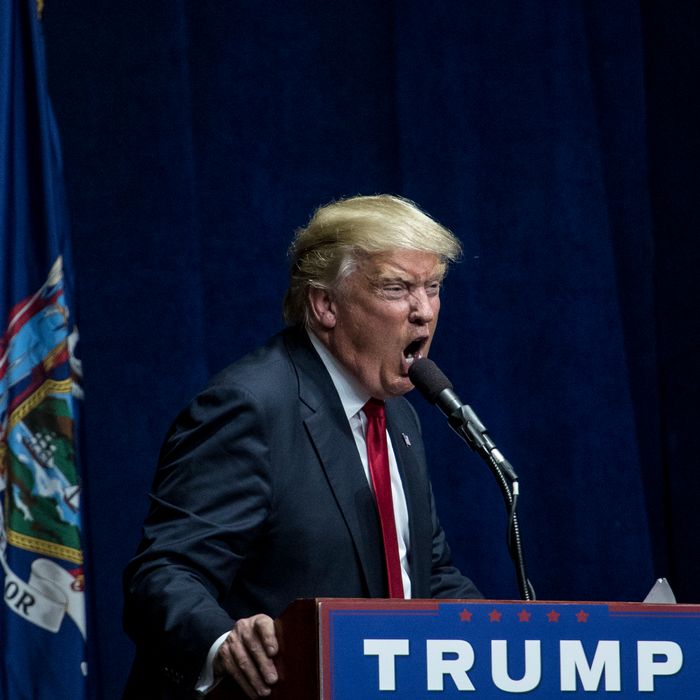 Donald Trump speaks at a 2016 campaign rally.
Photo: Andrew Renneisen/Getty Images
In October of 2016, just four weeks before Donald Trump won the presidency, three Kansas men were charged for a heinous plot to kill Somali immigrants in their homes.
Curtis Allen, Gavin Wright, and Patrick Stein called themselves "the Crusaders," according to a criminal complaint, and in early 2016 their group was infiltrated by an FBI informant. Over the course of the next eight months, they hatched a plan to "wake people up" by creating a "bloodbath" that killed the people they referred to "cockroaches."
Now, two years since their arrest and six months after their convictions, the men are on the verge of being sentenced. And on Tuesday, one of their lawyers asked the court to consider Trump himself and the then-candidate's hate-filled rhetoric when deciding how long Allen, Wright, and Stein should spend in prison.
"The court cannot ignore the circumstances of one of the most rhetorically mold-breaking, violent, awful, hateful and contentious presidential elections in modern history, driven in large measure by the rhetorical China shop bull who is now our president," the lawyers representing Stein wrote in a sentencing memo.
The man was a "complete and long-standing" supporter of Trump, the lawyers said. They argued that Trump's surprise victory in November of 2016 would have disrupted the plot the men spent months concocting. Fox 4 Kansas City elaborates:
Trump's win "changed everything" because the men's urgency for action and the feeling of a losing battle would be gone, they argued. Conspiracies — among them that then-president Barack Obama would not relinquish power — would be disproven. He contended the discussed attack likely would never have happened in the world that existed after Trump's election.
Prosecutors, who say the planned attack has had "a deep, lasting impact on the victims' sense of security," are seeking life sentences. They want to prevent the would-be bombers from actually harming anyone and deter others who might contemplate similar crimes.
But lawyers for Wright argued that a life sentence would have no deterrent effect as long as Trump continued to spew hate from the White House. They cited Trump's tweets that stoke racial division, including a recent claim that "unknown Middle Easterners" are moving toward the U.S. with the Central American migrant caravan.
Wright's lawyer wrote, "As long as the Executive Branch condemns Islam and commends and encourages violence against would-be enemies, then a sentence imposed by the Judicial Branch does little to deter people generally from engaging in such conduct if they believe they are protecting their countries from enemies identified by their own Commander-in-Chief."