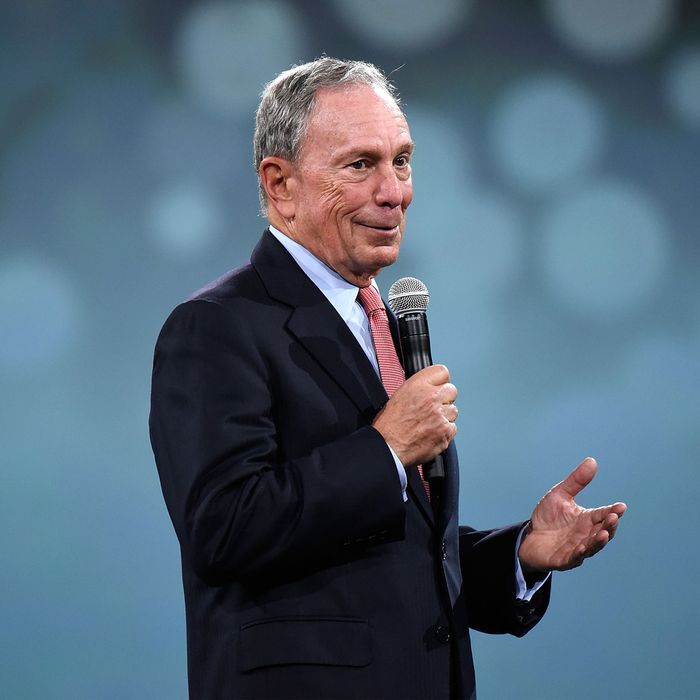 Michael Bloomberg.
Photo: Kevin Mazur/Getty Images
As of this writing, FiveThirtyEight's Senate forecast gives Democrats a 28 percent chance of retaking the upper chamber this November.
But Michael Bloomberg is about to buy the party a better one.
This week, the billionaire (and potential 2020 candidate) pledged $20 million to the Senate Democrats super PAC — an investment that was (supposedly) inspired by his disgust with the Republican Party's handling of Brett Kavanaugh's confirmation hearing last week.
"Mike was extraordinarily disappointed in the Republican leadership in the Senate and feels increasingly passionate about changing it," Bloomberg adviser Kevin Sheekey told the Washington Post Tuesday. "And he's already enthusiastic about the impact he's having on House races and increasingly confident that he can contribute to a Democratic takeover."
Bloomberg had previously pledged $80 million to Democratic House candidates.
The former New York mayor has variously identified as a Republican, a Democrat, and an independent during the course of his public life. But Donald Trump's ascension to the summit of Republican politics sent Bloomberg to Team Blue's tent in 2016. Trump's first 21 months in office kept the billionaire there. And now, Bloomberg has resided in blue America long enough to contemplate running the place.
The 76-year-old is openly mulling a dark horse presidential bid in 2020. There are few signs that any significant number of Democratic primary voters are hoping to rally behind an elderly, white male billionaire with historic ties to the Republican Party, misgivings about the #MeToo movement, warm feelings about racially discriminatory policing, and a desire to cut Social Security.
Nevertheless, Bloomberg is doing his best to buy the Democratic base's love. And while his investments are unlikely to win him solid returns in 2020, they just might pay dividends for congressional Democrats this November.