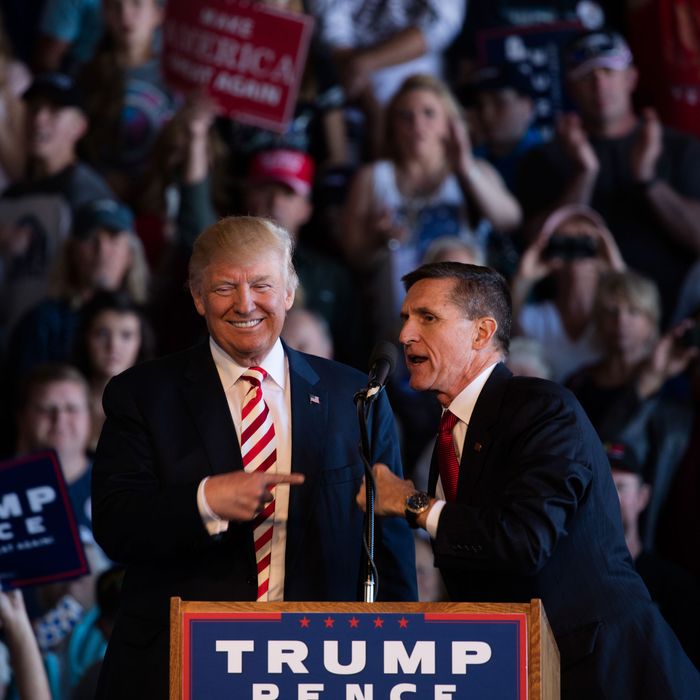 Donald Trump and national security adviser Michael Flynn during the 2016 campaign.
Photo: David Hume Kennerly/Getty Images
The alliance between the Trump campaign and Russia had many nodes of contact. One of the least known, but potentially most significant, is the work that ran through Republican operative Peter W. Smith. Much of the reporting on Smith has been broken by The Wall Street Journal, and its accumulated reports are building an incriminating story.
Smith is a Chicago-based operative with a taste for the political dark arts, who set out in 2016 to obtain Hillary Clinton's State Department emails, which he believed had been stolen by Russian hackers. Smith died under somewhat odd circumstances last year — he committed an apparent suicide days after being contacted by a reporter, citing an expiring life-insurance policy, but seemed to be in good spirits just hours before his death.
But the most important mystery involving Smith is how important his work was to the campaign, and where it led. When he met with a cybersecurity expert in 2016, Smith represented himself as working on behalf of Michael Flynn, Trump's chief national security adviser during the campaign. Flynn, of course, had ties to Russia and was forced to resign very shortly after starting as national security adviser for lying about his contacts with Russia.
But Smith, unlike Flynn, was not a famous figure, and initially some people assumed that he might have been working on his own. The Journal has fleshed out Smith's role, and every new report has suggested that his work was significant. An October 7 report found that Smith raised at least $100,000, from at least four donors, for his work on the emails. An October 10 follow-up confirmed that Smith and Flynn were in regular, close contact.
Today's report is more explosive still. Investigators have evidence that Smith "may have had advance knowledge of details about the release of emails from a top Hillary Clinton campaign official by WikiLeaks," according to the Journal.
If true, this would mean that Smith wasn't merely attempting to get ahold of stolen Clinton emails. He got through to WikiLeaks and was, in some form, a channel of collusion between the hackers and the Trump campaign.
Flynn long ago started cooperating with Robert Mueller. So if Flynn discussed any of this information with Trump during the campaign, the special counsel probably knows about it.